That special time of the year is approaching… Mother's Day! It's not always easy to find that perfect gift for mom. We've done the homework for you, and have found the most unique gifts for her special day.
A Personalized Necklace by Jewelry Designer Jane Basch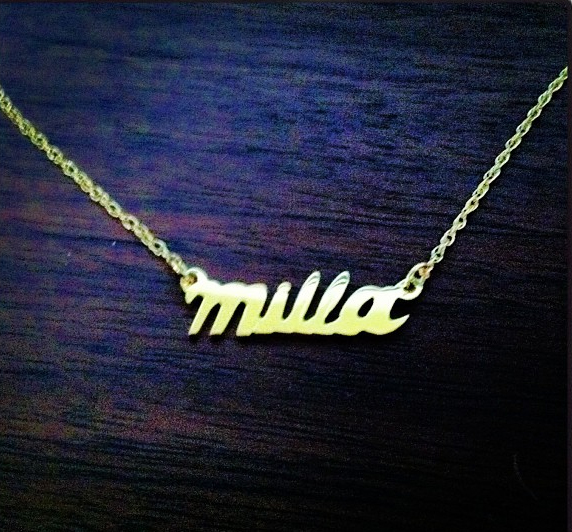 Milla Necklace by Jane Basch Designs
One of the coolest presents you can give mom this Mother's Day is something incredibly personal, and nothing is more special than giving her a necklace bearing her child's name. You could either do their entire name as Giuliana Rancic has done with her son Duke or just wear an initial like Kendra Wilkinson. We fell in love with the necklaces and had to have one of our own celebrating our oldest daughter Milla. Necklaces come in 14KT Gold, Sterling Silver or Gold Filled and there's an array of different styles to choose from! To order for your own mom, visit www.janebasch.com. – Melissa Maynard

Peruvian Connection Offers Original Pieces, Perfect for Mother's Day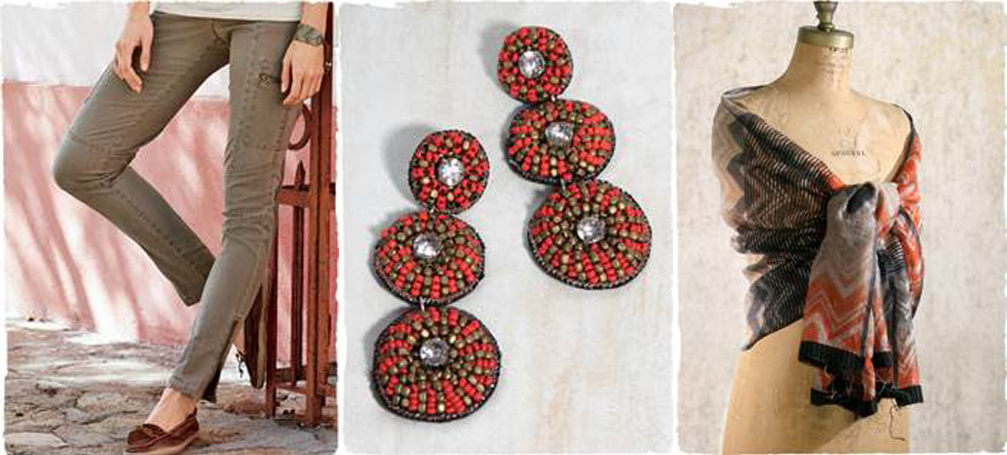 Riley Zip Cargos $179.00 / Pomegranate Drop Earrings $169.00 / Tribal Zigzag Scarf $95.00

As we're approaching Mother's Day, finding the perfect gift is not as easy at it seems. Another gift that mom will love and want is anything from new clothier, Peruvian Connection, located at 925 W. Armitage Avenue in Chicago. Peruvian Connection has been "dedicated to the preservation and perpetuation of luxurious textile designs from all over the world" that anything on their website is completely one-of-a-kind, which makes the piece that much better. The handcrafted Peruvian jewelry and accessories are to-die-for (and my favorite). Mom will love these delicately made accessories and it will sure be a bold statement to her ensemble. You can look at the accessories and much more, here.
-Alex Mariscal


LUSH Your Mom this Mother's Day
Mum Tulip $8.95, Mumkin $6.95 and Madame Butterfly $8.95
This year, get your mother something she'll love at an affordable price. LUSH cosmetics has a very special Mother's Day variety of great smelling and fun looking products ranging from $5 to $100. A beautiful spring bloom for her tub priced at $8.95, a great price for you and even better gift for the lady of your life. Another favorite is LUSH's mix of year round favorites all packed into one for 'A Mother's Day Paradise" –a selection of six energizing bath and shower products to jump into spring. This special Mother's Day collection provides many other cute packages and a wide variety of different scents and colors. Along with the Mother's Day special products, LUSH also includes blush, lip balms and many other cosmetics to choose from to make the perfect gift. Check out all of the Mother's Day must-haves
here
.
– Brittany Gavin
What's a better way to say, "I love you" to your mom on Mother's Day? By gifting her with 100% cork skin cards, of course! Pelcor, a company known for its genuine cork skin, has launched its new "Love Box" just in time for Mother's Day. Love Box, selling for $92, is a delicate paper box with cork that includes 8 cards that send a message in gold: Amor, Love, Amour and Amore. This gift is the perfect balance between fun and elegant. With the unique combination of materials, Love Box is a present a mother will never forget, or break. To view Pelcor's Love Box and more products visit www.pelcorusa.com
-Alex Mariscal