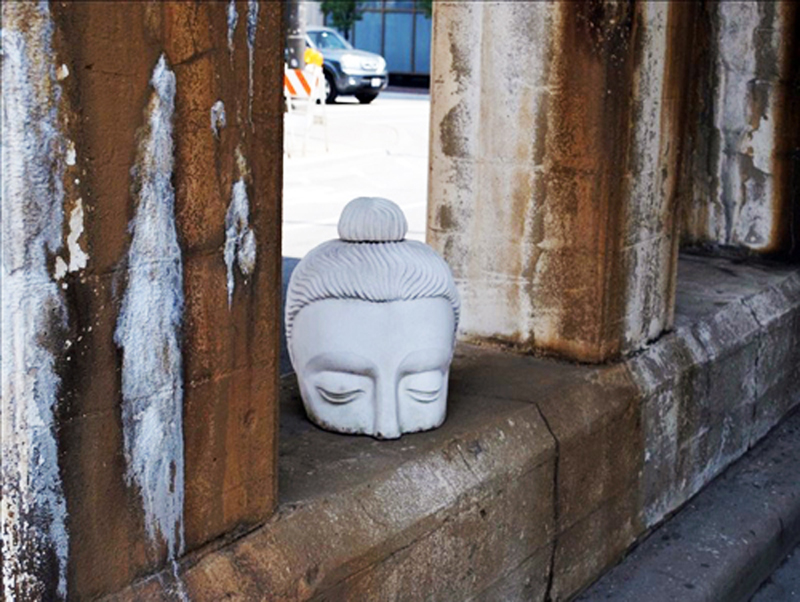 It's no secret that Chicago has been plagued by gun violence and one Chicago-based artist is taking a stand through public art. Indira Johnson is the creator of those 100 Buddha Head sculptures you may have seen around Chicago and Ten Thousand Ripples helped bring the exhibit to life. You won't find them off the glitzy streets of Michigan Avenue, but in ten Chicago neighborhoods and in areas you may not expect to find a Buddha Head emerging from the Earth — seemingly random vacant urban lots, in the surf on Lake Michigan and in city gardens. But these pieces of art have a lot to say, ever so quietly, bringing a calmness to the viewer and are there to get the conversation going about peace in the city. You can now buy these beautiful sculptures for your very own Zen garden, helping to further the effort of peace.  We caught up with the artist to discuss how the project got started, how neighborhoods were chosen and how art can help start a movement.
FACTIO MAGAZINE: Tell us about your background as an artist.
INDIRA JOHNSON: Throughout my artistic career my passion and commitment has been to make art part of everyday life, to involve local voices and communities in the art process and to cultivate peace as individual action. Ten Thousand Ripples brought these different threads together. I grew up in Mumbai with a mom who was the founder of a health and community empowerment organization in one of the slums of Mumbai and an artist father who was a devout follower of the Gandhian principles of nonviolence. This combination of art and activism is embedded in my thinking, as a result of which community art projects have been part of my art practice for more than a decade.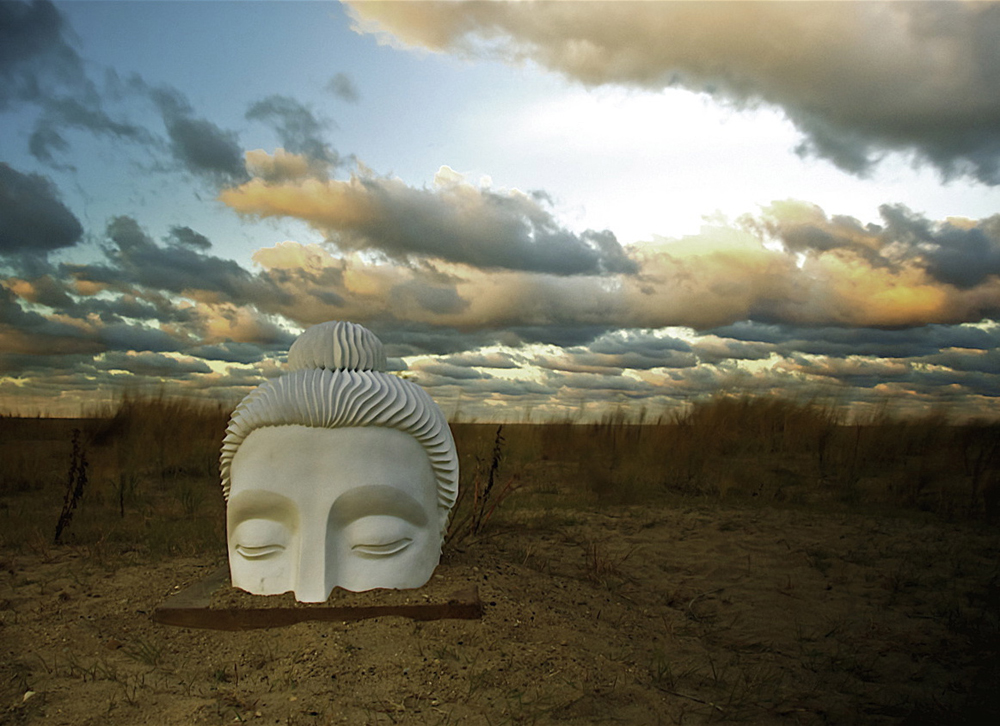 FM: How did you first get inspiration to feature 100 Buddha sculptures in Chicago neighborhoods?
IJ: I had an exhibition at the Chicago Cultural Center titled Lifetime Offer, Dimensions Variable. it consisted of 11 emerging Buddha heads. Everytime I visited the show, I found people sitting on the floor of the exhibition space looking at the images and meditating while others said that they felt a sense of calm and peace as they walked by. Subsequently, the show traveled to The Art Center in Highland Park where the Buddha heads were placed directly on the ground and appeared to grow out of the earth and the same phenomenon occurred. People responded to the images and felt a sense of calmness in their presence. I wondered what the reaction would be if one saw an emerging Buddha head in an empty lot or at a bus shelter, along the 'L' tracks or in a street park? Would the element of surprise temporarily change how that space is perceived, changing it with a calming serene presence?  Could this visually compelling sculpture with its odd juxtaposition on city streets become a catalyst for community conversations about peace and community building?
FM: How did it go from concept to reality?
IJ: We began by forming an Advisory Committee made up of leaders from the major social, cultural and educational fields of Chicago, along with community leaders from various communities.  The Advisory Council started meeting in 2011 and helped shape TTR (Ten Thousand Ripples). Changing Worlds, the lead agency was critical in making this happen, providing resources through grant writing, supporting relationships, guiding and helping to sustain community efforts.
The seeds of Ten Thousand Ripples continued to develop and grow with a goal to provide folks with an intense and meaningful public art experience outside of traditional art venues, and in doing so, act as a catalyst for community conversations and interactions about peace and nonviolence. There is no doubt that the image is provocative and visually compelling. Its odd juxtaposition on city streets in marginal areas is surprising, causing observers to stop and question.
The framework was designed to engage artists, community leaders and residents from 10 Chicago area neighborhoods in public art programming, youth art residencies and response dialogues through interactive social media and community conversations that highlight public art and the use of public space in neighborhoods.
FM: Was it hard finding locations for the sculptures? What was that process like?
IJ: Participating communities embraced the project and sites were chosen by the communities for a variety of reasons. They included; Alderman's office, shopping centers, industrial spaces, lakeside dunes, schools and the 100th Buddha was installed at the Amor de Dios Church in Little Village.
Foster two kinds of encounters; the chance encounter, which will capitalize on the element of surprise as one encounters this widely recognized symbol of peace in everyday locations; and the planned encounter, the artistic residency that will revolve around an issue that the community has identified. Ideas that have surfaced include, safe space, interfaith dialog, respect for diverse cultural traditions and peace.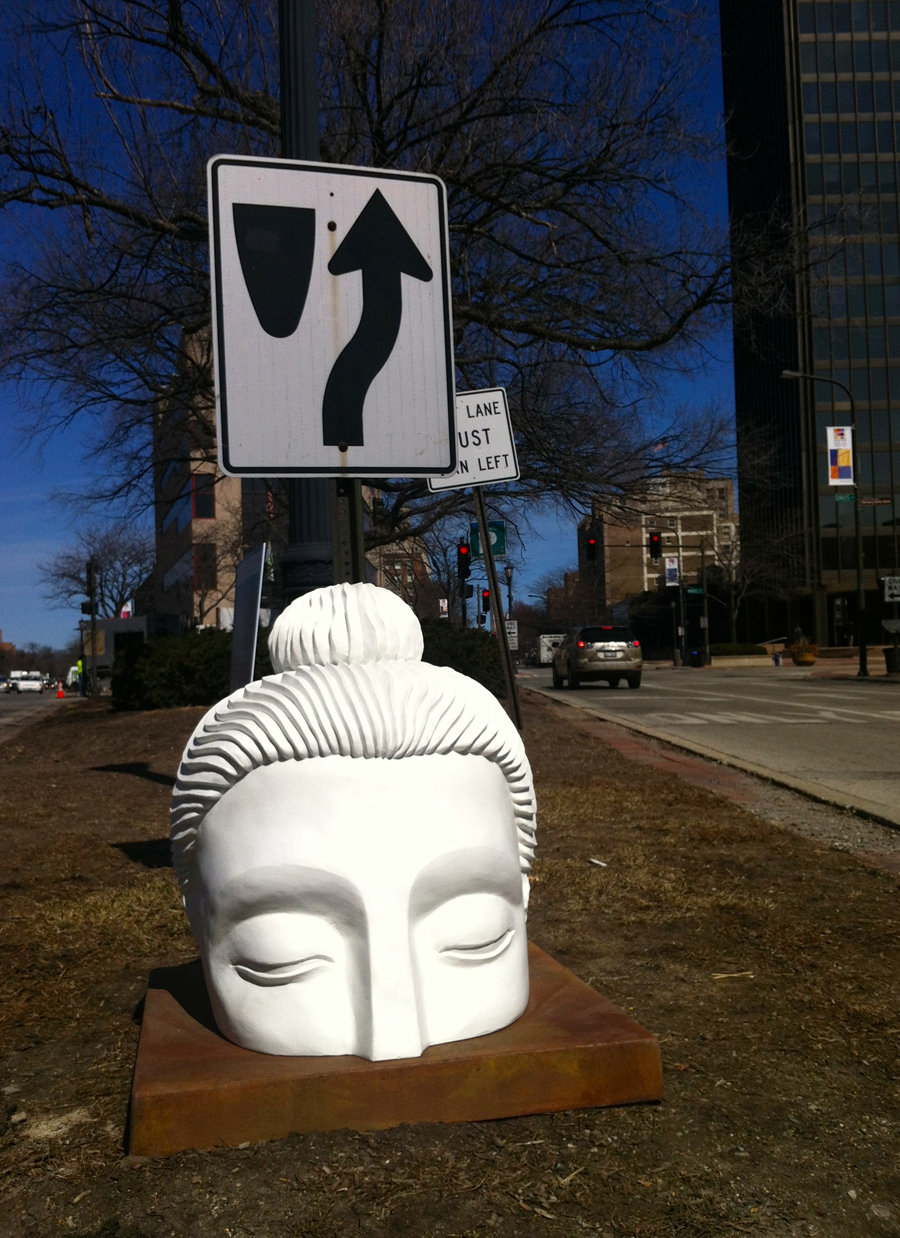 FM: What do the Buddha sculptures mean to you? What do you think they evoke to the viewer?
IJ: Many folks have asked me why I chose the Buddha image as a symbol of peace. With the popularity of eastern thought and practice the Buddha has become a universal icon for peace, appearing in public murals and as major public art sculptures like the colossal Buddha in San Francisco's Performing Arts Piazza. The Buddha image balances between its secular face, popularized on T shirts, used by rock bands and trendy restaurants and its spiritual dimension which encapsulates a growing societal longing for peace in an increasingly fragmented world.
FM: Tell us about your inspiration and the design process. Did you go through a few different concepts before finalizing on the Buddha emerging from the Earth?
IJ: Hands and feet, symbols that appear in practically every culture since the dawn of civilization, continue to dominate my work. Hands are the principal way that work is accomplished and signify the action of karma. Feet guide one towards spiritual growth and identity. Throughout my work, I have tried to evolve a vocabulary of signs to express the human relationship to the universe.
About ten years ago, I looked for another symbol to add to my vocabulary. My first depiction of the Buddha has gradually evolved from the initial sculpture.
FM: Now that the public is able to buy these pieces of art, what is that like for you to know that people can enjoy these meaningful sculptures in their own backyards?
IJ: The sculpture fits beautifully in any natural landscape. The image with its downcast meditative eyes and wavy hair evokes a sense of peace and serenity.
FM: How can people owning these fuel more public work like this to help get the dialogue moving for peace in the city?
IJ: The Buddha sculptures are being sold to continue the work of the Ten Thousand Ripples Project. We are producing a documentation booklet to help other communities/leaders replicate this project in their communities. We are also committed to sustaining the important civic engagement and peace work that was started by participating communities during the project.
FM: What's next for you as an artist? Is there another project similar to this one in the works?
IJ: I am still working with our ten communities and pursuing ways to build on the momentum that we achieved with TTR.
FM: What are your favorite Chicago neighborhoods to explore? What are your favorite Chicago restaurants?
IJ: Because I attended so many meetings in the different TTR neighborhoods, I came to know and have a special place in my heart for all of them. Some of our meetings were held in restaurants that were selected by the local residents. The ones that stand out are those that combine good food with a socially conscious attitude like Sol Café in Rogers Park, Curt's Café in Evanston and Green Tomato in North Lawndale.
FM: Describe your ideal day in Chicago.
IJ: Nothing compares to a warm sunny day in Chicago, a cool breeze blowing off the lake and the very gentle lapping of the waves as they meet the shore. It feels peaceful, but to know that there is peace in the city makes it the ideal day.
Buddha Head sculptures help bring peace to Chicago and you can find them in nine Chicago neighborhoods including Albany Park, Pilsen, Rogers Park, South Chicago, Uptown, North Lawndale, Little Village, Auburn Gresham and Back of the Yards and in Evanston. You can now own one of these beautiful pieces of art for your own garden, the large sculpture for $2,000 is 27″ and the small sculpture is 8 1/2″ for $500 to continue the movement of Ten Thousand Ripples and their continuing mission for peace. Each purchase or donation helps to further the commitment to nonviolence in the city through art. For more information, to order a sculpture or to make a donation, click here. For more info on Ten Thousand Ripples, please click here.
Take a day or a weekend to go on your very own Buddha Head Sculpture treasure hunt! Click here for the locations of the sculptures.