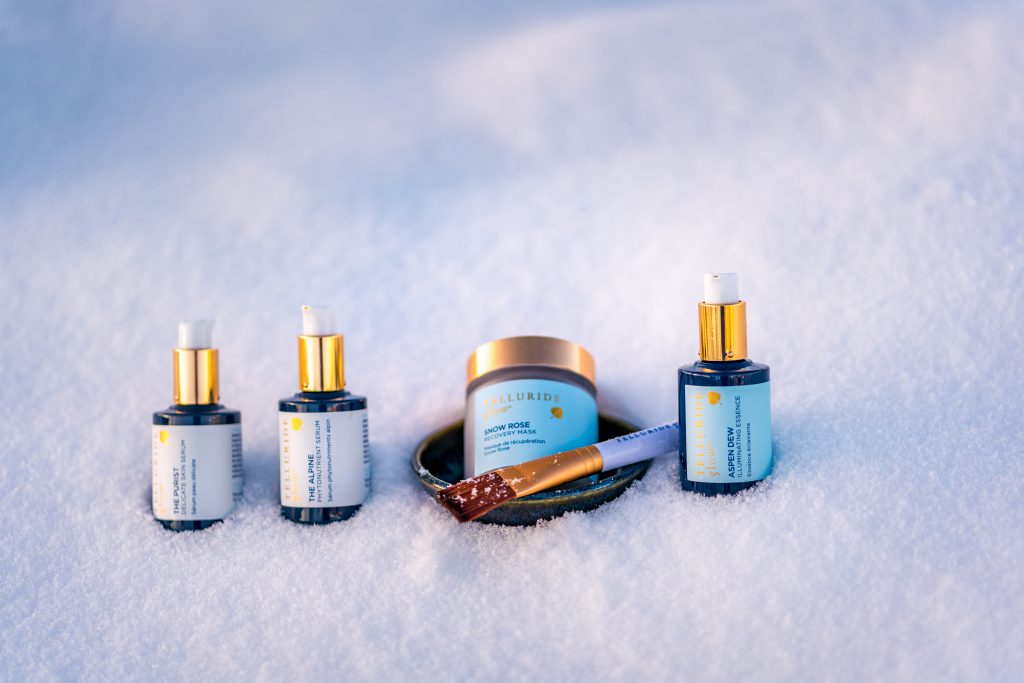 TellurideGlow Founder Mary Alice Heape created her vibrant products through necessity. She wanted to create a brand of products so powerful that they could revitalize the skin after being exposed to harsh environments like the mountain air of Telluride, Colorado, 9,000 ft. above sea level. The products are potent and customers can expect whole plant superfoods, 50 nut and seed oils, flower essences and herb and tree extracts, as well as glacial clays. Some of the best ingredients in the products come from places including the New Zealand glaciers, The Himalayas, and Nepal. "Alpine plant power is at the heart of every TellurideGlow formula. We source worldwide and incorporate the highest ratios and greatest variety of cyto-protective high-altitude botanicals on the market," describes TellurideGlow Founder & CEO Mary Alice Heape. "When I created the product line, the must-have benefits included intense skin hydrators and protective antioxidants in all products, both necessary for healthy skin." Here's a look at the products that are reviving skin and impressing dermatologists nationwide.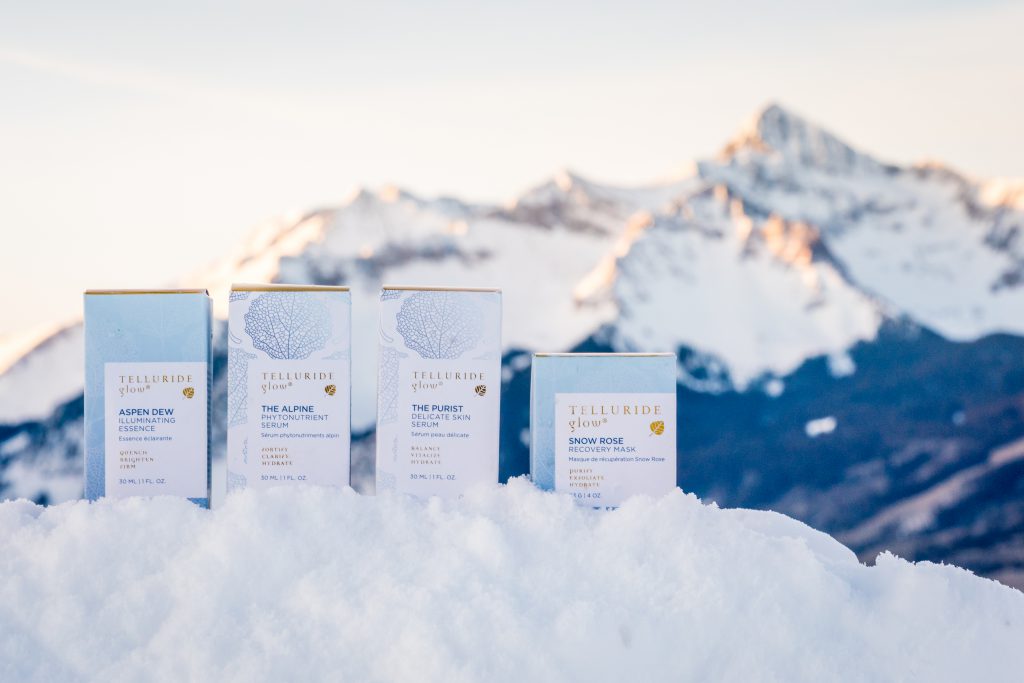 Aspen Dew Illuminating Essence
We've found the fountain of youth with Aspen Dew Illuminating Essence. "The Aspen Dew stands alone beautifully, or it may be paired with The Alpine or Purist serums for amplified skin recovery, which is where the magic happens," advises TellurideGlow's CEO & Founder Mary Alice Heape. "We have a simple 2-step skincare program, which saves time and money without sacrificing results." The luxurious product is a great alternative to retinol and features Dew Bean (Vigna aconitifolia). Along with promoting collagen production and epidermal cellular renewal, this anti-ager brightens with bearberry and firms and smooths the skin with Aspen Bark. It protects against skin stressors with edelweiss (yes, it does that too). "Adding a moisturizer is not necessary after using the Aspen Dew coupled with one of the TellurideGlow serums. Adding moisturizer may be just a habit, as well as thinking we need special creams for the eyes, neck, day, night and more," Mary Alice adds. "But sunscreen, preferably without Oxybenzone, is a good practice."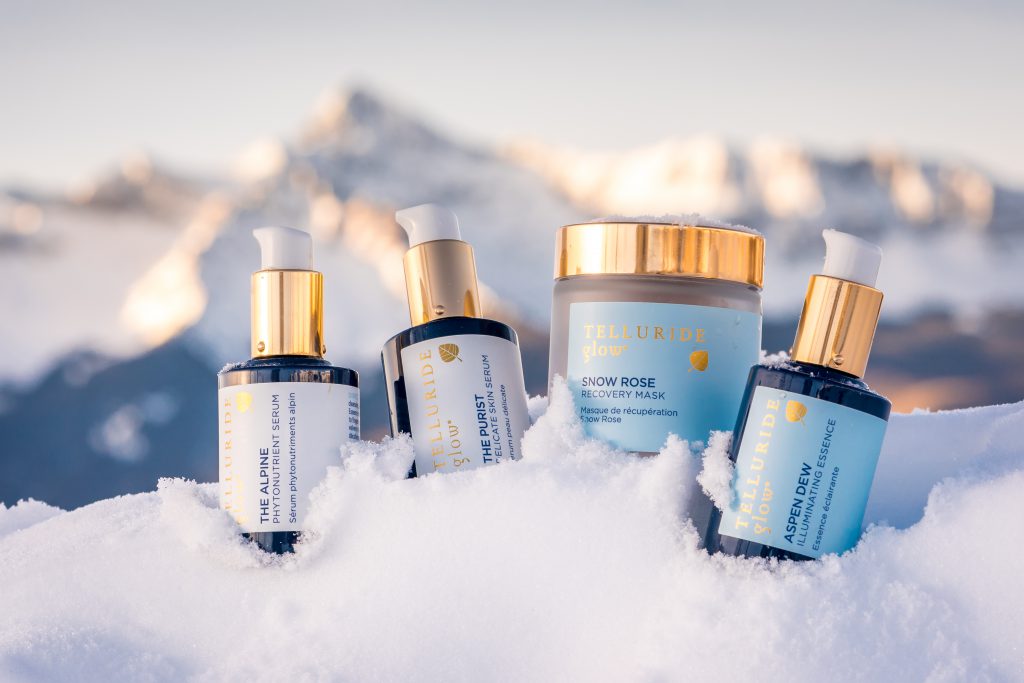 The Alpine Phytonutrient Serum
Looking for a product to protect against photoaging (which is premature aging caused by UV) while helping to fight off environmental damage, then check out the Alpine Phytonutrient Serum. Skin will plump thanks to Nepalize Goji and Acai and you'll notice fine lines and wrinkles will minimize. Sea Buckthorn Berry, arctic Cloudberry and Rosehip will help make skin luminous and if the skin is puffy, Arnica Montana flower will take care of that. Other powerful ingredients include Moringa, Argan, Plum, Evening Primrose, and natural Vitamin E, Jojoba and Sunflower, not only soothes the skin but restores it. All in all, the 20 power botanicals and the cold-pressed alpine phytonutrients power through to feed tired and dull skin.
The Purist Delicate Skin Serum
If you have sensitive or reactive skin, then reach for the Purist Delicate Skin Serum. This serum is free from harsh fragrance allergens, essential oils, photo-sensitizers, gluten, alcohol, as well as nuts. Helping to protect skin against photoaging, it features ingredients such as Pomegranate, arctic Cranberry, Camellia, Hemp, Nepalese Goji, and natural Vitamin E. Skin will illuminate with the help of alpine Sea Buckthorn Berry, arctic Cloudberry and Rosehip. Its encapsulated phospholipids from Shiitake and Chamomile help to keep skin plumped, while Arnica Montana flower wards off puffiness.
Snow Rose Recovery Mask
Downtime with a good book and a mask is our idea of a dream evening, and this Snow Rose Recover Mask really delivers. Made with Snow Mushroom and crushed rose petals, customers can expect a mask that fully detoxifies the skin, all the while helping you retain moisture. You'll notice the reduction of fine lines since this mask aids in promoting collagen. How does it work exactly? Well, Glacial Clay from the Southern Alps of New Zealand does the purifying, while alpine meadow leaf emollients with Marshmallow, Chamomile, Vanilla, brightening White Willow, Kaolin and Shavegrass help tone the skin. Aspen bark extract makes skin soft all the while improving clarity.
Pure, Clean and Ethical
With TellurideGlow, customers can expect the best. That means products are made with whole nutrients and zero fillers, laboratory tested and vegan and cruelty-free.
Learn more at tellurideglow.com.