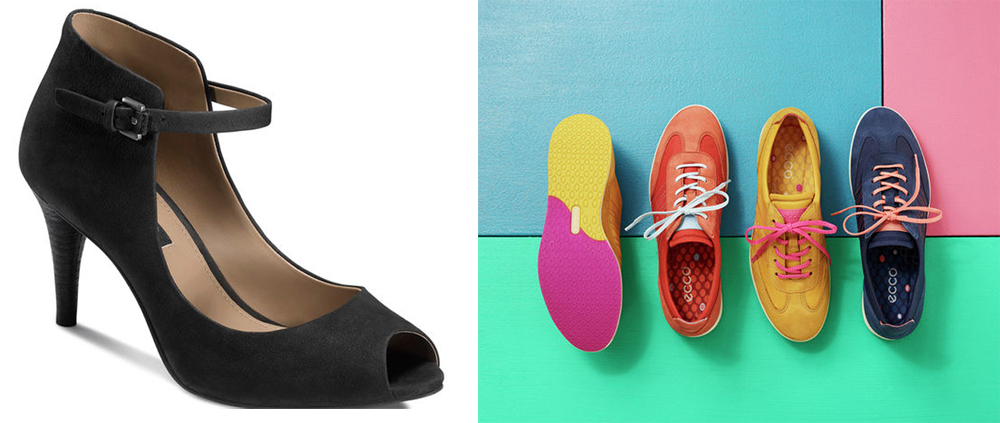 We have fallen in love with this season's spring shoes by Danish shoe company ECCO. The company who recently celebrated their 50th anniversary has created shoes that are simply gorgeous and completely functional.  We'll start out with our favorites from the women's collection.  We are smitten with the ECCO Ouyen Ankle Strap shoe in black ($170)— a classic high-heeled sandal. As a mom, I need something that is both on trend, yet sophisticated and this shoe is it. It's also the perfect shoe for a cocktail party —with a comfortable, flexible sole, this shoe goes the distance. I love that a shoe with such a clean and simple design constantly gets so many compliments!
For everyday wear, I can't get enough of ECCO Jogga Tie sneaker ($125) in saffron with pink laces. The shockingly cool yellow can brighten up spring's dreary, rainy days. The shoes are light and flexible and completely comfortable!
We're equally loving the men's collection. Our publisher got the chance to try out this season's must-haves. ECCO New Jersey Slip On Buckle ($150) is the perfect, elegant shoe for the office. ECCO Men's BIOM Lite shoe ($130) is the best shoe to add to your workout wardrobe. Again, we can't get enough of the dark and yellow contrast.

"I can feel the difference when I wear ECCO dress shoes. I've been wearing them almost everyday for the last three weeks and I can tell a difference in style, comfort and durability. While I have to walk about two miles a day back and forth from the train station to our office during some snowy days and now warm days, these shoes have passed the test. I've had more expensive shoes that have worn out faster and with ECCO, I am confident in the pure quality that you should expect with a dress shoe," says Henrique Kerch, Publisher of Factio Magazine.
Check out some of the great categories from sports to casual to formal, and visit their site because we will definitely be ordering more of their shoes!
Spend over $125, and your order ships for free. To check out the shoes for yourself, visit www.us.shop.ecco.com
For more information on ECCO and to celebrate 50 years of passionate shoe-making, visit: www.passion.ecco.com and www.facebook.com/eccousa