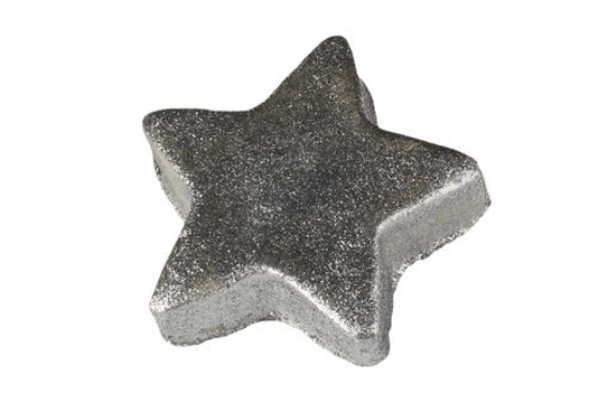 Our office always gets excited for Lush products to arrive and even more so when the new holiday collection splashes across our desks every year —and this year is no different. Celebrate the season by taking a LUSHious bath, especially during the frantic holidays. Here are four products you need to put on your gift list (for yourself)!
Star Light, Star Bright ($6.95) – this product smells absolutely amazing! The glittery star comes in a sealed tight silver box and as soon as you open it, the aroma of zesty lime, lavender and ginger oils comes blasting out. Crush your shinning star under water and see it transform into magical turquoise bath with silvery trail blazing behind it. The organic shea butter and extra virgin coconut oil will make your skin feel so soft.
Shoot for the Stars  ($6.95)
We're in love with this brand new Bath Bomb with the scent of a worldwide bestseller -honey toffee fragrance. Drop this bomb in the tub and watch it as it starts to spin while stars shoot out, literally you'll see sparkle in all directions of pink, purple and silver.
Gold Fun ($6.95)
This limited-time little wonder is a multi-tasker at best -it's a shampoo, a soap, bubble bath and a fun moldable toy that smells amazing. Place it under running water and let the honey-toffee fragrance fill your bathroom. Truly a scent you would want to eat!
Christmas Eve ($7.45)
You'll want to take a moonlight soak and let the stress melt away in frothy bubbles of ylang ylang and jasmine absolute and soon you'll realize why this one keeps returning after launching a few years ago. It may just become your new Christmas Eve tradition.
For these products from Lush's holiday collection and more Christmas wonder, please visit www.lush.com.