NBC's Chicago Fire premieres on October 10th! We caught up with the star who researched the role in the Gold Coast, shops off the rack for press appearances and gives us an inside look at the new show.
Teri Reeves is one of Tinseltown's up-and-coming actresses.  Originally wanting to major in math, Teri decided to switch to theater at the University of California Santa Barbara.  After appearing in several hit television shows, including ABC's The Forgotten, CBS' Three Rivers and Rules of Engagement, and NBC's Medium and Undercovers, Teri landed a role on the Hulu series Battleground.  While making regular appearances on Battleground, Teri auditioned for and secured a role on NBC's Chicago Fire.
This drama series portrays the lives of the men and women of the fire and rescue squad of Chicago Firehouse 51.  Teri will play the role of Hallie, a hospital resident who is in the middle of a separation from Lieutenant Matthew Casey.
FACTIO MAGAZINE: How did you prepare for your role as "Hallie" for NBC's Chicago Fire? Tell us a bit about what we can expect with this show!
TERI REEVES: Over dinner one night, I asked the writers of the show about Hallie's background. They told me she grew up in Chicago's Gold Coast in a large family with a successful doctor dad. Since we're shooting on location in Chicago for the show, I spent hours walking through the Gold Coast, observing people and imagining what Hallie would have seen and done there, so I could get a feel for what experiences she might have had that shaped who she is today. I was also able to shadow an actual ER doctor at Mercy Hospital for an evening in order to feel out what Hallie's dad might have been like and what her daily life is like now as an ER resident. It was fascinating. ER docs and nurse staff have the most amazing sense of humor, are calm under pressure, and have an appreciation for life, which I tried to absorb as much as possible into building her character.
I think with this show you can expect authentic and captivating storytelling. You'll fall in love with the characters, be moved and struck by the intensity of their lives as first responders, and have a great chuckle now and then with their engine house antics they use to pass the time.
FM: We all have that one beauty product we have used for years because it has never let us down.  What is the one product that has made you stay a loyal consumer?
TR: My hair and Aveda's Pure Abundance products have been best friends since we first met. It was never properly healthy, nor could hold any style until then and now usually with every hair chair I sit in, I get a compliment about how healthy and well taken care of it is.
FM: If you could set a beauty or fashion trend of your own, what would it be?
TR: I would love it if big, beautiful evening dresses were a more common choice for attire, not just for special occasions.
FM: How do you prepare for press appearances?  Do you have your own stylist, hair and make-up artists?
TR: I don't have a stylist or artist team quite yet, unless NBC assigns one for all of us for a special event. I usually hop over to BCBG Max Azria for a new dress if needed, run a curler through my hair and do my own makeup as best I can, adding extra eyeliner than I personally like so it shows up better in pictures. It's most important at those events for me to feel like myself and be relaxed and comfortable, so I try to keep the prep as simple as possible. And I always listen to music as I'm getting ready.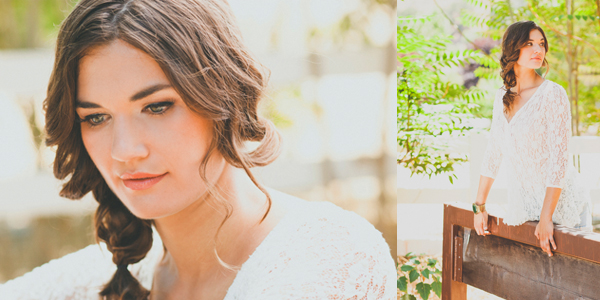 FM: How would you describe your style?
TR: Down-to-earth and classic with a flair for the occasional added edge.
FM: After exploring Chicago, have you found a favorite spot?
TR: I live in the River North district and often go jogging along Lake Michigan. As you approach Soldier Field, there is a spot on the water with a bunch of steps where I'll stop to just sit and look back at the boats, the water, the people and city buildings. It's even more beautiful at night with all the city lights.
FM: Do you see yourself on the big screen?  Who would you like to act alongside of?
TR: Being on the big screen is a dream of mine. There are so many amazing actors I have deep respect for it is hard to narrow it down, but if I could spend a day on set with Rachel Weisz or Kate Winslet or Jeremy Renner, it would make me a very happy and lucky actress.
FM: Have you ever been starstruck?  If so, by whom?
TR: I did a guest spot on a show called The Forgotten once. Christian Slater was the star. My character wasn't scheduled to have any scenes with him, but one day on set he was being transported by golf cart back to his trailer and he made the driver stop just so he could get out and welcome me to the show. He shook my hand, smiled warmly and said, "I'm Christian"…I'm thinking, yeah, I know who you are. I had a crush on you all through middle school, but all I could squeak out was, "Uh-huh," and then he drove away. Apparently he was that generous and welcoming to everyone on set. What a lovely guy.
FM: Actors are often asked to drastically change their appearance for a role.  Have you ever had to do this?  How far would you go for a role?
TR: As funny as this sounds, the most drastic thing I ever had to do regarding physical changes was covering my tattoo. I have a very large one on my back and was doing a scene where it was visible, so the makeup artist spent three hours painting over it.
I think if I'm honest, my favorite part of acting is the physical transformation you get to have with costume, makeup, and hair. I'd be willing to change most anything for a part if it was a story I was really excited about telling. Altering your appearance can really help you connect to the person you're portraying. When you spend a day in their actual shoes, hair, and eye makeup, you feel different.
FM: In college, you originally majored in math, but If you weren't acting, where would you see yourself today?
TR: Ha, probably sitting in an office, wearing a suit, working as an accountant —or as that crazy math professor wearing a giant sweater with elbow patches, losing my glasses that were all the time tied around my neck, coffee stains on my corrected papers, trying to make math fun for my students and having long intellectual discussions with colleagues about life. Don't tell my mother I said that. She majored in math!
Make sure to tune in when Chicago Fire premieres on Wednesday, October 10th. Find out more click here.
-Julienne Thomas-Ramos