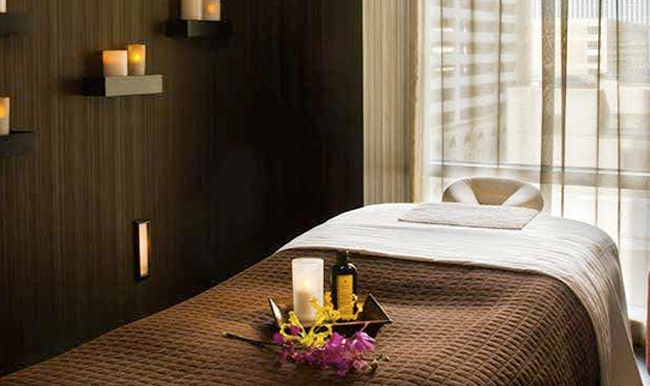 It's that time of year again when all we want to do is hunker down at home for the entire winter and stay in our warm beds. Few things can entice us to get out into the cold—that is until we learned of the latest luxe winter treatments that the Spa@theWit has created to get us through those harsh months. We'd love to introduce you to three dreamy treatments that are new to the luxury spa's roster of stellar relaxing services.
Four Hand Touch Massage
This treatment couldn't be dreamier. You'll have not one, but two massage therapists kneading away at your sore muscles that will include a combo of Swedish techniques, hot stones and aromatherapy.
50 minutes for $265 or 80 minutes for $375
Youth Shield Facial
This facial will bring back the fountain of youth with antioxidant fighting ingredients like Red Currant, Elderflower and Magnolia Bark, which will also repair sun damage, reduce inflammation and bring back lost moisture in your skin, all while helping combat fine lines and wrinkles.
50 minutes for $140
Winter Retreat Treatment
If you're looking for more than a massage to help get you looking and feeling like a million bucks, then this treatment is for you. It's a full body treatment that starts with a massage with a mix of Swedish techniques and hot stones. Your therapist will then use a salt scrub on your legs and feet to get rid of dry skin and stimulate circulation before moving onto a warm paraffin treatment for your feet. Next up, the Sugar Plum face masque will bring back the beauty of tired skin and the cooling gel eye pillow will make you feel rejuvenated.
50 minutes for $150
Want to give the gift of relaxation this holiday? theWit is now offering a unique special "Spend it @theWit".  With your gift card purchase of $225 or more, enjoy a complimentary Feeling Smitten Limited Edition Holiday Bath Cupcake. If you spend $275 or more, receive a bonus $30 gift card.
Try the luxe winter treatments at the Spa@theWit, click here.