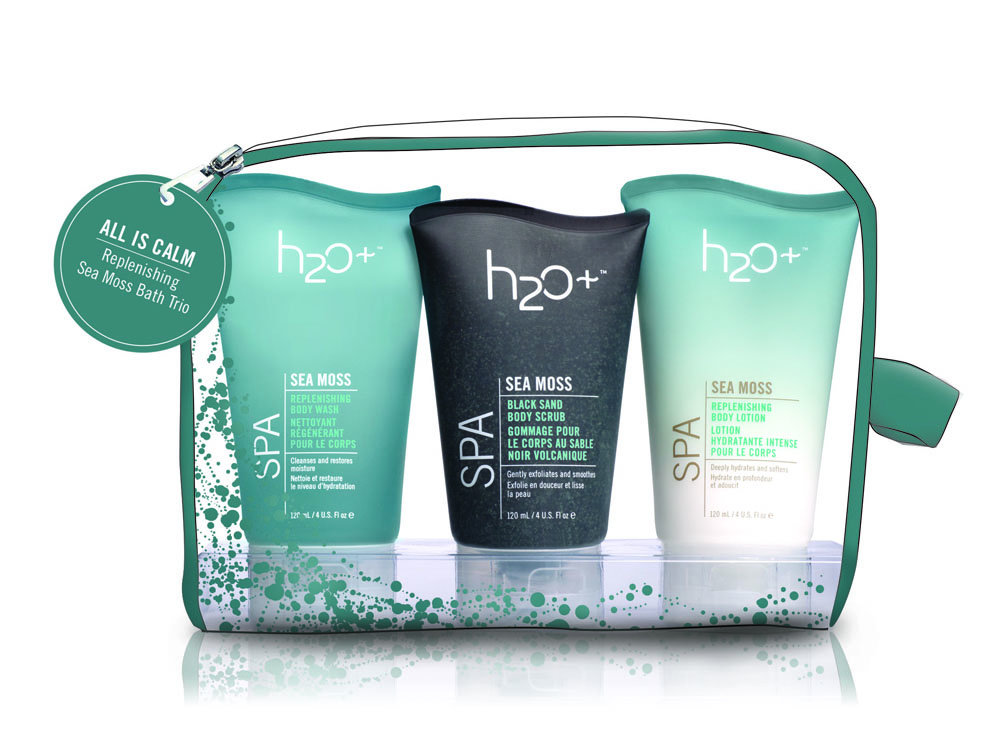 With the holidays right around the corner, finding the perfect gift and getting glowing skin for all of those parties has become the top priority. Thankfully, H20 Plus has an amazing new holiday collection this year, making gift giving even easier..plus, you'll find it easy to pick up a few things for yourself for those must attend cocktail parties.
Gifting the Holiday Collection
We love gift giving made easy and H20 Plus has a slew of new beauty sets perfect for everybody on your list. Check out some of our favorites.
The Purifying Sea Salt Spa Collection ($49.50) is one of our favorite gift sets to give. Not only is it a bestseller, but it includes a body wash, skin smoothing, hydrating body gloss, hydrating body butter and mesh sponge. European sea salts and almond oil are the ingredients that will renew and make your skin glow.
The Replenishing Sea Moss Bath Trio ($25.00) is that perfect gift for that person running the show, doing all of the holiday gatherings like parties and dinners, because of calming ingredients like fresh water lilly and marine accords. Perfect for men or women, this set includes replenishing body wash, black sand body scrub and replenishing body lotion.
Fragrance Collection ($45.00) has been a bestseller for over 20 years, inspired by Mariel Hemingway -the actress who is the granddaughter of Ernest Hemingway. The scent is light and feminine and the set comes with Mariel, the fragrance and a body lotion.
Now on to our must-haves for the perfect skin and hair this holiday season. We recently attended the H20 Plus holiday party in Chicago and picked up several must-have products that have been saving our skin (and hair) ever since!
The Sea Lotus body wash ($17), skin smoother ($20) and body lotion ($21) are new to H20 Plus, and we love them because the line helps restore a natural glow to dull skin with sea sourced water lotus and bamboo extract for extra moisture and sea salt to exfoliate.
Next, I picked up The Sea Salt skin smoother ($27), which was named Best Beauty Product in 2013 by Women&Home. This is the perfect exfoliation product with European sea salts, almond oil to soften skin and moisture-rich marine botanicals like wakame, sea lettuce and sea fennel for touchable soft skin. I also grabbed a few travel sizes of the Sea Salt body wash ($5), which will be perfect for my upcoming trip to Europe!
One of my favorite products from H20 Plus right now is the Aqualibrium Lip Mender ($10). With peppermint oil, beeswax and hydrating marine blend, it's the perfect lip balm to get through a harsh winter. Other product that tops my must-have list is their Oasis Mist ($17) made with pure, distilled water, along with sea-sourced vitamins A,C, E and Provitamin B. It's perfect for immediate hydration. Grab the travel size for $10 to take on the go.
The Anti-Acne Calming Corrector ($25) is another favorite. This soothing, daily serum easily treats breakout-prone skin with salicylic asid, zinc sulfate and an oil-controlling marine blend. In helping to keep my skin clear and balanced, especially during the holidays, I also picked up their Rescue Serum ($38) from the Marine Calm line. This product deeply soothes with brown algae, spirulina, witch hazel and is rich in omega fatty acids, plumping the skin and making it appear firmer.
Lastly, I grabbed their latest shampoo ($14) and conditioner ($16) in Blushing Orange -with a citrus scent and a blend of sun-sweet blood orange, crisp coriander, and spicy cardamom.
For a store near you or to shop these fabulous products online, please visit H2OPlus.com.