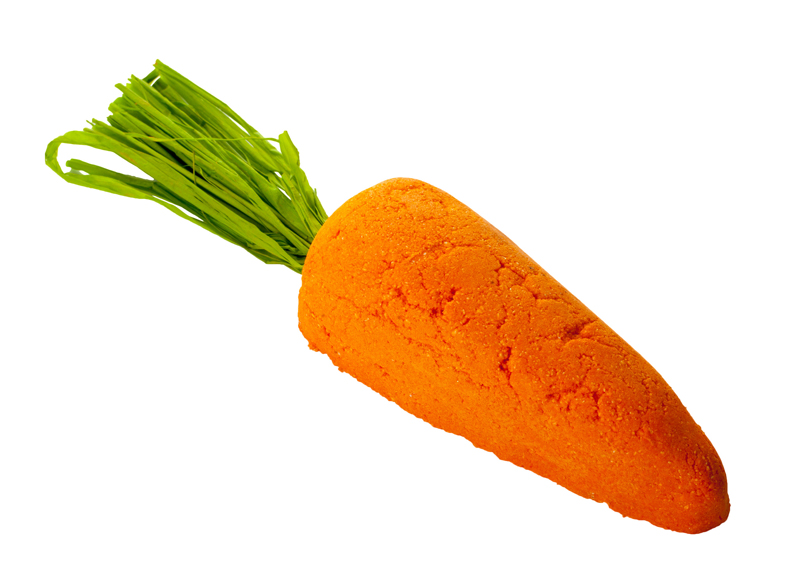 Honestly, Lush never ceases to amaze. It's always exciting at the office when a package from them arrives because we can smell the sweet beauty treats from a mile away. Our latest obsession is their awesome products for Easter! We love it all and so will you. 

The Heñata bath bomb ($7.95) is like a party for your tub. It's a hen, it's a piñata, hence the name. Once you crack open the hen, you'll find all sorts of magic inside! We won't ruin it for you, but we will tell you, it's an uplifting little bomb made of citrus tangerine, bergamot and mandarin oils.
The Brightside bubble bar ($8.95) makes you look at life on the brightside, of course, with its cheerful swirls. Made with Sicilian mandarin, tangerine and bergamot oil, and just a hint of lemon, you'll feel energized, refreshed after you try this bath bomb.
Easter Egg Hunt soap ($9.00 for ¼ lb)
Now here's an Easter egg you won't have to hunt for. The yummy scent of raspberry, lemon and violet leaf absolute will have your bathroom smelling like spring.
Carrot reusable bubble bar ($7.95) is one of our favorites! This reusable carrot will have your bubble bath smelling like fruity oils—think buchu, lemon and bergamot.
Fluffy Egg bath bomb ($6.95)
If you want a sweet and sugary fix for your bath, you've got to try this. Your bath will smell of marshmallow and jelly beans. Yum!
The Immaculate Eggception bath bomb ($12.95)
This eggceptional treat has a little surprise! It's double-layered so inside you'll either find a mini chick or bunny bath bomb. Throw either one in the tub to reveal a heavenly scent of vanilla absolute, lemon and grapefruit.
The Hoppy Easter Knot Wrap Gift ($17.95) is honestly adorable and the perfect gift for this Easter. You'll get a few gifts in one – the cute little bunny (made with organic cotton), the fluffy egg bath bomb and the carrot reusable bubble bar.
Check out all of the Lush products in our handy photo gallery. Shop the collection at Lush stores worldwide or online at www.lush.com.