St. Moritz, the famous and glamorous holiday resort destination, is a chic getaway that is perfect for both your summer and winter adventures. Known the world over for its champagne climate, this heavenly spot sees the sun almost all year round.
Where to Stay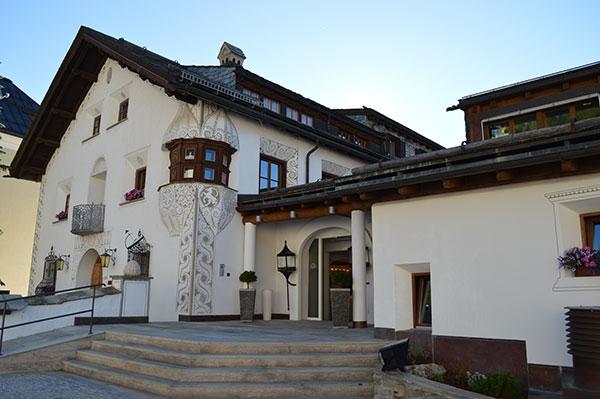 The Giardino Mountain Hotel was the perfect luxury backdrop to welcome us to this elegant resort town. Recently renovated in 2011, we were truly mesmerized how the design welcomed both modern aesthetics and Alpine design.  The 78 guest rooms and suites were all unique, all while keeping a seamless flow — wood elements swathed the walls creating a warm, inviting atmosphere. Neutral palates with pops of color in the furniture brought visual interest to the clean décor, while modern bathrooms made us inspired for our very own renovations. This hotel thought of everything—guests never even have to leave the premises.
Relax at the Dipiù Spa by Giardino where you can experience Dipiù, an organic beauty line of exquisite oil scents, hand creams come from selected first class product from Ticino.
While relaxing at the spa the kids play at the Kids Club or the pool. There's even a getaway for the teenagers known as Freestyle Academy where teens can play video games, pinball or enjoy a non-alcoholic drink.
Giardino Mountain Hotel
Via Maistra 3, CH-7512,
Champfer, St. Moritz
www.giardino-­mountain.ch/en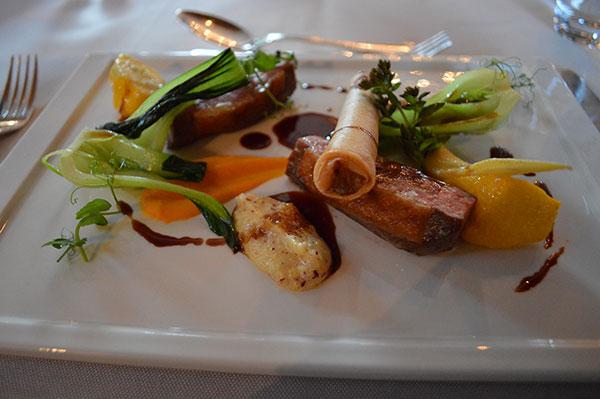 Where to Eat
We stayed a glorious two nights at the Giardino Mountain Hotel, and truly the food was spectacular. Each morning we would indulge in a breakfast buffet with so much variety— fresh breads, cheeses, salmon, eggs, and meats (definitely not your typical continental breakfast). We took breakfast out on the terrace and enjoyed majestic views of the mountain.
For dinner, indulge in the three restaurants at The Giardino Mountain Hotel. The award winning Ecco on Snow is a seasonal restaurant helmed by Master Chef Rolf Fliegauf. The German-born chef is the youngest in Europe with 2 Michelin stars under his belt. Stüva has a rustic alpine décor mixed with traditional Swiss dining, and Guardalej restaurant, a modern experience of international cuisine is where we enjoyed dinner nightly. The scrumptious dinner goes a little like this: For a cold starter, we began with tuna with guacamole and mango, and  a cold tomato consommé with basil ratatouille soup, followed by a warm starter of mushroom ravioli with green asparagus and sautéed sweetbread.  For our main course, we picked the sautéed breast of duck on red polenta and pak choi and finished the night with the best cheeses from Switzerland, Italy and France, and a relaxing cup of coffee.
In town, you must stop at Hauser Confectionery (hotelhauser.ch), where you can enjoy chocolate made with the best cacao from around the world or enjoy the best pine nut pies, a specialty of the region.
What to Discover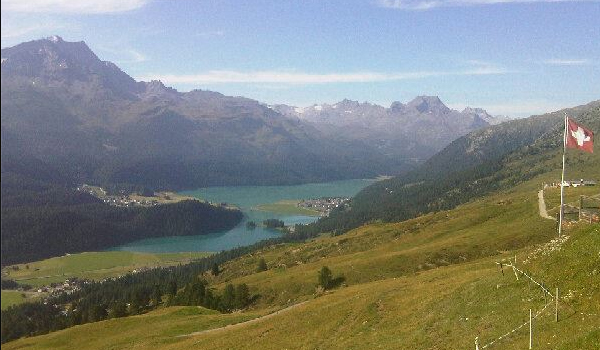 There is so much to discover in St. Moritz! It's truly a vacationer's paradise. Whether you're an avid hiker or a beginner, there's an amazing view for everyone. We took the Suvretta chairlift (some are open in the summer) to the Corviglia mountain where we enjoyed breathtaking views at the El Paradiso restaurant. After a relaxing coffee and a nice Rivella red, we enjoyed a small hike where we took in all of the wonders of Engadin St. Moritz.  Our next adventure was sailing on the lake of St. Moritz! It was the perfect summer day for it and since the resort town has those famous Maloja winds and being at 1,800 meters above sea level, St. Moritz has the great weather conditions for the sport.
Shopping 
Now on to our favorite sport —shopping counts, right? Glamorous St. Mortiz has all of the chic stores you'd think a resort town would have, Chanel, Prada, Louis Vuitton and Gucci all line the fabulously chic street of Via Serlas, the town's version of Rodeo Drive.
-Melissa Maynard
*Photos by Henrique Kerch, Hotel photo courtesy of Giardino Mountain Hotel