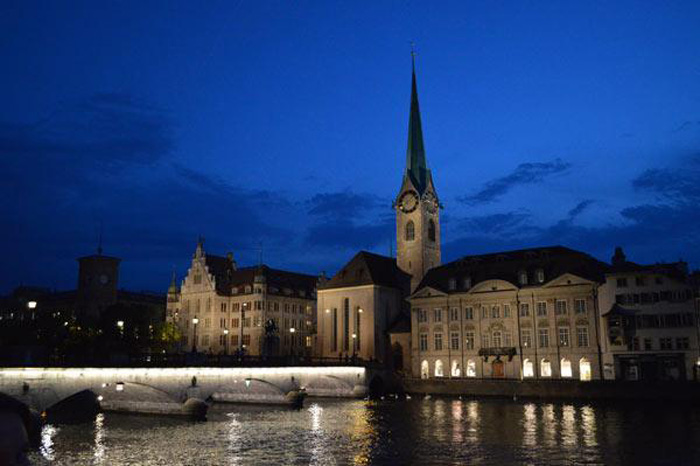 We recently took a ten-day journey to Switzerland, covering four of the most culturally diverse cities the country has to offer including Zurich, St. Moritz, Zermatt and Geneva. We begin our trip in Zurich where we give you the best tips on everything you don't want to miss while visiting this unique city.
Where to Stay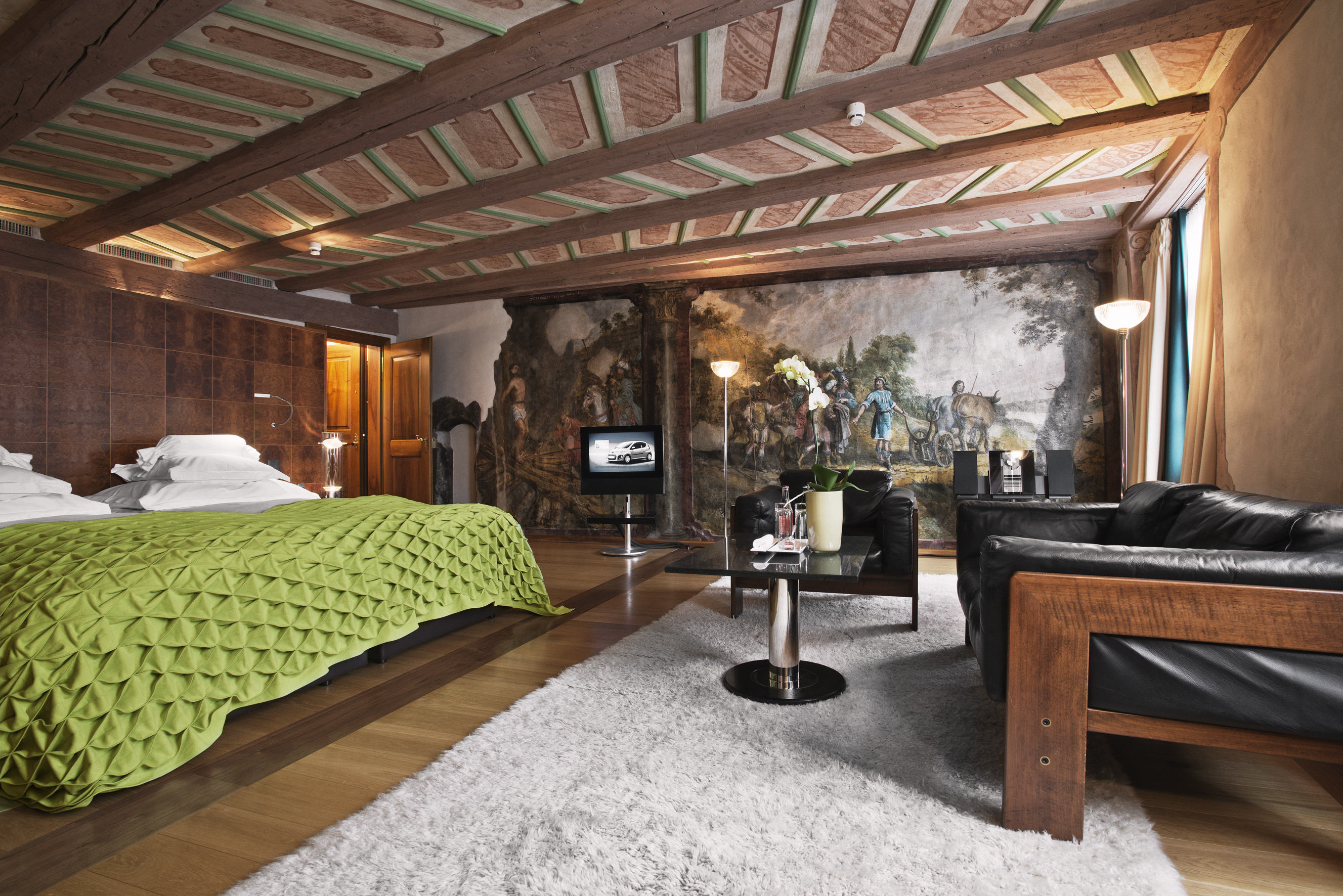 The Widder Hotel
This stunning, 5-star hotel lies in the Augustiner quarter of the city and is actually comprised of 9-historic townhomes with none of the 42 guest rooms being alike. It was the perfect mix of juxtaposing the old with new modern design elements. This hotel was in the center of everything with an easy walk to shopping, hip restaurants, nightlife and the quaint corridors of the Old Town. Also enjoy The Widder Hotel's very own restaurant helmed by Master Chef Alexander Kroll, who is the recipient of 15 Gault Millau points. Enjoy the perfect blend of Swiss cuisine with unique elements of Mediterranean and Asian inspirations.
Rennweg 7, 8001 Zurich
www.widderhotel.ch
Where to Eat
Restaurant Zum Kropf
This restaurant was the first we experienced in the city. What we really loved about it was the history. It belonged to Lienhart, a city gunsmith until 1462, thereafter, Zurich's mayor, Johann Heinrich Kilchsperger (1785-1798), lived in the house. Up until the end of the nineteenth century, it was a private residence. It was the perfect place for our first stop since the cuisine is typical Zurich and Bavarian style. We definitely went traditional and picked the chopped veal Zurich style with roesti.
In Gassen 16, 8001 Zurich
www.zumkropf.com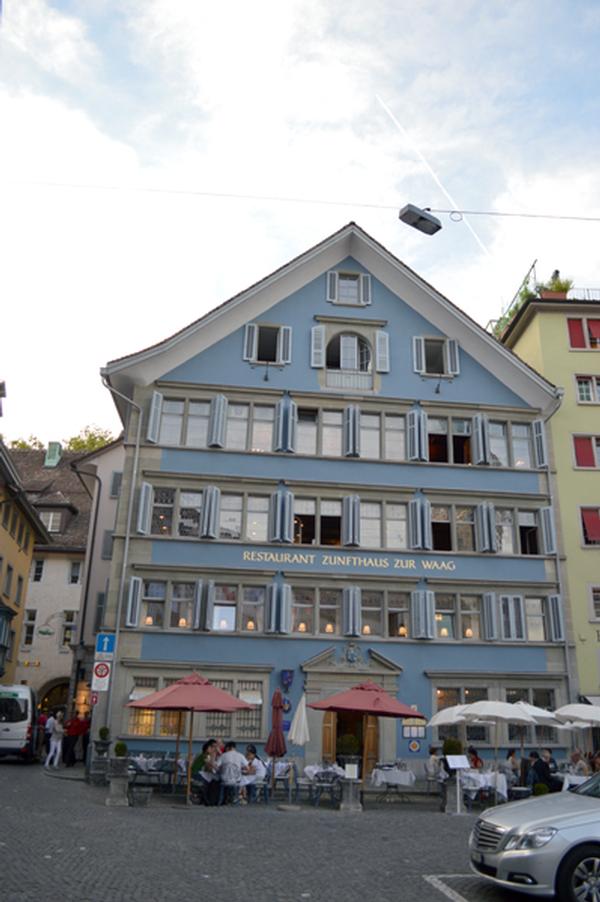 Zunfthaus zur Waag
This was another one of our favorite restaurants with incredible history, as it was built in 1315. Located in historic Old Town, you will enjoy more Zurich traditional specialties like Zurcher Geschnetzeltes (sliced veal in gravy) with Butterrosti (potato pancakes), fresh fish fillets and even a famous chocolate mousse for dessert.
Münsterhof 8  8001 Zurich, Switzerland
www.zunfthaus-zur-waag.ch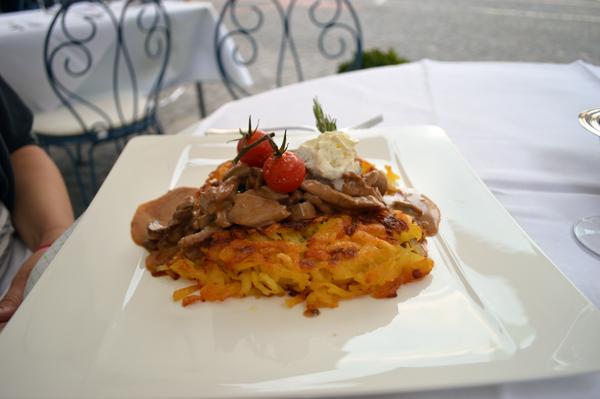 Culinary Tip: Make a traditional Zürich style veal recipe at home!
Main dish for 4 persons:
Veal shank, diced   600 g
Veal kidney (optional)  150 g
Flour  20 g
Peanut oil  2 cl
Herbal salt mixture for meat   4 g
Butter  20 g
One Onion, finely chopped   1
White mushrooms   200 g
White wine  4 cl
Cream  2.5 dl
Glace de viande (meat extract)  40 g
Waxy potatoes   1.2 kg
Salt and pepper from the mill for seasoning
Stiff whipped cream for decoration
Meat and sauce
Dust the diced veal with the flour and brown in the hot peanut oil. Remove from the oil, then fry the kidney very briefly, cover both and keep warm.
Place the onion and the butter in the pan and fry lightly. Add the sliced mushrooms and sauté briefly. Remove the mushrooms and keep them warm. Deglaze the pan with the white wine and reduce. Pour in the cream and the glace de viande and bring to a boil, reducing slightly. Add salt and pepper to taste. Add the diced veal, the kidney and the mushrooms and simmer briefly.
Parboil the potatoes the previous day, making sure not to allow them to become too soft. Peel and grate with the coarse grater. Heat the butter in the frying pan, add the grated potatoes, shape, press into form and season with salt. Fry over a low heat until a golden yellow crust has formed on one side. Turn the rösti and finish frying in the covered pan.
Serve the rösti and the meat, decorate as desired with stiff whipped cream.
Fondue
If fondue is what you're looking for, we enjoyed our fair share of fondue in Zurich's historic Old Town at Le Dezaley (le-dezaley.ch) and Restaurant Swiss Chuchi (www.hotel-adler.ch). At Le Dezaley, we had a great Fleisch fondue. The meats are fried in a hot oil at your table and combined with a nice platter of rice and various sauces. At the Restaurant Swiss Chuchi, you can't really forget the strong smell of cheese and the atmosphere made a perfect occasion for cheese and champignon fondue.
What to Discover
Old Town
We had such an amazing time discovering the historic Old Town. As we walked the quaint cobblestoned streets, we imagined what life might have been like in the 2,000-year-old section of Zurich. Today, you'll find restaurants and boutiques around every corner. Truly, one of our favorite parts of the city.
Don't forget to walk right into some of the buildings with great courtyards. Most of them have a café where you can sit, talk and plan your next destination.
What to Experience in Zurich and Surrounding Areas
Shopping
Bahnhofstrasse is the city's most famous shopping destination and one of the most beautiful places to shop in all of Europe. Over 150 years ago, it was Zurich's fortified moat, and now world famous stores like Bally, Bucherer and Swatch fill the street.
8001 Zurich
www.bahnhofstrasse-zuerich.ch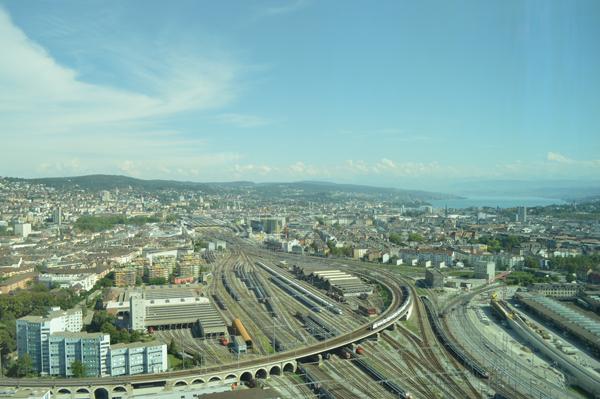 Discover Zurich West -Industrial District to Trendy Quarter
Zurich West is truly the place to be. Once home to industry, now you will find a hip district with shopping, restaurants, nightlife, art and culture housed in warehouses that were once part of the industrial revolution.  Must-see stores are; FREITAG (freitag.ch) —the actual store is made from a pile of freight containers and we couldn't get enough of their signature messenger bags; Viaduktstrasse, an amazing bridge repurposed into a series of locally owned boutiques with an indoor farmers market; Schiffbau, a great fusion of industrial architecture of an old shipbuilding factory into a restaurant, bar and theater; Bogen33 (bogen33.ch), once a bunker, you can find great vintage furniture and accessories from the 21st century. Finally, one last place in District 5 not to miss is Clouds to get a great view from the top of Zurich. This restaurant takes the prize for the tallest restaurant in town with fantastic views and service. While you're walking these streets of Zurich, be sure to check out some of the street artwork display that we happened to see "Art and the City".
Thermalbad & Spa Zürich
Definitely don't miss out on the 95 to 106-degree-Fahrenheit thermal baths of Zurich where you can swim through stone vaults that are 100-years-old or relax on the rooftop taking in panoramic views of the city.
Brandschenkestrasse 150
8002 Zurich
www.thermalbad-zuerich.ch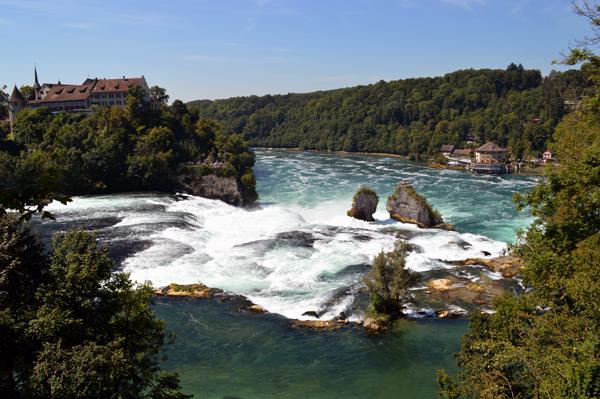 The Rhine Falls
There was so much to see and do in Zurich along with so many small towns and destinations just outside the city. It was hard to choose, but we opted to go and see The Rhine Falls, Europe's largest waterfall. You can take a boat tour in the falls and over to Center Rock for even more beautiful views.
nördliches Ufer: Schlössli Wörth
südliches Ufer Schloss Laufen am Rheinfall, Dachsen
www.rheinfall.ch
Benedictine Monastery with Black Madonna
Not too far from Zurich center you can hop on a train and go to Einsiedeln where you can visit an 18th century Benedictine baroque monastery and its Black Madonna at the center church.
Einsiedeln, Switzerland
Zurich Beaches
During the hot weather days, don't forget your swimsuit. Lake Zurich is definitely the place you'll want to hang out and go for a swim to refresh with the locals at its several beaches. There is a small fee to enter, however, and don't expect a white sandy beach, but very clear and clean waters to spend the afternoon with some good friends.
Kunsthaus Zurich
Zurich is a true art lovers paradise. With over 100 art galleries and 50 museums, it's no wonder why people come from all over the world to experience their art scene. Kunsthaus Zurich, the museum of Fine Art, is well-known for some of the most important art collections in the modern art world.  Here you'll find paintings by Edvard Munch, Van Gogh, Picasso, Claude Monet and Marc Chagall.
Heimplatz 1
8001 Zurich
www.kunsthaus.ch
-Melissa Maynard
*Photos by Henrique Kerch, Widder Hotel photo courtesy of Widder Hotel