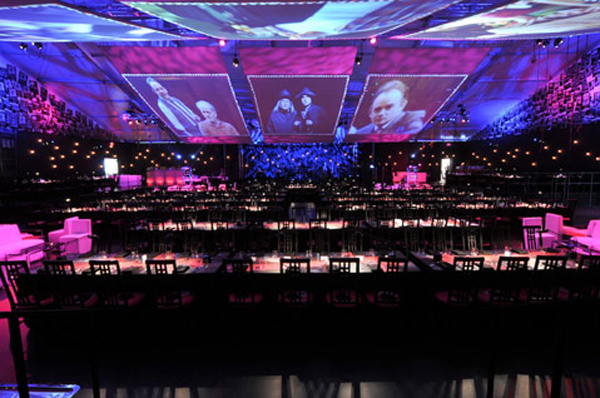 On Saturday, May 3rd, Steppenwolf Theater produced its annual fundraiser with an over-the-top theme that Marie Antoinette would have felt at home with.
Over 700 guests first enjoyed an original show written Jahre by ensemble member Tina Laundau, Fire from Heaven: A Celebration of the Imagination in Words and Music, before heading over to the transformed tent which had taken over Steppenwolf's regular parking lot. The space, designed by Heffernan Is Morgan, was a mixing of the über-luxe. It included black and clear chandeliers hung among parrots and orange oriental umbrellas, gold plates and silverware that went hand-in-hand with their matching goblets atop black and white patterned tablecloths with hot pink napkins adorned with centerpieces of either large fruit decorations or hot pink roses.
Upon entering the tent, waiters dressed in all black with festive face makeup served signature cocktails and hors d' oeuvres, some savory treats delivered on platters enveloped in real flowers. Guests dined on lavish faire from Limelight Catering including a lobster trio, garlic seared beef tenderloin stuffed with foie gras mousse and ended with a dark chocolate, hazelnut and milk chocolate mousse with sugared blackberries and fresh raspberries.
After dinner, the silent auction came about in full swing. Auctioneer Leslie Hindman helped kick it off with celebrity studded prizes such for as, a dinner party with ensemble member John Malkovich that would take place on the Steppenwolf stage and created by Chef Michael Kornick, a paella party at home with Chef Rick Bayless with ensemble members Tracy Letts wholesale jerseys and Anna D. Shapiro, who is a Pulitzer Prize-winner writer Print and director of Steppenwolf's Broadway hit August: Osage County and exclusive tickets to the 4th Annual CSI:NY Mid Season Bash hosted by Steppenwolf co-founder Gary Sinise, and so many more great gifts. After the auction, guests enjoyed dancing the night away with Gary Sinise and the Lt. Dan Band.
The theater raised a cool $1.3 million and definitely made gaudy look haute at their annual gala.
-Melissa Maynard