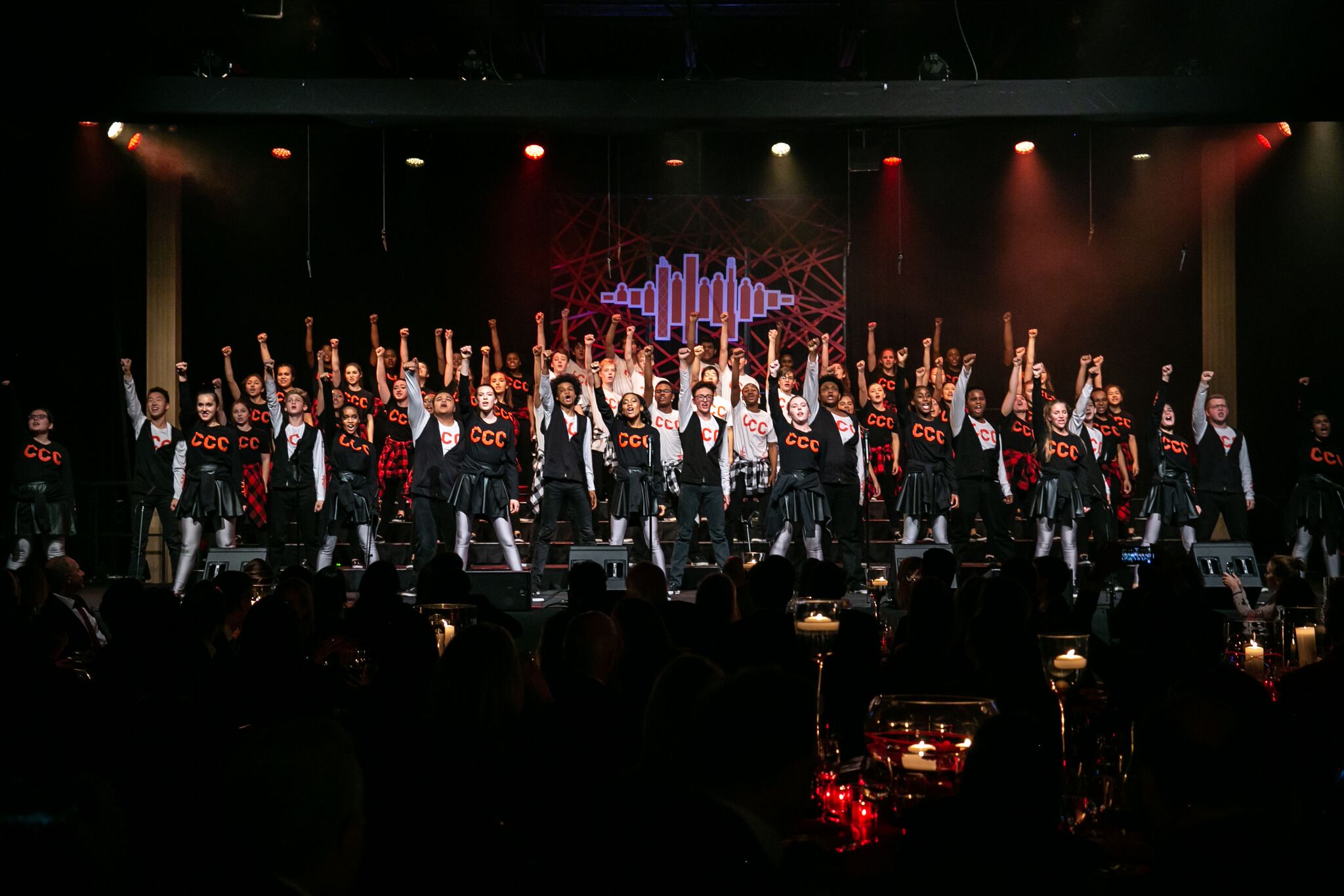 The 62nd annual Chicago Children's Choir's Red Jacket Optional Gala brought in over $1.37 million this year. Over 600 guests packed The Geraghty for this event that creates a big impact for youth and unites them through music. "Each year we are truly blown away by the overwhelming love and support that is shown by our supporters and the community," said CCC President and Artistic Director Josephine Lee. "Red Jacket Optional is always a night of celebration, and I am so grateful for the generosity of Chicago's philanthropic community and their dedication to growing CCC's mission and impact to directly benefit nearly 5,000 youth."
Hosted at Tom Kehoe's stunning Pilsen venue, guests were greeted by the choir's 8-12-year-old performers. A colorful cocktail reception was enjoyed before dinner, prepared by BOKA Catering Group Executive Chef Giuseppe Tentori which featured an entree of Beef Tenderloin and French-style potato mash with spinach, smoked baby carrots, broccolini, and truffle jus. "Welcoming guests to The Geraghty is always exciting for me and my team, but when it's for an event that makes a difference for youth in our city, it's that much more meaningful," said Tom Kehoe, President of Kehoe Designs. "I'm thrilled to have hosted CCC's Red Jacket Optional Gala, and look forward to continuing to work with and supporting CCC in the future." But what we enjoyed most, were the stunning performances throughout the night by Chicago Children's Choir that included electrifying performances like All You Need Is Love/You're All I Need to Get By and Chicago Fire from Long Way Home.
Outgoing CCC Board Chairman Bob Fealy and his wife Rose were honored during the evening for their continuous commitment to the Chicago Children's Choir. "Rose and I believe deeply in CCC's mission to inspire and change lives through music," said Fealy. "We are honored by this recognition and excited to watch as CCC continues to reach new heights as an organization, impacting more youth than ever throughout the city of Chicago." To learn more about the Chicago Children's Choir, visit ccchoir.org.