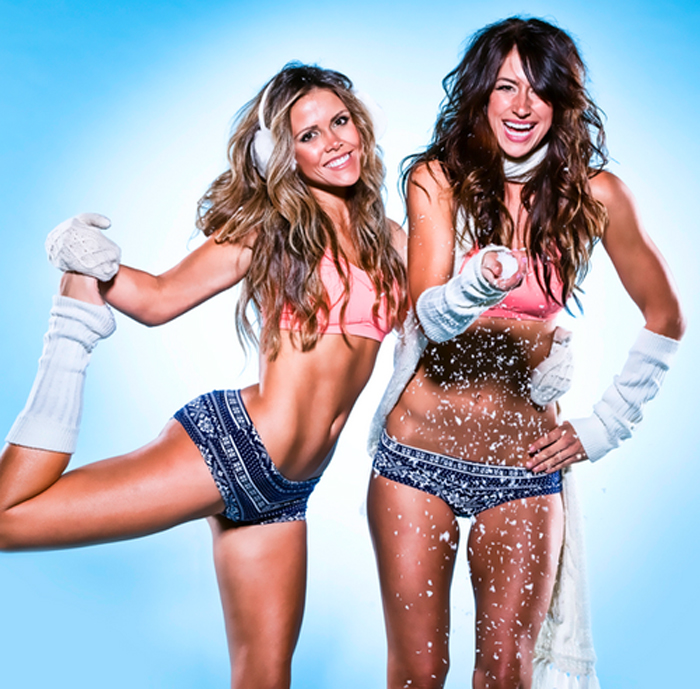 With winter in full on blizzard mode, getting to the gym is getting more and more difficult. But that doesn't mean you can't still take to the mat and work those abs and gluts, because we have found the answer to your dilemma. Check out our 4 must-have YouTube workout channels, so you can workout from the comfort of home! Here's to 2014 with no excuses and getting the body you've always wanted.
Tone it Up
Trainers Karena and Katrina make working out so fun that you will want to keep coming back for more.  Most workouts are shot from a beach setting, so you'll be motivated to get the bikini body of your dreams. Plus, you can sign up for free to receive their weekly workouts, recipes and motivational tips! If that isn't motivation enough, catch the girls on their new Bravo show as they navigate the waters of their multi-million dollar fitness empire.
Tone it Up YouTube Channel click here
www.toneitup.com
LovebyLynn
We first noticed the blogger behind LovebyLynn because of her style, but it got us wondering — How in the world did she get her stunning body? We love a girl that can divulge all her secrets. Now that she shares her workouts with her readers, we wonder no more and are just thankful to be able to do the workouts for ourselves. We're inspired to get off the couch and take the challenge. She isn't a girl who is afraid of weights, knowing that building muscle can keep you long and lean, perfect for showing off that style blogger wardrobe!
Love by Lynn YouTube Channel click here
www.lovebylynn.net
Equinox
We couldn't do this round-up without including our favorite gym! Equinox is truly a state-of-the-art facility with the best workout equipment and group classes (we love their newest class Flow Play Yoga), but on days when we can't make it there, we make sure to check out their YouTube channel for tips and workouts like the Hotel Room Workout which was shot at PUBLIC Chicago, one of our favorite hotels. Whether you're traveling or stuck at home during a winter storm, Equinox has you covered with quick workouts that are sure to tone and sculpt. Equinox has locations in some of the best cities worldwide including New York, Chicago and London, so if you're looking for an incredible gym, look no further!
Equinox YouTube Channel click here
www.equinox.com

The Pilates Fix was created by Los Angeles-based Pilates instructors Andrea Speir and Kristen Matthews as a way for women (and men!) to have the access to Pilates.  No more excuses that Pilates is too expensive with these free online classes! Learn how to tone your body and get all of the benefits of this amazing workout, and if you are someone who is always on the go, or constantly traveling, check out their app.
The Pilates Fix YouTube Channel click here
andreaspeirpilates.com
*Imagine: Tone it Up
Shop for new workout clothes with our editor's picks!