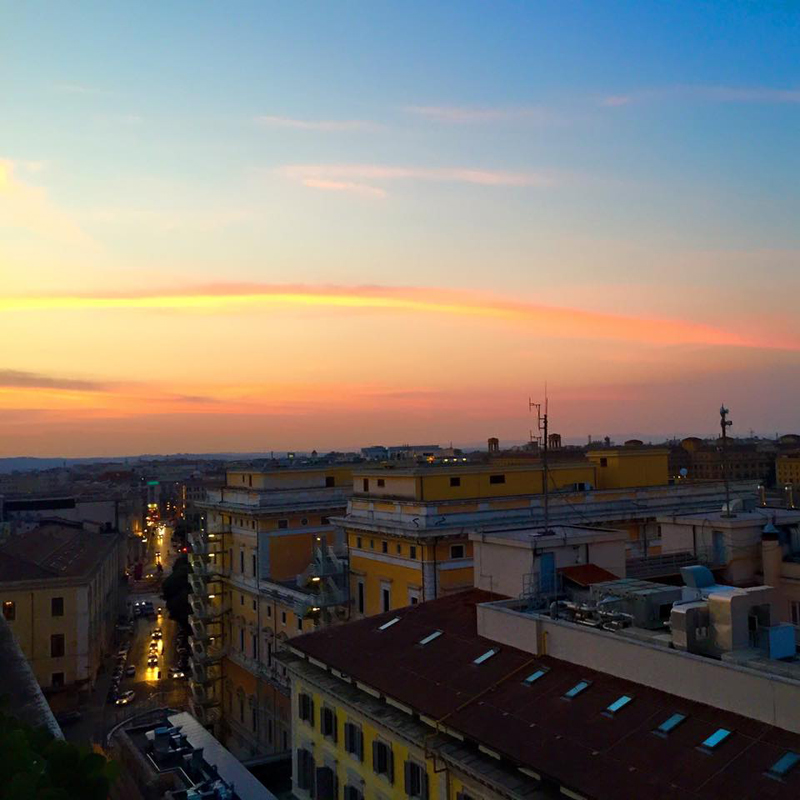 If you're looking for an extraordinary experience when visiting Rome, we suggest booking a suite at Hotel Mediterraneo, a Bettoja Hotel. After a day of sightseeing, you can spend your nights overlooking the city from your own private balcony, sipping your favorite Pinot Noir—for as little as 350 Euros a night.
On the 10th floor, you can choose from seven luxury Presidential Suites, each with their own large and private balcony—with stunning views, even one of St. Peter's which is rare for any traveler. The suites are decorated to perfection with unique décor, and they each feature a large living room, separate bedroom, and Jacuzzi tub.
The building itself is ten-stories of Art Deco bliss—the lobby is adorned with plenty of marble, Roman statues and plush seating. Don't miss the Rooftop Garden Restaurant that comes with 360 degree views of Rome. When you book in superior or suite rooms, you can enjoy a fulfilling breakfast with million dollar views. In the evening, they reopen for dinner or end the night with a cocktail.
Situated in the heart of the city, it's the perfect location for exploring with many of the must-see attractions within walking distance including The Pantheon, the Basilica Santa Maria Maggiore, the Colosseum, the Trevi Fountain, the Spanish Steps, via Veneto, the Forum, and the Opera House.
With memories you'll never forget, you'll be talking about those sunset views from your private balcony for years to come. For more information about booking a suite at Hotel Mediterraneo, visit romehotelmediterraneo.it.