If you've ever wanted to figure out a way to get the latest (and let's be real, the greatest) beauty products to take care of your biggest skin and hair care woes, we've found just the place—and you'll want to bookmark it stat. Wanting to get better deals on high-end fashion? Be sure to stay with us. Shopping with Giving Assistant has been a revelation of sorts for us. We can shop our favorite cosmetic brands from the sites we're already shopping (think Sephora, ULTA Beauty, Murad and more) and put cash back in our wallet. But, the best part, we can donate a percentage to the charity of our choice (more on that later). We'll show you how it works, the cash you can get back in your pocket, what we bought and want to buy and a look at the charity we chose.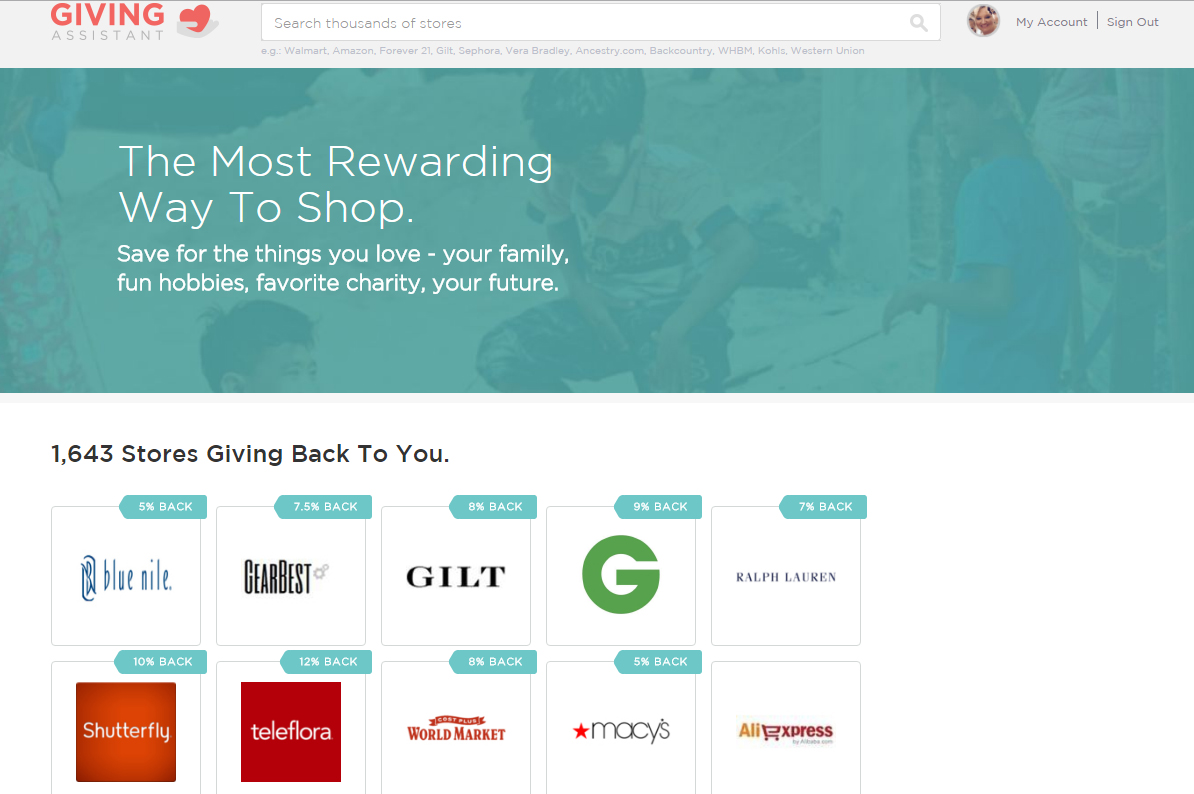 How It Works
The site is so simple to use, simply visit givingassistant.org and register quickly for an account. Then begin shopping, all the while being rewarded for things you're typically buying. The best part is these are retailers that we are already shopping. On the fashion front, you'll find H & M, Macy's, Ralph Lauren, Gilt and more. Some of the beauty retailers we browsed on Giving Assistant include: Kiehl's, Estée Lauder, Origins, and Sephora, to name a few. Typical cash back is between 5-7%. Shopping with the site opened our eyes to how much you can save over the long term. On average, you can save $7,050 over 10 years. Not only that, you're paid out in weeks, not months and with the highest cash back rates—and giving back.
Insider Tip: Keep watch on their coupons section. Don't leave money on the table, especially when it comes to your favorite fashion and beauty retailers. Besides deeper discounts, there are deals on shipping and free samples, too.
What We Bought
We wanted to put the service to the test to see just how rewarding it can be. One of our guiltiest pleasures is trying and testing the latest beauty products on the market, those that will have us feeling as if we are lounging poolside or better yet, at a far-flung beach (anything for tousled beach hair!). Giving Assistant is partnered up with one of our favorite beauty retailers, Sephora. Before starting to shop, we checked out the coupons to ensure we got the most out of our experience and there were several (snagging free product for spending just $25—yes, please!). We picked up Verb – Hair on the Go, a four-piece collection of travel sized products including wash, rinse, hydrate, and our personal favorite, style. But not just any styling concoction, their go-to sea spray that will take your everyday hair to tousled, sexy beach hair. Next up, we bought Too Faced Better Than Sex Mascara after hearing rave reviews on the product (also in a travel size). On to the best part, the free samples. Here's what we scored: Fresh Rose Deep Hydration Face Cream deluxe sample, KORRES Black Pine Active Firming Sleeping Oil, GLAMGLOW SUPERMUD™ Clearing Treatment and Yu-Be Moisturizing Skin Cream. After shopping through Giving Assistant, we'll gain 5% cash back on our purchase, and we feel extra good knowing we made a donation to a charity that creates educational opportunities for girls in underdeveloped countries.

Here's a Look at Our Fashion and Beauty Wants
Ralph Lauren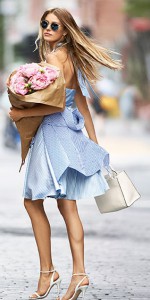 This 1950s-inspired striped halter dress is perfect for heading to a local flower or farmers market (ours is Green City Market in Chicago's Lincoln Park neighborhood). We'll be leaving the heels at home, but this little Ralph Lauren number has us day-dreaming and just might make our weekend that much better.
The Details: Shopping with Giving Assistant, we'll get 7% cash back on this purchase. With a current coupon offered by Ralph Lauren, we could take an additional $50 off $250 for even more savings.
Estée Lauder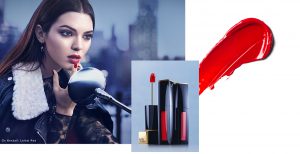 Truth be told, the Kardashian-Jenner girls have enviable beauty routines. We could contour like Kim or simply emulate Estée Lauder's latest face, Kendall Jenner with one of her favorite new shades. With a click of our mouse, we'll be picking up Lethal Red's Pure Color Envy Liquid Lip Potion.
The Details: Shopping with Giving Assistant, we'll get 4% cash back on the purchase.
H&M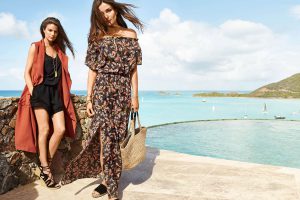 When we aren't planning our next escape, we're shopping for it. The minute we saw H&M's Off-the-Shoulder Maxi Dress, we were smitten.
The Details: Be sure to check out their coupons. We found everything from discounts (10-20% off) to free shipping on your purchases.
Giving Back
Hands down, one of the coolest aspects about shopping with Giving Assistant is the charity component. We live by the mantra that a little bit goes a long way. Before you shop, take a moment to decide where you would like to "give back" to. The site offers up suggestions, but you can donate to wherever your heart desires. We decided to donate to Camfed, a non-profit organization that is "dedicated to eradicating poverty in Africa through the education of girls and the empowerment of young women." By something so simple as shopping through Giving Assistant, your gift could send a girl to school (as little as $20 a month can send her to school for a year!). The donation amount you give is up to you, anything up to 100% (we went with 70% to Camfed). Other notable charities you could put your donation towards include: Cancer Wellness House, American Red Cross, and Direct Relief. Not only that, but for each sale made through the site, Giving Assistant will donate a meal to a family in need, working with the nation's leading domestic hunger-relief charity, Feeding America.
To learn more about Giving Assistant and to register to shop thousands of retails (and get rewarded), click here.
*Thank you to Giving Assistant for sponsoring this post. As always, all thoughts and opinions expressed are our own.