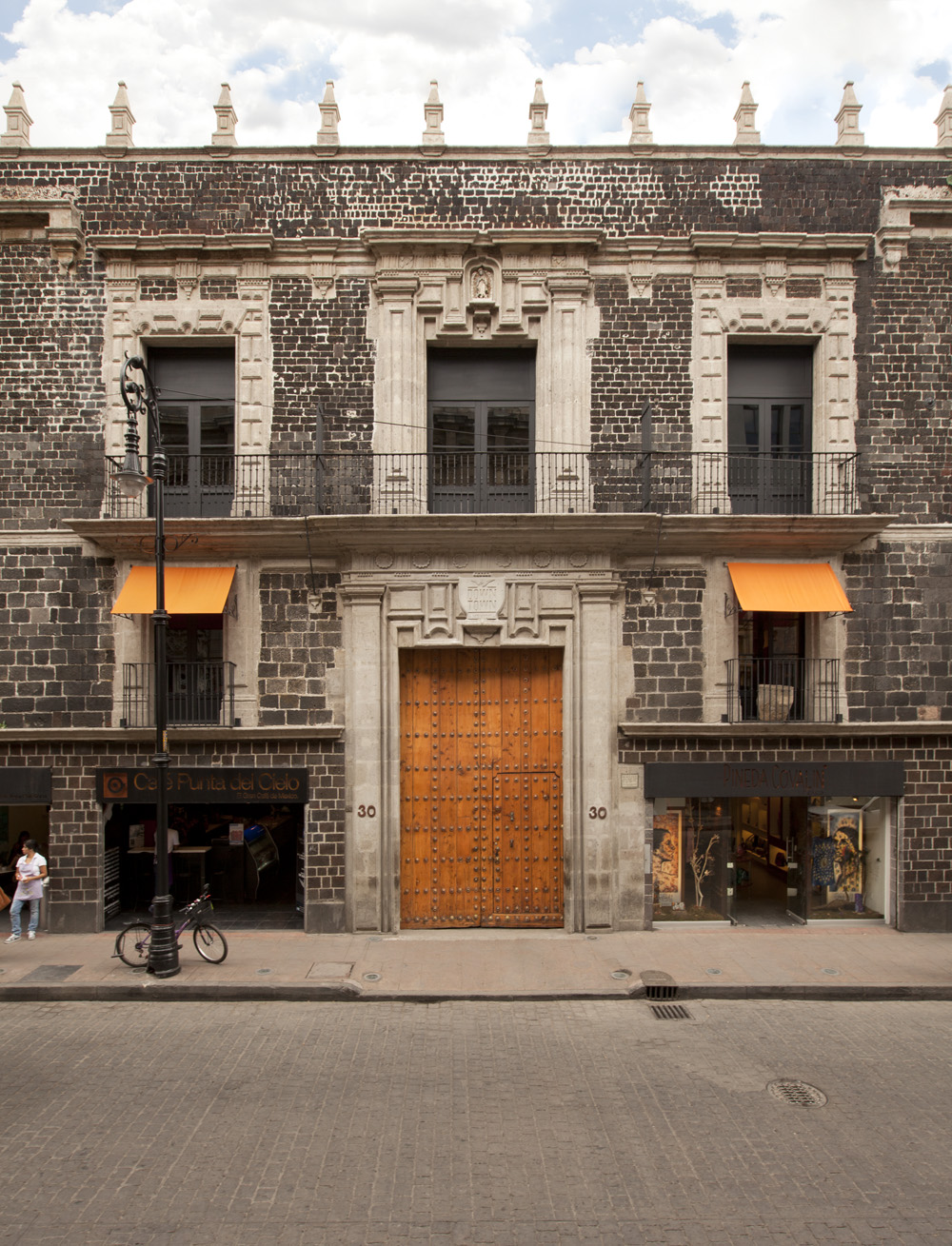 An exciting destination awaits a world away at the luxury boutique hotel, Downtown Mexico, in a former 17th century colonial palace-turned-hotel in the heart of Mexico City. From the moment you set foot inside, you'll feel just how unique and special this place is with the perfect blend of Old World colonial grandeur and modern elegance. Welcomed by oversized doors from centuries past and a brilliant orange chandelier hanging overhead, leading to an incredible open courtyard with100-year-old laurel trees that feature an elegant restaurant, countless shops, a gallery and finally, taking you to a discrete, dim-lit front desk–to set the mood. Details abound at Downtown Mexico hotel –the antique steel/copper elevator built in the 1800s, the walls made from volcanic rock, and the incredibly tall ceilings in their 17 guest rooms, giving off the perfect bohemian-chic feel.
Let's start with a little history lesson, shall we? The building, known as The Palace of the Counts of Miravalle, is one of the oldest buildings in Mexico City, and was originally the home of Don Alonso de Ulibarri Davalos Bracamontes and de la Cueva.  He was chancellor of the Court of the Holly Cross of the Kingdom of New Spain. Fast forward to the 21st century, hotelier extraordinaire Grupo Habita has stepped in giving guests the perfect balance of history and modern amenities you've come to know and love.
The location is extraordinary –it lies on a historic cobblestone street next to other colonial landmarks in the UNESCO World Heritage Site in the "Centro Historico" district of Mexico City with just a short walk to the Plaza de la Constitución in the historic center of the city.
One of our favorite parts of this hotel had to be the rooftop terrace with the pool and bright, yellow lounge chairs. Enjoy one of their signature cocktails and take in the incredible views.
Downtown Mexico, Isabel La Católica 30, Cuauhtémoc, Centro, 06002 Ciudad de México, Distrito Federal, Mexico
www.downtownmexico.com