There's something magical about candlelight and the scents and memories they evoke, especially during the holidays. We fell in love with some new collections this season. Whether you're buying for yourself or a loved one, candles are always the perfect gift. Check out our must-have holiday candles this year.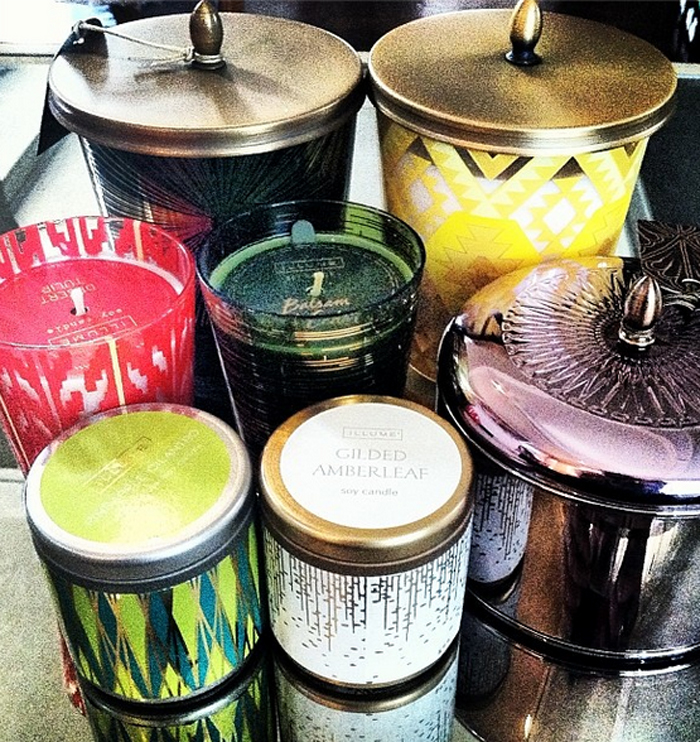 ILLUME Candles
ILLUME candles are absolutely gorgeous –the packaging alone is something you will want to keep for years to come –and they all smell divine. We plan to kick off entertaining season for the holidays with their Balsam and Cedar Large Harlow Candle ($36), also available in a smaller demi size for ($15.75). The first thing your guests will notice as they walk through your door is the scent of this candle, balsam, oak moss mixed with cedarwood, cinnamon and eucalyptus. All you need to do is have the perfect hot chocolate bar ready to go.
Another incredible scent from the ILLUME collection is their Woodfire Metallic Knob Tin ($23.50). We could literally smell this one all day long! It's a seductive scent of cedarwood and smoke with patchouli leaves and warm vanilla.
This city girl feels most at home when I'm feeling a little boho. Throw on a little Bob Marley on Pandora and light up their Amber Dunes Boho Candle  ($33.50, large) for an earthy fusion of bergamot, tobacco flower, golden amber and sandalwood. Another must-have for the boho girl is the Desert Tulip Boho Candle ($14.50, small), red tulips, lilies, white tea rose, raspberry, mandarin and musk.
Always remember good things come in small packages. These are the perfect gifts for a stocking stuffer or perfect if you want a little relaxation while traveling. The Gilded Amberleaf Holiday Mini Candle ($9)  smells of rich cedarwood and golden amber, infused with mandarin, vetiver, vanilla and tobacco.
And, for something so unexpectedly awesome, pick up the Pineapple Cilantro Essential Travel Tin ($9) for a cool combination of pineapple and fresh cilantro.
To shop these ILLUME candles and more, visit b-glowing.com.
Bath and Body Works Holiday Collection
Next up, check out your local Bath & Body Works or head to their online store and pick up a bunch of three wick holiday candles.
The Fresh Balsam candle ($20) is a must-have, because during the holidays, you can never have enough of  the delightful scent of balsam and fir trees, layered with notes of fresh eucalyptus.
Bring in the scents of Winter with a candle by the same name that evokes the snow-filled season with notes of pine needles, clementine and winter woods. Winter ($20) will have you enjoying the season and all that comes with it.
Who doesn't love a lazy snow day? Create memories of building the best snowman, then coming inside to hot chocolate and this must-have candle. Snow Day ($20) has the perfect essence of the day with a joyful blend of spruce branches, peppermint and sweet vanilla.
Another smoky must-have tops the list. Vanilla Firewood ($20) has an incredible blend creamy roasted vanilla, smoky firewood and a hint of cedar that creates a warm holiday memory to everyone that encounters it.
Visit www.bathandbodyworks.com.
Charles Dickens Library Collection
If you have a bookworm in the family, then you must check out the Charles Dickens-inspired Library Collection from Paddywax. Make a perfect family tradition with this candle that smells of tangerine, juniper and clove. Light it up, sit by the roaring fire and grab a copy of The Christmas Carol to read to the kids. The Charles Dickens Library Candle ($25) and room diffuser ($29) are the perfect additions to bring holiday cheer.
 Enjoy a joyful holiday season with candles that will make your memories even brighter.