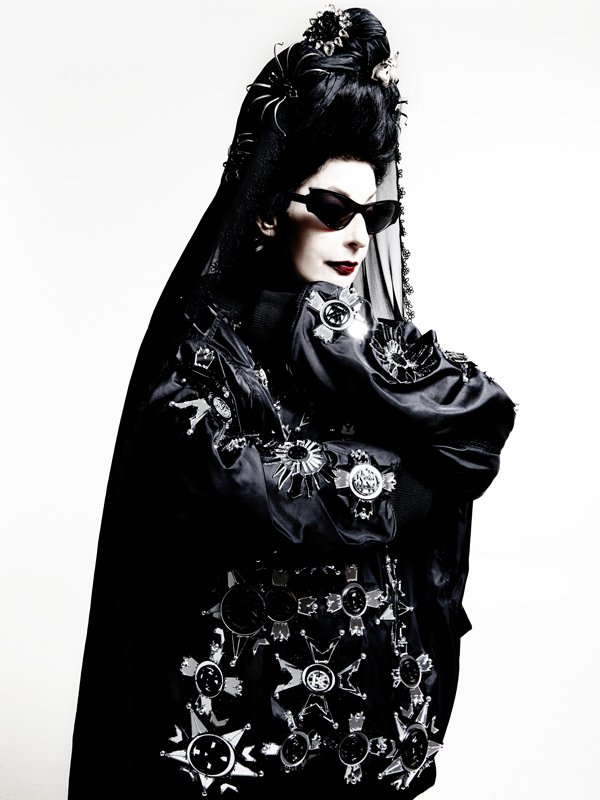 Fashion icon Diane Pernet was seen swathed in her all black, veiled signature look front row at The Walk—The School of the Art Institute's annual fashion show in Chicago's Millennium Park. She was recognized with SAIC's 2015 Legend of Fashion award for her contributions to the industry which include a variety of accomplishments from her fashion blog, A Shaded View on Fashion (ASVOF) that started in 2005, to influencing the fashion film genre with several film projects that feature artists, photographers and designers. Before her blog, she wrote for the likes of Elle France and Vogue Paris. Her latest project has her launching her very own namesake perfume collection—Diane Pernet Paris perfumes: To Be Honest, Wanted, In Pursuit of Magic and Shaded. We caught up with the legendary fashion icon while she was in Chicago to learn more about her fragrance collection, how she created that signature style and what people are surprised to know about her.
FACTIO MAGAZINE: You have recently launched Diane Pernet Paris perfumes: To Be Honest, Wanted, In Pursuit of Magic and Shaded. Tell us about how you were inspired to create a fragrance collection.
DIANE PERNET: I've always been recognized by my scents, even before I created my own, because they have always been a bit unusual or unexpected –-or at least memorable, it seems. Ultimately, though, I only want to make perfumes that I would want to wear myself and that felt close to my life.
It is something that I had dreamed of when I was designing my own brand back in the 80s. I was not in a position to do it at that time and about three years ago I met with Cristiano Seganfreddo who said, "now is the time for you to create your own perfumes and I know just the person to introduce you to who can make that happen." He introduced me to the CEO of Intertrade Group, Celso Fadelli and that is where the adventure began.
My approach was to envision a vignette which would offer cues for the formula of each fragrance and then continuously adapt until we got it just right. The entire process has been magical for me. But, of course, the real magic then comes into play knowing that someone else will wear the same fragrance –-and imagining how they will reinterpret my vignette into one of their own.  I can't wait for people to share their vignettes with me.
FM: In what ways has the industry changed since you started your site in 2005?
DP: I think it is how we consume and receive fashion that has changed with the era of blogging. Everyone is privy to fashion in real time, via live streaming and instant coverage thanks to sites like Nowfashion. The old way of presenting fashion to an exclusive few is over. The power of the once omnipotent fashion PRs is also changing because it really matters less if you receive a ticket to a fashion show because, at the very least , you can watch it from the comfort of your computer wherever or whenever you want. Granted it is not the same experience but, more and more, the virtual experience of capturing shows is improving and advancing so that the gap between quality of the actual show and the show online is narrowing. Of course you can't replicate the experience of being live when a true "fashion moment" happens on those rare occasions in shows when something is exceptionally evocative or moving but that is pretty rare.
FM: Give us an inside look at how you created your signature style.
DP: I think my sense of style is part of a broader sense of aesthetics that I developed over the years. To some extent, it's like an accumulation of my life experiences.  But like many people working in fashion and the visual arts, it is also a quality that comes somewhat naturally to me.  I don't think it is something that I learned, it is more something that I feel. I was discussing that with a friend the other day in fact.  We came to the conclusion that we probably don't realize that what we have is a gift and that so many people have to work to try to sense and understand things that come naturally to us.
FM: Who are your fashion icons? What do you love about their style?
DP: Charlotte Rampling, Caroline de Maigret, both for the same reason, a casual elegance that defies time.
FM: Your ideal dinner party would include these guests:
DP: Roman Polanski, Jerry Schatzberg, Mike Figgis, Rosy Chan, Zowie Broach, Alejandro Jodorowsky, Dries Van Noten, Rick Owens, Michele Lamy, Adan Jodorowsky, Robb Young, Miguel Villalobos and Graham Tabor. Why, I love them and respect them all.
FM: Give us a look at what a  typical day looks like for you.
DP: There is no typical day. I travel a lot so it depends where I am and where I'm off to. I get up around 7 a.m., spend too much time on the computer, go to exhibitions, meet friends. There is no typical day.
FM: What are people surprised to know about you?
DP: I used to be a 'pom pom' girl in high school.
To learn more about Diane Pernet, visit her blog at ashadedviewonfashion.com. For more information about her perfume collection, click here.