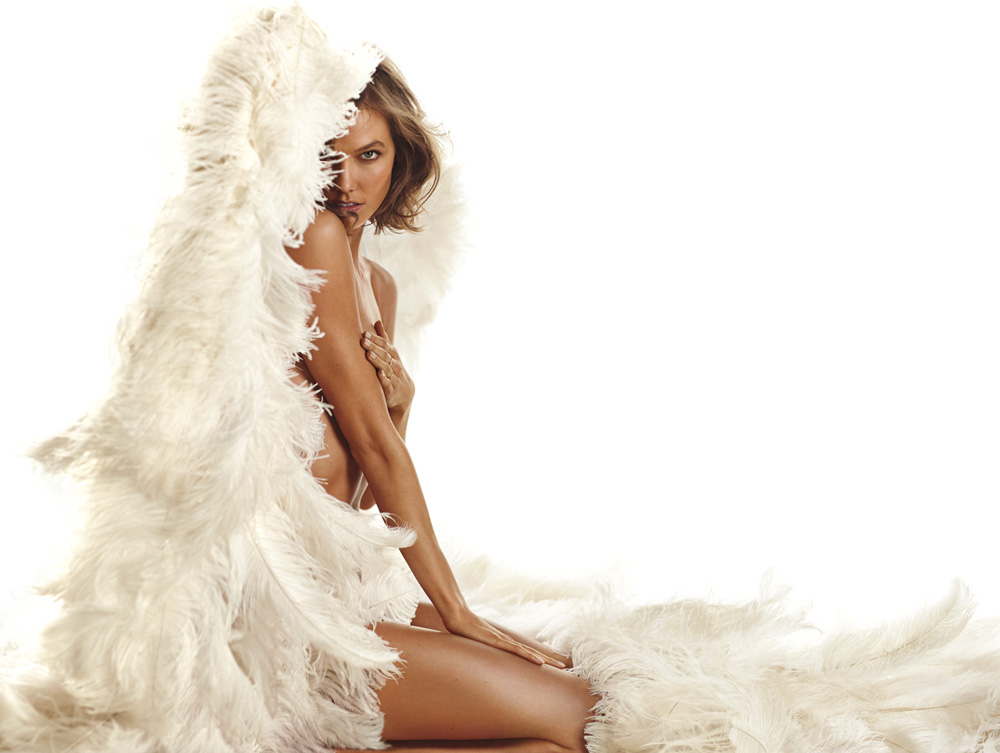 Supermodel Karlie Kloss spent April 29th in Chicago to launch the new Heavenly fragrance –the most iconic of fragrances by Victoria's Secret with notes of white peony, vanilla and sandalwood. It was first launched in 1999 with Czech model Daniela Peštová and then by Brazilian bombshell Giselle Bündchen in 2003, and now Kloss — a fresh faced All-American beauty brought on to front the Heavenly campaign for Victoria's Secret's best-selling fragrance. We spent the afternoon with the gorgeous model during a perfectly girly lunch (she noshed on roast carrot and avocado salad and the slow cooked salmon!) at the PUMP Room of the Public Hotel.
Mark Knitowski, Vice President of Fragrance Development for Victoria's Secret Beauty was also on hand, telling us, "This fragrance is more about energy and how we connect with the customer to make memories and create dreams. The feedback from customers reminds them of when they met their husband or when they went to prom. The fragrance for me is all about connection and transformation. It's about the journey and how that person views that fragrance when wearing it." Adding that the addition of Karlie as the face of Heavenly reinvigorates the brand, smells as good as it always has with the addition of an elegant new bottle design.
After lunch, we sat down with Karlie, who wore an angelic, white Alaïa dress, to talk about what it's like to be the face of such an iconic fragrance, her favorite place in the world and her guiltiest pleasure. Later that night Kloss ventured to the Victoria's Secret Michigan Ave. shop (at 734 N. Michigan Ave, Chicago), as well as the shop at Woodfield Mall (5 Woodfield Mall, Schaumburg) to meet with fans and show off  Heavenly's new collection!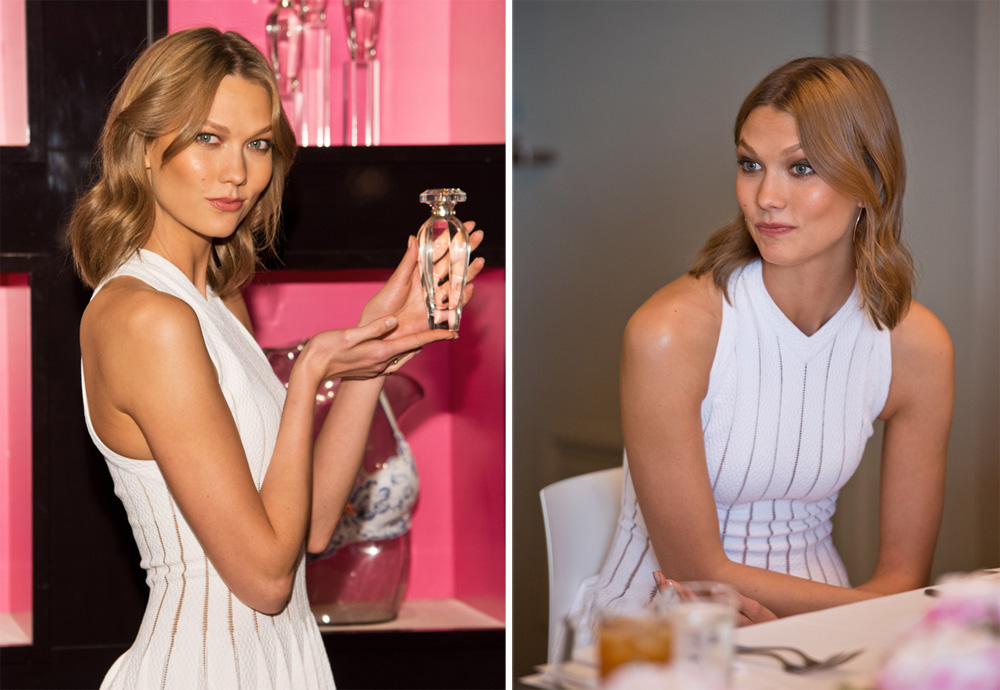 FACTIO MAGAZINE: You have done a lot of high fashion, what is it like working with such a well-know brand like Victoria's Secret?
KARLIE KLOSS: This is my home. Victoria's Secret is a brand that I actually have a lot of memories with. Right off the bat I did a lot of high fashion–lots of runway shows and couture shows, working with the Karl Lagerfeld's of the world. I had no idea who Karl Lagerfeld was until somebody told me before I went to the fitting! Whereas, Victoria's Secret, I really had a special relationship with and sort of idealized that woman. Partially also because I grew up in a house with all girls, Victoria's Secret was the one place we could all go. Victoria's secret is really, really special to me.
FM: How about being the new face of Heavenly?
KK: It's surreal –you know it's crazy, as we were mentioning at lunch that Daniella and Giselle had been prior faces of this campaign, so to follow in their footsteps is really a huge honor and really Heavenly is a fragrance with such history. Given that it's one of the most successful and iconic campaigns, for me to work with them on this campaign is really special. Fragrances are timeless, they last a lot longer than a fashion campaign. A fragrance really stands the test of time.
FM: What are some of your favorite beauty tips?
KK: There's a way to curl your eyelashes with a spoon, somebody taught me recently that does better than an eyelash curler! Using a small spoon–sounds crazy, don't hurt yourself, but using a small spoon that you sort of crimp the lash on the edge of the spoon to make them stand straight up. I don't have long lashes so for me to learn how to do this is a good trick.
FM: How would you describe your sense of style?
KK: Really simple, elegant and chic.
FM: Where's your favorite place in the world?
KK: Chicago! I love the energy of it. It's so chic, yet also so relaxed. It feels really sophisticated and sort of old worldly. There's so much history in this city. It is really chic and fashionable. I love it.
FM: What are people surprised to know about you?
KK: That I love football — love football! I'm a big Rams fan (sorry Bears!). And, I'm a big baseball fan, St. Louis Cardinals!
FM: What is your guiltiest pleasure?
KK: Dark chocolate with sea salt.
To stay in the know for all things Victoria's Secret, check out victoriassecret.com and follow them on twitter @VictoriasSecret