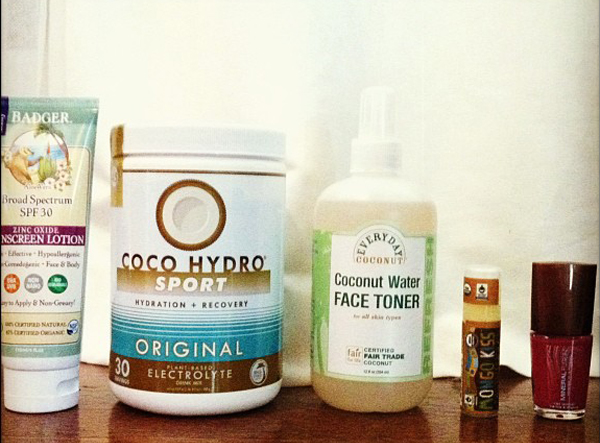 Beach season is quickly approaching and Whole Foods Market has the beach bag essentials to keep you glowing, hydrated, and summertime prepped. Because this is the season to show it all off, we want to make sure you look your best to not be shy during this time. Read on to find out what will be on your next shopping list to Whole Foods.
Because sunscreen is the number one beauty product right now, the Badger Broad Spectrum SPF 30 Zinc Oxide Sunscreen Lotion ($18.99) is an absolute must in your beach bag. It is a cream-based sunscreen that is very water resistant, as well as moisturizing and nourishing to the skin. Organic oil, butters, and aloe vera contain a protective barrier that makes it easy to apply for daily use. Make sure to never leave without it!
Another product you won't want to live without is the CocoHydro Sport Coconut Water Electrolytes ($23.99). Say goodbye to thirsty hot summer days. This refreshing drink mix is made from certified organic coconut water powder and can be added to any liquid on the go. This electrolyte drink mix is also available in Original, Pomegranate-Raspberry, Pineapple, and Lemon-Lime.
And speaking of coconut, the Alaffia Everyday Coconut Water Face Toner ($8.99) will cool you off after a long day of sun. Refresh your face with a spritz of this toner made with coconut water, neem, and papaya. Not only does this re-balance and rehydrate skin while neutralizing surface impurities, but it also donates 10 percent of sales to empowering women in poor communities in Togo.
Remember the skin on the lips is very sensitive and for that reason your lips must remain moisturized and protected from the sun at all times. The Mongo Kiss Lip Balm ($ 1.99) is made with Mongongo Nut Oil to hydrate and rejuvenate lips during each application. It is rich in Vitamin E and essential fatty acids that keep lips feeling soft and looking smooth. It is also available in Peppermint, Pomegranate, Vanilla-Honey, and Unflavored.
To complete your beach bag essentials, the Mineral Fusion Nail Polish ($7.99) is longwearing and chip resistant. It is an almost "all natural" polish that comes in a wide variety of colors ranging from subtle neutrals and classics to glitters and flashy metallics.
Find out more about natural and organic beauty products here.
– Natalia Aguilar