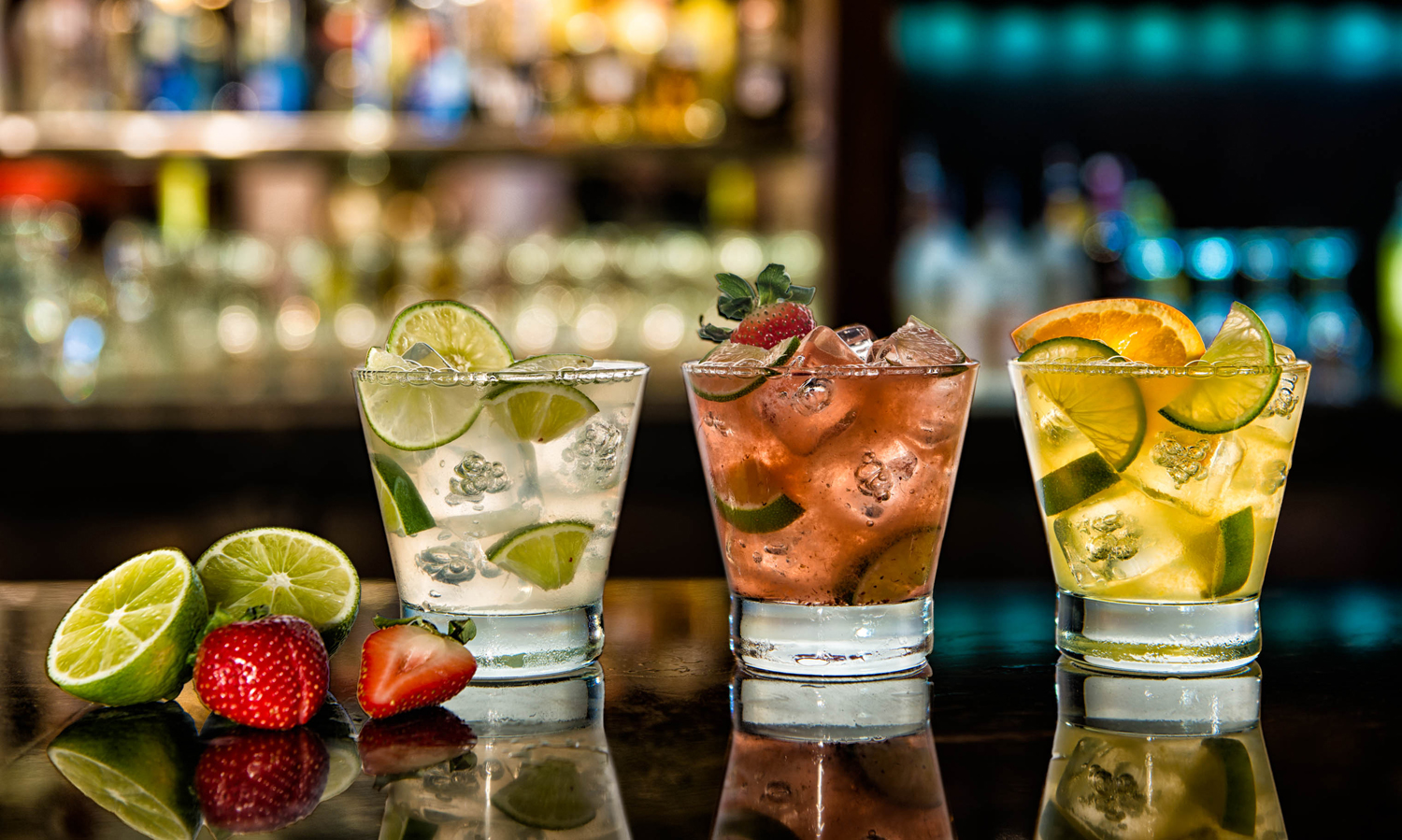 Hurray, it's National Caipirinha Day! Time to celebrate with Brazil's most iconic cocktail made with cachaça, sugar and lime. Evandro Caregnanto, the Culinary Director of Texas de Brazil Churrascaria, suggests the perfect way to serve Brazil's specialty drink at your next party in his recent book, Churrasco: Grilling The Brazilian Way. "Create a station with limes, perfectly ripe strawberries, pineapple, grapes, and kiwi, along with plenty of cachaça, simple syrup and ice. Put someone in charge of making the caipirinhas for guests, and make sure the cocktails are always flowing—this is a surefire way to get everyone relaxed, engaged in conversation and eating food. Believe me—the great food will taste even greater with caipirinhas." So sit back,  and enjoy the caipirinha, Brazil's national cocktail—either the classic or Strawberry Caipirinha with Mint. But seriously, all of this talk on the caipirinha has us crazing the churrasco dinners from Texas de Brazil.
Texas de Brazil Classic Caipirinha
Serves 1
1 medium Persian lime
1 1/2 fl oz (45 ml) simple syrup
make simple syrup: 1 cup (200 g) sugar
1/2 cup (120 ml) water
Ice cubes
2 fl oz (60 ml) good quality Cachaça
Wash the lime and cut lengthwise into quarters. Cutting in this direction will reveal a white line, which is the pithy core. Use a paring knife to remove this core, or the caipirinha will be bitter. Cut each piece in half again to create 8 pieces in total, and place them in a short and heavy 10-ounce glass. Using a muddler, smash the lime to extract as much juice as possible. Be careful not to overdo it, or you may extract the bitter oils from the skin. Add the simple syrup and stir with a spoon. Fill the glass with ice cubes (not nugget, crushed, or flaked ice) and pour in the cachaca. Transfer the contents to a martini shaker, cover, and shake gently for only  4 to 5 seconds. Transfer the liquid and ice back to the glass and serve immediately.
Strawberry Caipirinha with Mint —A fruity version of the classic recipe
Serves 1
4 medium very ripe strawberries, sliced
2-3 mint leaves
1 fl oz (30 ml) simple syrup
make simple syrup: 1 cup (200 g) sugar
1/2 cup (120 ml) water
Place the strawberries and the mint leaves in a short glass and crush with a muddler. Add the simple syrup and Cachaça and stir. Fill the rest of the glass with ice cubes (not nugget, crushed, or flaked ice), leaving enough room to stir the caipirinha with a spoon. Enjoy.
Variation: Pomegranate arils are a somewhat tart alternative to strawberries. Substitute about 2 tablespoons for strawberries, and leave out the mint leaves This Site.
In a small pot, bring the sugar and water to boil. When the water begins to simmer, mix the sugar with a spoon for about 30 seconds, then let it cook for another 2 to 3 minutes. Turn off the heat and transfer the syrup to a heatproof container. Let the syrup cool, then place the container in the refrigerator. The simple syrup can be refrigerated for up to 2 months and used to make about 15 caipirinhas.