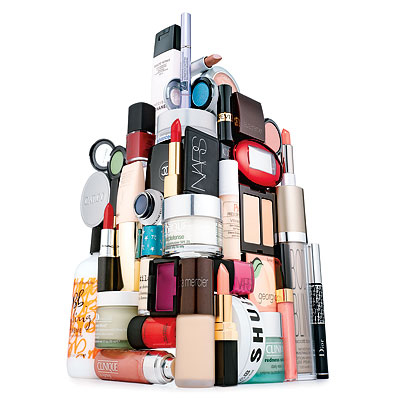 We admit it, we've all wondered what beauty products our favorite celebrities use to somehow make themselves look even more beautiful. Each and every star has their tricks and secrets and their favorite products that make them look and feel their best whether they are at a premiere on the red carpet or running mundane errands (just like us!). We've searched high and low and found the absolute best products celebrities swear by. Find out what simple face wash and lotion actress Selena Gomez can't live without or the slew of products Chrissy Teigen (John Legend's better half) uses to make her picture perfect.
Karlie Kloss uses Estée Lauder Hydrationist Maximum Moisture Lotion to keep her skin hydrated and looking healthy.
Kristin Davis swears by Ahava All In One to reverse sun damage from the past.
Actress Selena Gomez keeps things simple with products she can't live without— Oil of Olay Face Wash and lotion.
John Legend's wife Chrissy Teigen uses Scott Barnes Original Body Bling to highlight her collarbones. The beauty also uses Aquaphor Lip Repair from the drugstore to conquer her dry lips. The model also swears by these must-haves: SK-II Signs Eye Mask, Givenchy Noir Couture 4-in-1 Waterproof Mascara and La Prairie Skin Caviar Luxe Souffle Body Cream.
Kim Kardashian West swears by Lipfusion Lip Glosses to keep her pout looking perfect.
Lucy Hale, not only loves the way Frederic Fekkai shampoo makes her hair smell great, but she also loves the way her hair looks after using the product.
Philosophy's "Amazing Grace" Body Spritz is light and pretty, just what Miley Cyrus loves about it.
Actress Sofia Vergara has been using Crème de la Mer for years. She loves their La Mer the SPF UV Protecting Fluid (she loves how light it is and she adds it to her décolletage, too). Her drugstore favorite for hair, though, is Head & Shoulders Green Apple Conditioner.
Emma Roberts (niece to Julia Roberts) uses Neutrogena Moisture Shine Gloss because they come in many different colors and they never dry out her lips.
Miranda Kerr starts her day cleansing with Kora Organics Foaming Cleanser, followed by the Energizing Citrus Mist, and the Hydrating Day and Night Cream. Then she applies Kora Organics Tinted Day Cream, which has a natural SPF.

Shu Uemura Cleansing Oil is what singer Katy Perry uses to remove her makeup.
When supermodel Giselle Bundchen starts to break out, she reaches for Nelsons Acne Gel.
Kate Moss has a go-to, classic red lipstick that she can't live without—No1 in the Rimmel range is what she wears when going out.
If Reese Witherspoon starts to break out, she uses chlorophyll and her skin clears up in three days. She also swears by protecting her skin with sunscreen and she uses a lot of Clarins products like Clarins sunscreen for face wrinkle control cream spf 50.
Megan Fox uses Perricone MD's Vitamin C Ester Eye Serum—and she applies it 3-4 times a day after she washes her face.
DiorSnow Foaming Cleanser is what Actress Charlize Theron uses to remove all of her makeup at the end of the day.
Shop the beauty products of your favorite celebs!