It's that time of year where we are counting down the days to see our favorite bands at this year's music festivals from California's Coachella to Chicago's Lollapalooza. While we've planned our make-up, hair and outfits, we haven't forgotten to get creative with our nails that can really help us make a huge style statement. From bright colors to unique bohemian prints we've found the latest trends in nail art –and there's truly something for everyone to explore. But don't take our word for it!  We caught up with the experts –those nail artists that have worked with the best beauty brands and celebrities across the globe to give us the scoop on what will be hot this music festival season. Get ready to get inspired!


Celebrity Nail technician Andrea Fulerton
"Katy Perry and Lady Gaga [unlike Rhianna] have toned down the nail art somewhat and I think the world will follow especially during music festival season. However, nails still prevail in the beauty stakes and the accent nail will reign, be it adorned in glitter, a vastly contrasting color or gemstones! Lego brights dominated the runways s/s 14 and neon's as always, will return thanks to the likes of Ralph Lauren's collection + 'Flip Flop French' = bright base hue with a bright contrasting French tip. As far as shape goes, Europe looks like it's all set to favor the classic almond, slightly pointy, but not overly long [think 1950's housewife] whereas USA girlies and the wee Jenner girls are digging the stiletto length and shape, however, they are blunting the tip straight across."
Andrea Fulerton, Celebrity Nail Technician, London and Chicago, www.andreafulerton.com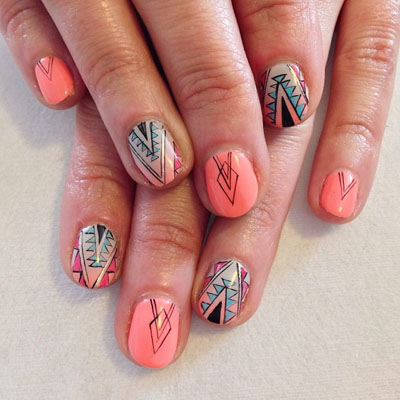 A look from AstroWifey

"Pastels like powder periwinkle blue and lavender tones with matter top coat will be trending at festivals this year, I love a matte top cop on Bikini So Teeny by Essie! Accents of gold metallic and holographic have also be spotted, try NCLA's new Holo collection. Tribal and patterned prints are always festival ready as the celebration of warmer weather is upon us! Leave the dark polish at home and store it away for the winter months."
Ashley Crowe, AstroWifey Designer Manicurist, TipsyZine Creator & Editor-in-Chief, Chicago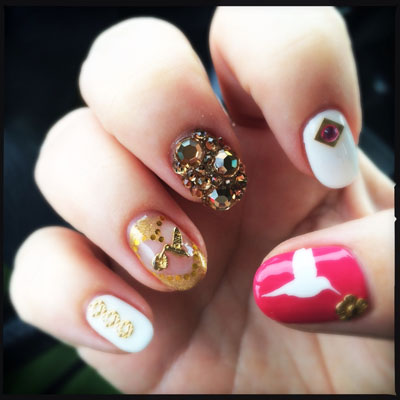 Photo courtesy of Hannah Lee
"There's been a trend building for the last several years where people get every nail individually designed. At first we saw it more on celebs like Rihanna and Nikki Minaj, but now, we're seeing so many regular consumers opting for this stylish trend. I especially think it's popular for the younger crowd, many of whom are just the people you see at all of these music festivals. Most of the time you see a mix of different colors and patterns with some studs, crystals, and charms added as well. Some people will pay tribute to their favorite artist by adding a picture of them on their nails. Some people will pay tribute to the festival itself. But the bottom line is anything goes. Whether you want to match your nails to different patterns (tribal, negative space, and geometric are all really big), or experiment with different color palettes, it's all about having fun. And when you can also show your love for music combined with your love for nails, it's a huge plus."
Hannah Lee , Associate Publisher + Editor, Nails Magazine + Vietsalon Magazine, California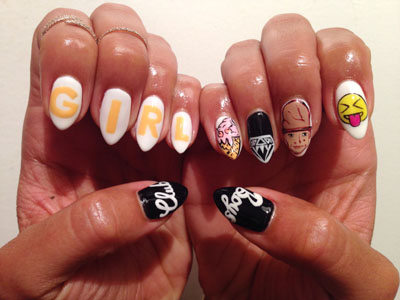 A look by Nail Artist Mei Kawajiri
"The Pharrell-inspired manicure I just created for one of my favorite clients, DJ and "Beautified" entrepreneur Hannah Bronfman, is a perfect example of the trend that girls will want to rock at festivals this spring and summer. Nails are a perfect canvas for showing off favorite song lyrics and the bands that you're into, as well as other imagery related to all things music, warm weather, and good times with friends!"
Mei Kawajiri, Nail Artist, Nails by Mei, New York City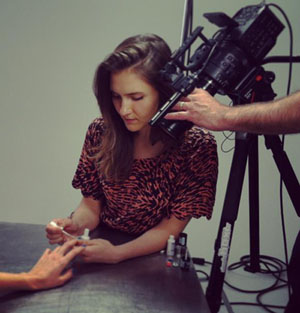 Nail Artist Jessica Washick
"I think the Coachella nail trends will be bright, fun colors! There are so many beautiful, yet downtown-cool bright pastels that are trending for spring. For example, Deborah Lippmann has a wonderful array of bright pastels that are pretty, but super cool. My favorite is called Tip Toe Through The Tulips!" – Jessica Washick — this NYC-based nail artist has worked with brands including Maybelline, Deborah Lippmann, CoverGirl and Revlon and owns You Don't Need a Man. You Need a Manicure.