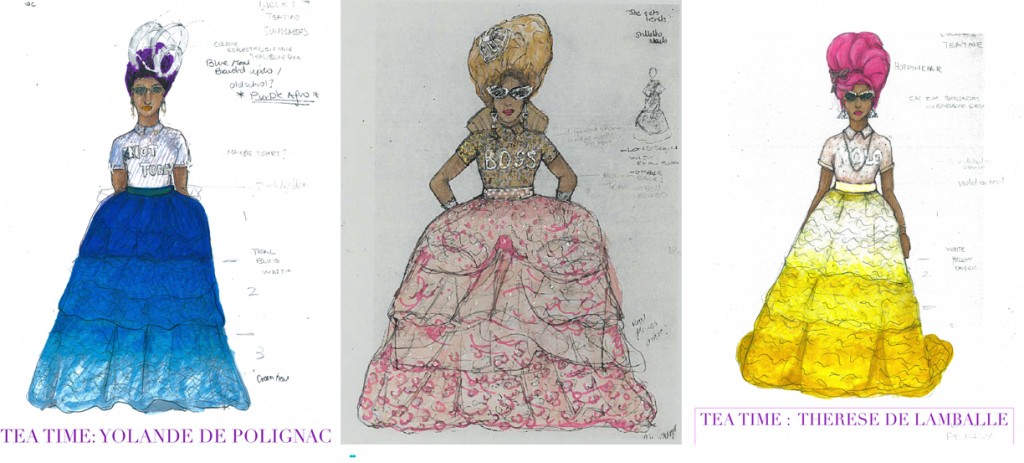 Before modern day celebrity obsessed culture, there was Marie Antoinette. Costume Designer Dede Ayite was behind the beautiful costumes of Steppenwolf's latest production Marie Antoinette. We sat down with her to find out how she was inspired to take a historical look and make it modern, what a typical day is like for her and what she would bring back from Marie's opulent era.
FACTIO MAGAZINE: Tell us about how you were inspired for Steppenwolf's Marie Antoinette as far as the costumes were concerned.
DEDE AYITE: I was beyond excited when Robert O'Hara approached me to design costumes for the show. I love the way Robert tackles his work fearlessly and in an unapologetic manner. One of the first things Robert mentioned was the fact that Marie Antoinette would be played by an African American actress; that alone set the tone for the world we wanted to explore. We wanted to make sure to acknowledge her ethnicity and explore the alienation that she would have experienced, being a foreigner in a new country. The idea that she would use fashion and style to wield power and the admiration of others was fascinating to me. Ultimately, this was a fantastic opportunity to indulge in couture, high fashion and tell Marie's story in a modern, accessible way.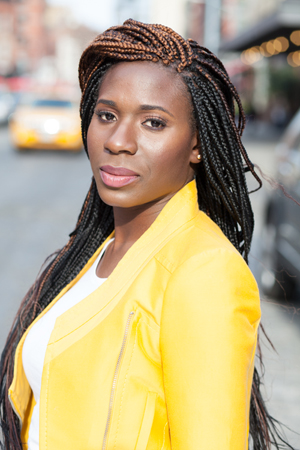 FM: What was the creative process like?
DA: I actually had a ton of fun creating the costume ideas for this show. Robert and I sat down to discuss several ideas and images. We shared thoughts on how we envisioned the embodiment of the show. We wanted to avoid a "stuffy period" piece, which was effortless since David Adjmi's writing easily lends us in a modern, comedic plane.
I did extensive research looking at the period's silhouettes, fabrics, colors, trims and then moved to more modern cuts and lines.  Based on my research of the period, coupled with my knowledge of today's trends, I shifted my sketches between the classic traditions of then and current haute couture looks.
I consistently asked myself the question, "If Marie Antoinette were alive today, how would she set trends? What type of woman would she be?" It was also important for me to illustrate her life's journey throughout the play using her costumes.
The creative process is constant, from choosing the actual fabrics, trims and problem solving, etc. This made for a really exciting process and it was also such a pleasure to collaborate with Dave Bova, the wig and hair designer and everyone else on the team.
FM: We loved the first scene where Marie and her ladies were presented in full, flowy ball gowns and then bejeweled t-shirts that read "Boss" and "Yolo". How did you come up with this look?
DA: There was something fun and playful about the crop top fashion trend that started early last summer, and after placing Marie in a corset and much more period silhouette, I knew I needed to sprinkle some more funk onto her look. Couple that with some of today's popular catch phrases and I felt that I had Marie and her "girls" exhibiting urban royalty.
The costumes felt true to the Marie we were presenting on stage—she is regal, fearless, fun, daring, a true pop culture icon. I felt the need to capture it all.
FM: Which scene "style" was your favorite to create and why?
DA: I would have to say the first scene (Tea Time) was my favorite. It was an important scene because it essentially sets the tone for the show. Their costumes had to be loud and unapologetic- I mean, they are the IT girls. We needed to watch them and allow our minds to dream from that opening scene.
Close second is the promenade scene where Marie dons a gold cage to go for a walk with Ferson.
The Steppenwolf costume shop completely outdid themselves creating beautiful pieces for this show. Every single piece was phenomenal and I could not have pulled this off, if it were not for the dedicated superstars in the shop.
FM: How did the real "Marie Antoinette" inspire your choices for the play and what modern changes did you feel you needed to make for the stage?
DA: The fact that, despite the political responsibilities she held, Marie Antoinette was brave enough to express herself and empower a nation through her fashion sense is truly amazing. From her hair to the silhouettes she wore, Marie Antoinette exuded power, strength and courage while rocking the fashion scene.
Creating modern adjustments to compliment the actress became key in our production. My job and goal is to enhance the story being told on stage through our extremely talented cast. I definitely had to keep in mind ease of movement and pieces that allowed for quick transitions since the play moves so quickly.
FM: What is a typical day like for you as a costume designer?
DA: As a freelance designer my workdays have a habit of taking many unexpected turns, thus I find it important to structure at least a portion of the day to ensure some level of productivity, no matter what the day brings. Rather than describing the "typical" day, I will outline a preferred day…
I start my mornings by updating my agenda for that day and the rest of the week with a hot cup of tea. I find that my creativity peaks in the morning, thus I try to do my sketching then. This usually gets me to about noon, when I focus on research and/or begin the shopping for the day. Due to scheduling constraints, meetings are often sprinkled throughout the day; however, I try to arrange them later in the afternoon in order to allow me to complete the important creative work beforehand.
Evenings are typically spent in tech (technical rehearsal) or on the days I have a free evening, I do like to cap off my day with yoga or a dance class, especially Bhangra on Mondays!
FM: If you could bring a style back from that era, what would it be?
DA: All of it! The glam was at its highest before the revolution. The idea of being so extravagantly adorned with lavish jewels, stones, fabrics, and trims is incredible. It would be the ultimate dress up.  The Oscars red carpet could not even compare!