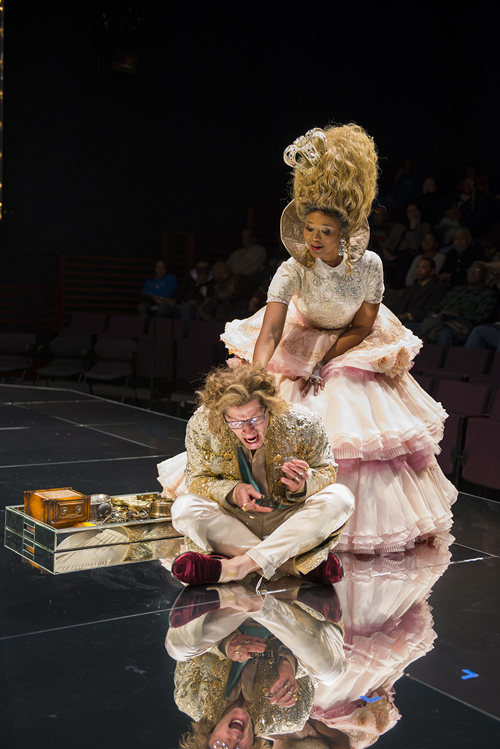 During Steppenwolf's latest production Marie Antoinette, something definitely stood out. Taking inspiration from the actual royal queen, Hair and Wig Designer Dave Bova created hair masterpieces in every scene. From her mile high over-the-top hair to her more subdued looks, Bova's design impressed. We sat down with him to find out more about his design process, how he was inspired by the real queen and how Steppenwolf pulled off wig changes seamlessly in front of a live audience.
FACTIO MAGAZINE: What was your design process like for each scene for Steppenwolf's Marie Antoinette?
DAVE BOVA: First, I tried to imagine what Marie Antoinette's world was like. I tried to comprehend a life where no material object was out of reach. To never limit myself in material wealth. Then I asked myself about what kind of limitations a life like that might create. It's clear in the script she rarely had privacy nor did she have anyone who was truly candid with her. I asked, does this happen in our society now? Who are these people? What are their lives like? Marie has a very sheltered view of the world, much like the ultra rich and privileged who become pops stars. Neither are ever really in touch with reality. The unfortunate difference is a pop star only sets trends and entertains, an aristocrat is/was suppose to lead her people, protect them and keep them from starving. An accountability that never occurs to Marie. Could you imagine a Miley Cyrus or Britney Spears running a country like France? It would be a disaster. She sees her people like fans, not citizens who are starving. She views them out of ignorance, not cruelty. It honestly doesn't occur to her that she needs to cut back on her fashion in order for her people to eat, but rather like a pop star who changes her image to stay liked. Only after you understand her, you can design her. I'm actually very sad for her. She really doesn't understand suffering until it's too late. In Act I, she starts off in a world of access. She slowly finds that people harshly view her spending. In order to combat that, she starts to simplify her looks—to shorten her hair, to make more and more realistic color and texture choices, until the very end of the act she is in a natural texture hairstyle that seems very conservative in comparison to the beginning of the piece.By Act II she wears a wig that is simple, short, and clearly less expensive than her Act I wigs. We then benchmarked dramatic transitions for her to transform her hair. She evolved from a fabulous Beyoncé and Britney inspired look fused with Marie's most famous silhouette. Then we brought it down to a smaller, yet still full hairstyle for her country look. This same pairing down happened until the end of Act I.
FM: How were you inspired by the real Marie Antoinette?
DB: Her silhouettes! The real Marie, much like Madonna, was a real trendsetter. She was constantly reinventing herself, much like the material girl. The silhouettes are amazing!! I would have loved to have been a fly in the room and seen the look on the faces of her royal wig makers while she told them "Taller!!!! Higher!!!! Bigger!!!!!!" I mean she really had 3′ of hair!! The scale of the the real Marie really drove most of my choices.
FM: Did you have a favorite wig design to create and why?
DB: Her very first wig. Believe it or not, there is a steel cage holding all that hair up that measures more than 21″ tall. I like to say I engineered that wig, not built it.
FM: What historical references did you make sure to include that would also translate well for this modern day take on Marie Antoinette?
DB: I looked up as many paintings of her as possible. We really tried to stay true to the scale. Unfortunately, because of the revolution, most of the paintings that were made of her were destroyed. Then we fused them with current pop stars and pictures from weave and hair shows.
FM: Each wig went on seamlessly, where you couldn't even tell it was on. With wig changes in front of a live audience, and done within a few minutes, how did that change your technique?
DB: Honestly, it has little to do with my construction. We are blessed to have a fantastic crew both on stage and off… Believe it or not, almost everyone in the show wears a wig at one point or another. The seamlessness of all the changes are a testament to the incredible professionalism of the crew at Steppenwolf. There is literally a dozen people who work tirelessly to keep this show running seamless.