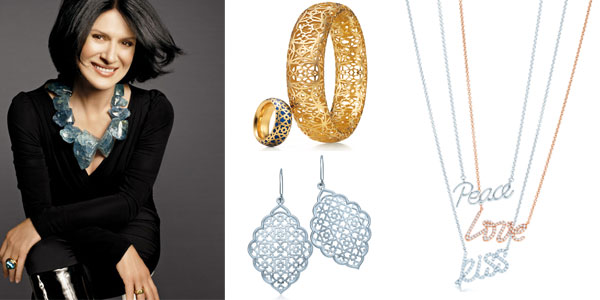 She was born in Paris to the legendary artist Pablo Picasso and Françoise Gilot, and became interested in jewelry design after becoming a theatrical costumier and stylist for avant-garde productions in Paris. After theatre critics noticed her unique talent for creating jewelry, she decided to attend school for formal training. Picasso's education and design passion led her to showcase her art to her friend Yves Saint Laurent, who then invited her to design jewelry to compliment his collection. In 1979, Tiffany's design director, John Loring, invited Picasso to present a table setting for one of Tiffany's exhibitions. A year later, Tiffany introduced her first colorful collection, and jewelry fans have been smitten ever since. Factio caught up with the designer while she was in Chicago to discuss her inspirations, her personal style and the top life lesson she learned from her parents.
FACTIO MAGAZINE: How did you become interested in designing jewelry?
PALOMA PICASSO: When I was a child, I was always interested in jewelry. If you look at photographs of me from that time, you'll see that I'm often wearing jewelry, which was not very typical for little girls. As I became a bit older, I would buy beads at the flea markets in Paris for their color and shape and string them in interesting ways.
FM: Tell us how you started designing for Tiffany & Co.
PP: When I came to New York and discovered Tiffany & Co., I knew that one day I would like to have my designs showcased there. The store was so different from any of the jewelry stores in Paris. When I was asked many years later to join the company, I was taken to the board room on the fifth floor. The whole table had been covered with all kinds of gemstones in so many different colors and shapes and I was offered to choose whatever I wanted. The perfect beauty that was laid in front of me was a bit undaunting, but I threw myself into it and to this day still marvel at the endless possibilities they provide me.
FM: What are your designs inspired from?
PP: Inspiration always begins with opening yourself up to your environment, focusing on things that appeal to you…shapes, colors, textures, symbols. Sometimes, these impressions return and become part of your designs, but not in a literal way. Early on in my career, I was fascinated with certain iconic symbols such as scribbles, graffiti and the "X." These symbols became inspirations for some of my first Tiffany jewelry designs.
FM: Where did the inspiration for your latest collection come from?
PP: The next collection is called Venezia and is inspired from different elements that, for me, typify Venice, Italy. For example, the light that mirrors the translucent hues of the water, the decorative cast iron gates of color, the enchanting eight-pointed stars, the arches of the buildings and the swirls that grace the poles in front of the Pallazzos.
FM: How would you describe your personal style?
PP: I will always love color and bold voluptuous shapes; I'm not tall, but I have strong features, and I've always felt comfortable in big stones. I wear a lot of black and I must say it gives the perfect background for my jewelry.
FM: Where are your favorite places to travel and why?
PP: I love to travel and fully immerse myself in the culture of each area. One of my favorite places to travel to is Marrakesh. This was the first place my husband Eric and I visited together and have spent more time here over the years. It is a place of design inspiration and special memories.

FM: What is the most important life lesson you learned from your father?
PP: I learned a lot from both my mother and my father. They always said that it's very important for an artist to really be their own person, not to take cues from anybody else, but also to be very critical. They wouldn't tell me if they thought what I was doing was right or wrong. They said you have to figure that out for yourself.

FM: How would you describe your father's work?
PP: My father regularly used family and friends in his work. His art is not just images from my childhood but rather the way he saw the world and was able to express it for the rest of us to be able to take a part in.

FM: Tell us about a favorite piece from his work.
PP: One of my favorite pieces from my father's work is the dove he designed for the World Peace Conference in 1949. I was born the same year and my father gave me the name Paloma, which means dove in Spanish. The dove symbolizes universal peace so this was a very personal design for me.
FM: What are people surprised to know about you?
PP: I am a very shy person. When I first went into the fashion business, I wore what quickly came to be my signature look – red lipstick. It projected a strong image and in some way became like a shield for me.
Check out Paloma Picasso's collection from Tiffany's at www.tiffany.com.
-Damonica Boone
*Photos: Paloma Picasso -Photo Credit: Michael Thompson, Paloma's Marrakesh ring and bangle by Paloma Picasso for Tiffany & Co., Marrakesh earrings in sterling silver by Paloma Picasso, Graffiti pendants (from top): peace pendant in sterling silver, love diamond pendant