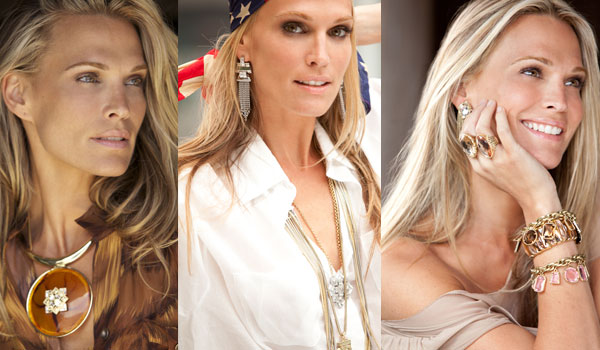 International supermodel Molly Sims has graced countless magazine covers and the small screen (most notably Las Vegas with Josh Duhamel) and now has us enthralled with her latest jewelry collection, Grayce by Molly Sims. Her line consists of statement-making costume jewelry including gold bracelets, chains, and chunky colored crystal earrings. The collection reflects a bohemian glamour that features many different styles accenting many different looks. We caught up with the Kentucky native to discuss her latest jewelry collection, her beauty must-have and her stay slim secrets (just in time for summer)!
FACTIO MAGAZINE: Tell us about your jewelry collection, Grayce by Molly Sims.
MOLLY SIMS: I have been a jewelry collector all my life. As a young girl, I would accompany my mother to estate sales and we would buy boxes and boxes of jewelry. You could basically say that I grew up playing in my mother's jewelry box! Jewelry was the first thing that really distinguished my personal style, and to this day, I still build my outfits around jewelry, whether it's going to lunch with a girlfriend or to a red carpet event. Grayce by Molly Sims is imbued with retro touches, understated glamour and approachable femininity. My inspirations include the effortless style of icons like Jackie Kennedy, Audrey Hepburn and Brigitte Bardot, 1920s art deco design and the sexy sophistication of the 1960s. The collection consists of necklaces, earrings, rings and bracelets ranging in price from $75-$250.
FM: Who is the "Grayce" woman?
MS:  I created my collection for four different types of girls:
The Gypsy/Bohemian- An approach to life that fuses the wild and unconventional way of a gypsy with the sophistication and speed of the jet set.
The City Sophisticate- Trend is her middle name, she's your go-to-girl for absolutely everything related to fashion, beauty, style, and life.
The Glamour Girl-The Hollywood starlet represented in the iconic women Grace Kelly, Audrey Hepburn, Marilyn Monroe and Jackie O.
The All American – Inspired by the All American icons like Lauren Hutton and Christie Brinkley, she is relaxed and effortless is her "style."
FM: How would you describe your style?
MS: I am very eclectic, but I think I am most like the All America girl, jeans and a t-shirt.
FM: What are the top items you have to have in your closet? What top jewelry items should every woman own?
MS: I love the basics: a great pair of jeans, a great t-shirt and of course a LBD.  Every girl should have a statement piece of jewelry that is their go-to and makes an outfit.
FM: What do you put on to feel beautiful?
MS: Depends on where I am. I do wear my Rodin oil every day when applying my makeup- that is always my constant beauty go-to. It makes my skin look and feel amazing.
FM: What's your morning routine – how long does it take you to get ready?
MS:  Also depends on where I'm going.  Some days it takes five minutes, others it takes two hours.
FM: What are your favorite shops worldwide and online?
MS: I love Curve, Barneys, Topshop, J. Crew, Shopbop, the list goes on and on…
FM: Where are your favorite places to travel?
MS:  I love Cabo!  It is my go-to place to relax.
FM: What are your stay slim secrets?
MS:  I work out a lot. Tracey Anderson workout! It's really hard. You do 30 minutes of cardio and seven minutes of arms wearing the weights. The heater is on you so you sweat and it gets your metabolism going. It works. I made my friend do it once; she hated it.
FM: Describe your ideal day.
MS:  It changes literally every day. Some days I'm off auditioning, other days I'm working with my team and designing pieces for my upcoming lines, some days I'm at events and some days are low key. It literally changes by the minute.
FM: What are people surprised to know about you?
MS:  I am pretty superstitious and love astrology- it's just good fun.
FM: If you weren't an actress/model/designer, what would you be right now?
MS: Probably something to do with law or politics. Those were my two interests when I was in college.
FM: What's next for you?
MS: I think I want to get back into some acting.
Shop Grayce by Molly Sims click here.
-Brittany Berryman and Melissa Maynard