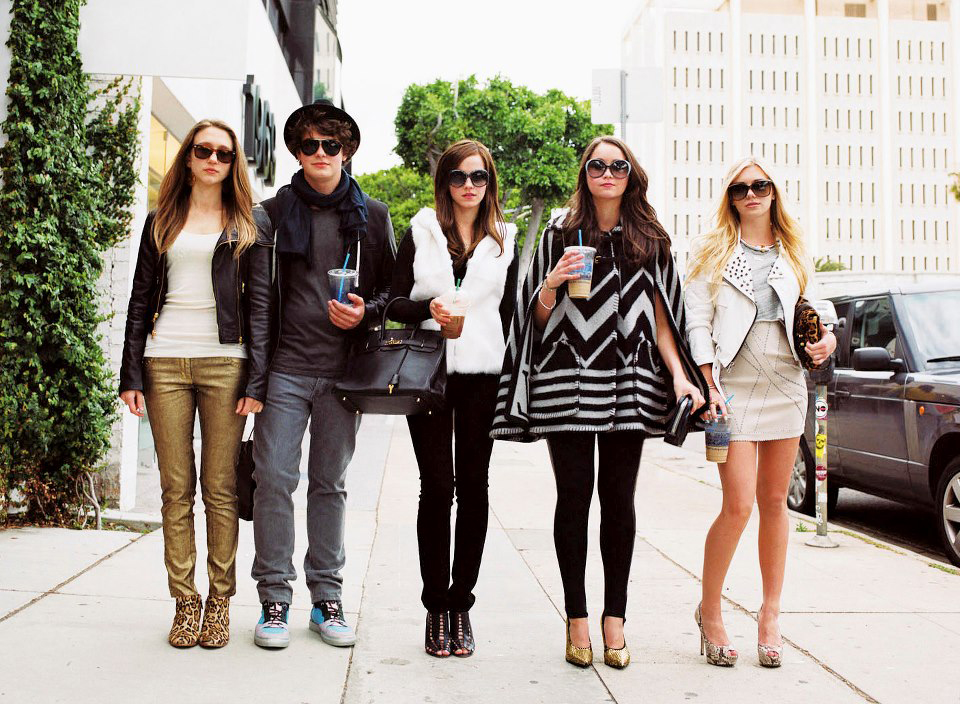 Valley kids' conflicts has been turned into a movie that will be showcasing on June 21st nationwide.
The Bling Ring were a group of teenagers in Hollywood that would steal from celebrities houses that resulted in about $3 million in cash and belongings. All luxury brands imaginable were stolen from these houses, it's true: these thieves had expensive taste. Chanel, Prada, Gucci, Burberry, Marc Jacobs and more were stolen from celebrities like Paris Hilton, Orlando Bloom, Miranda Kerr and other TV personalities.
Also known as "Hollywood Hills Burglar Bunch" or "The Burglar Bunch," these five teenagers had fun while doing it, but soon ended when they got caught. This group consisted of five teenagers. The allegedly ring leader Rachel Lee, along with Nick Prugo, Alexis Neiers, Diana Tamayo and Courtney Ames.
Assuming that these teenagers only stole from people that had a great taste in fashion, the celebrity victims have a style that many teenagers obsess about. The girls from the group envied all the celebrities that had a fashion closet to-die-for, so they stole from fashionistas like Paris Hilton, Audrina Patridge, Megan Fox, Lindsay Lohan, Rachel Bilson and Miranda Kerr.
All of these victims have a style of their own with a different take on "fashion."
Paris Hilton has always been the glamour "girl next door" with pink head-to-toe looks, sequin dresses, blinged out chokers and of course big designer sunglasses worn at all times.
Audrina Patridge, most likely known for starring in the reality television series The Hills, has that California-relaxed look. She's worn fringe boots, basic skinny jeans paired with wedges or gladiators and very classic blouses.
The punk-rocker of them all, Megan Fox has a style that can be described as rock-and-roll girl. Although she doesn't always look like she's going to a punk rock concert, Fox is known to rock skinny jeans with band T-s, leather jacket and booties when she's out on the town.
No one really knows how to describe Lindsay Lohan's style, so we like to think of her as very versatile. If you want her look, you might just have to buy a lot of clothes because one day Lohan can be the boho-chic queen (flowy tops, very-relaxed prints) or ultra-chic (all black everything look: black booties, leather pants, black trench coat).
Actress Rachel Bilson who played Summer Roberts on the drama series The O.C. is very Midwestern. Her style is perfect for a rainy day because she knows how to strut with rain boots or knee-length leather boots all the time with blazers and capes.
The last victim must have been an adventure walking past her closet. Miranda Kerr is an Australian model and Victoria's Secret Angel that has been in hundreds of campaigns and ads. One word to describe her style: chic. Her bag game is intense, she has a lot of bags: Celine Tote, Givenchy, Prada and Balenciaga.
We were lucking enough to get a sneak peek of the movie and if you're as fashion obsessed as we are, this movie is a definite must-see!  Written and directed by our absolute favorite director Sofia Coppola, (based from the Vanity Fair article by Nancy Jo Sales, "The Suspects Wore Louboutins") it shows off the heists from the burglars perspective, even taking us inside Paris Hilton's real home, getting an inside look at her over-the-top designer closet.  The movie stars an unrecognizably cool Emma Watson (with a valley girl accent!) along with a slew of great up-and-comers including Israel Broussard, Katie Chang, Claire Julien, and Taissa Farmiga. Funny gal Leslie Mann, Gavin Rossdale, Kirsten Dunst and even Paris Hilton make appearances!
Even the soundtrack is amazing! Check it out.
THE
BLING RING
SOUNDTRACK
(2013 Def Jam)
Sleigh Bells – "Crown On The Ground"
Rick Ross (ft. Lil Wayne) – "9 Piece"
Rye Rye [ft. M.I.A.] – "Sunshine"
Azealia Banks – "212"
Oneohtrix Point Never – "Ouroboros"
2 Chainz – "Money Machine"
M.I.A. – "Bad Girls"
Kanye West – "All of the Lights"
Ester Dean [ft. Chris Brown] – "Drop It Low"
Reema Major – "Gucci Bag"
Can – "Halleluwah"
Kanye West – "Power"
Klaus Schulze – "Freeze"
deadmau5 – "FML"
Brian Reitzell and Daniel Lopatin – "Bling Ring Suite"
Phoenix – "Bankrupt!"
Frank Ocean [ft. Earl Sweatshirt] – "Super Rich Kids"
Check out The Bling Ring official trailer below.
-Alex Mariscal