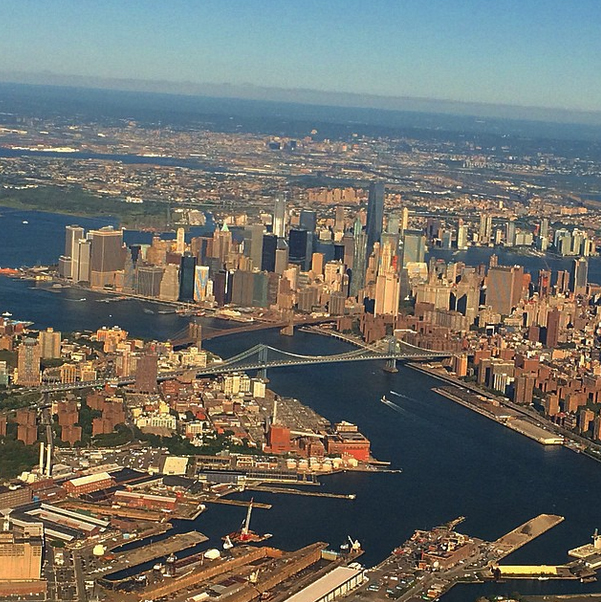 New York City is truly the city that never sleeps. The city with boundless amounts of energy is the perfect escape for a weekend chocked full of sightseeing, visiting posh eateries and, oh yes, staying at a world-class hotel. For our perfect New York City weekend, we stayed at the luxurious Langham Place Fifth Avenue, enjoyed endless amounts of shopping nearby—and were even chauffeured in their Maserati. We sipped tea and noshed on macaroons at Ladurée in Soho and walked the High Line in Chelsea viewing some truly impressive street art. There's so much to see and do in NYC—and it's so hard to jam-pack everything into one weekend, but we wouldn't change anything about our visit. Here's our top picks for the perfect weekend in New York City.
Stay at Langham Place Fifth Avenue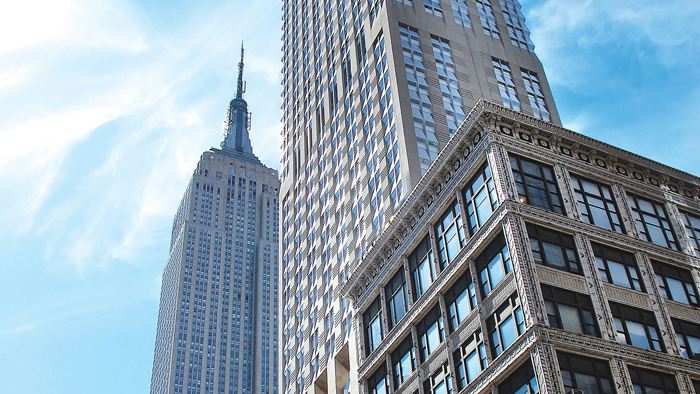 Booking your stay at Langham Place Fifth Avenue means that you will be nestled in the most coveted address in town. Located at 400 Fifth Avenue in Midtown Manhattan, you'll be minutes from the best museums, the hottest attractions, luxury shopping, and some of the best restaurants in town.  The hotel boasts 57 floors, featuring 214 beautifully styled and urban guest rooms—each as beautiful as the next. Many of the rooms have incredible views of Manhattan's skyline, which can be enjoyed through floor-to-ceiling windows. The Langham is known for having some pretty incredible amenities—and the location on Fifth Avenue is no different. Imagine having your own personal assistant during your stay, or an American complimentary breakfast for two, or better yet, get whisked off to dinner like we did (or wherever you please) in the hotel's house car, which just so happens to be a luxurious Maserati. If you're looking to be right in the center of everything from historic museums to icons such as Bryant Park and the Empire State Building, look no further than Langham Place. For booking your stay, or to learn more about the hotel, click here.
Brunch at Ladurée
One of our musts when we go to Paris, bien sur, is always Ladurée tea salon on Champs Élysées, so when the beloved brand built on pretty pink and pistacio-hued macaroons and French pastries opened a Soho outpost, we knew it had to be one of our first stops. Decorated in opulent 18th and 19th century splendor, we love everything about the over-the-top tea salon. With an atmosphere that rivals Versailles, this location is hands down one of our favorites. On a warm and sunny day, reserve a table out in their beautiful courtyard. For tea, we couldn't resist ordering The Marie Antoinette, a mix of black tea from china with rose petal, citrus and honey. As far as brunch goes, there's so many tantalizing dishes to choose from. We loved the Eggs Benedict, poached eggs Ladurée style. Other menu items that caught our eye included Salade de Saint Jacques fumées à la truffe, Club Champs-Elysees, and Mini Burgers végétariens. But, what you come for is the macaroons and we indulged in some of our favorite flavors with La Collection—Rose petal, coffee, chocolate, vanilla, pistachio, salted caramel, raspberry, lemon, and orange blossom. Making reservations is highly suggested.
Ladurée Soho is located at 398 W. Broadway, New York, NY. Learn more at www.laduree.com.
Late Lunch at Miss KOREA BBQ
Venture to Koreatown for a memorable meal that you will never forget. Located in Midtown Manhattan, this ethnic enclave is the perfect spot to grab lunch. We headed to miss KOREA BBQ for our first time trying this cuisine and loved everything from the interactive experience cooking some of the food to the unique way all of the ingredients and spices went together. We enjoyed fresh seafood mixed with loads of special sauces and fresh veggies. If you're looking for something different, we highly suggest making a visit on your next trip to NYC. This is one meal we can't stop dreaming about.
miss KOREA BBQ is located at 10 West 32nd Street, New York, NY. Find out more at www.misskoreabbq.com

Chelsea High Line
Visit many of Chelsea's amazing art galleries by day or explore the High Line–an elevated rail line that has been transformed into a park and is free to the public where you will get inspired not only by nature but by lots of street art.
The public art space is the perfect chance to break away from the bustle of the city and enjoy an urban landscape, whether you are on a brisk walk or taking part in their activities.
Located on Manhattan's West Side, it runs from Gansevoort Street in the Meatpacking District to West 34th Street, between 10th and 12th Avenues. Learn more at www.thehighline.org.

Dinner at Maze
We always love to try new restaurants when visiting a dynamic place like New York City and restaurants in the middle of everything rate at the top of  our list. We enjoyed MAZE by Gordon Ramsay at the internationally known hotel The London NYC. Right in the middle of everything including Lincoln Center, MoMA, Carnegie Hall, Fifth Avenue, Times Square and Central Park, this hot spot gave us the stylish dining experience we were after. For an unforgettable experience with a French and British Flaire, we started out with the Diver Scallops with carrot ginger purée, smoked bacon marmalade and Jumbo Lump Crab Cake with mustard aioli, apple celery slaw. Main dishes were scrumptious (think Lobster Pot Pie with baby carrots, celery, wild mushrooms and Grilled New York Strip Steak with charred eggplant, beluga lentils). Signature cocktails were sophisticated with favorites like London Bloom featuring bombay gin, st germain liqueur, muddled basil, cucumber, ginger, lime juice and Old Hollywood with stolichnaya raz, laurent perrier champagne brut, splash of solerno blood orange, chambord, orange peel. For a sophisticated dining experience, MAZE is the perfect stop to end the perfect weekend in NYC.
MAZE is located at THE LONDON NYC, 151 West 54th Street (between 6th and 7th Avenues) in New York, NY, www.TheLondonNYC.com
Sight-see like a pro
Sightseeing in New York City can seem overwhelming, but it definitely doesn't have to be. We found the best way to see all of the best attractions in NYC with CityPass. Between fabulous dinners and lunches, venture to the Statue of Liberty and Ellis Island. When time permits, visit MoMA's incredible collection of modern and contemporary art that include Vincent van Gogh, Andy Warhol, Jackson Pollock and many others.  For incredible views of the city, we took part in both the Empire State Building's incredible sunsets, as well as, Top of the Rock Observation Deck. Last but not least, The American Museum of Natural History is iconic and not to be missed. We suggest walking through Central Park before your museum visit. Learn more, click here.

Rooftop cocktails at Hôtel Americano in Chelsea
Cap off the perfect weekend in NYC with cocktails high above in one of Manhattan's hippest neighborhoods. You'll find a modern hotel rooftop lounge with artistic sophistication right in the heart of the Chelsea. Hôtel Americano, located between the High Line and Hudson River is the perfect choice to enjoy cocktails on the rooftop. One of the main reasons we love it? It has a pool and during winter it transforms into a hot tub.
Hôtel Americano is located at 518 West 27th Street, New York, NY Find out more at hotel-americano.com.
Photos by Henrique Kerch, First Langham picture courtesy of Langham Place, Fifth Avenue, MAZE image courtesy of The London NYC