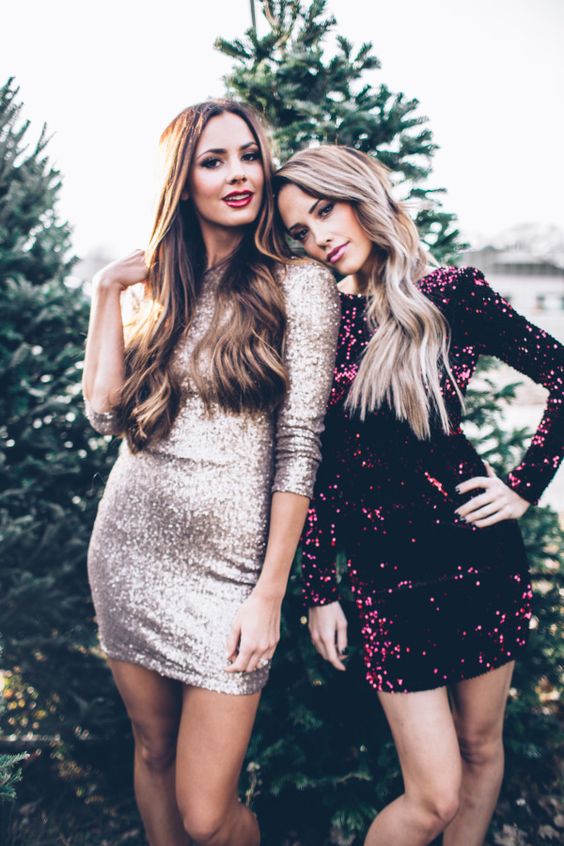 The holidays are here, which means it's time to shine for this year's holiday parties. From office to family gatherings, finding something festive means navigating the uneasy terrain of dressing with sparkle —and it can be easy to overdo it and end up looking like a disco ball. Find out the tips and tricks on how to pull off holiday sparkle without looking like tinsel.
Do Know that Less Can be More
Sometimes less really is more when you're trying out new looks—especially sequins. With too much sparkle, you can wind up looking overdone and that's never a good look. To keep things elegant, try a sequined pant or a skirt in a neutral tone and opt for a basic top and vice versa. "Rock the sequins for holiday by wearing classic, clean line silhouettes, think the classic shift in a monochromatic color palette. Wear it with minimalistic and delicate jewelry. If you want to add a pop of color, tie in a brightly colored clutch or pumps in a jewel tone," suggests Christine Sanderson, owner of luxury consignment shop Le Thrift.
Do Mix and Match
Whether you're mixing and matching different textures or mixing and matching different colors (yes, even with sequins)—it can be a fun way to bring an unexpected twist to your holiday look. Why not try a sequin sweater with a simple neutral skirt in nude or black? Instead of always thinking of sticking with traditional holiday colors like red or green, opt for a sparkly top in gray, rich navy or even black. "For a fabulous office look, a nice sequin skirt could go great with a nice button-down blouse. For a fun night out, a sexy sequin top could go well with your best pair of sexy jeans. The key is to create contrast and have fun with it!" says Celebrity and Fashion Stylist Chiara Solloa who has styled music videos for big names such as Jennifer Lopez. Plus, this approach will allow you to wear it to many upscale functions, not just around the holidays. Want to be really creative? Pair a fitted button-down plaid top with a black sequin skirt for an out-of-the-box approach this holiday season. Done right, this style can look totally chic and you're sure to be the talk of the party.
Do Accessorize
If you aren't quite ready to bring sequins into your wardrobe, then accessorizing is a great way to incorporate the look for the holidays. Pick up a sequin headband or add a sparkly belt to your LBD or find a fun pair of sparkly heels. You could also make a traditional red shift dress stand out with sparkly pumps. Bringing sparkle to your wardrobe in little doses is a great way to let your personal style shine this holiday season, without the look overpowering you.
Don't Overdo It
Sometimes it's easy to get carried away. To avoid too much tinsel, remember our do that less is more. "Certainly don't go overboard. Sequin and sparkly materials will make enough of a statement that the rest of your outfit can be fairly simple, yet chic. You definitely don't want to be too blinged out that you look like a disco ball," says Solloa. Sanderson adds, "When wearing sequins, less is more by avoiding colorful sequin pieces paired with bright colored clothes or chunky jewelry that can look dated." It's always a good idea to take a last look at yourself before leaving the house. If you feel confident, go for it. If it seems as if you're overdone, try getting rid of the piece that makes you uncomfortable. Once you're at the party, you'll feel great knowing you stayed true to your personal style.
Don't Wear the Wrong Size
Make sure it fits! So many women love getting dressed up for a holiday party—but finding the dress that fits like a glove is one of the most important parts. Since we're talking about adding sparkles with sequins, making sure your party dress fits properly is key because sparkle can illuminate certain body parts you may want to conceal and draw more attention to it. Look for dresses that work for your body type, no matter if you're an hourglass or pear shape.
Don't Wear Cloudy Jewelry
Make sure your jewelry sparkles because cloudy jewelry can ruin your sparkle! You've taken care of every other aspect of your look, creating an outfit that is sure to get attention this holiday season, so don't forget about the details because dull jewelry can diminish your holiday shine. Either make an appointment with your favorite jeweler or get that do-it-yourself solution and make sure your rings, necklaces, and bracelets can compete with the rest of your look.
Disclosure: We get commission for purchases or clicks made through links in this post