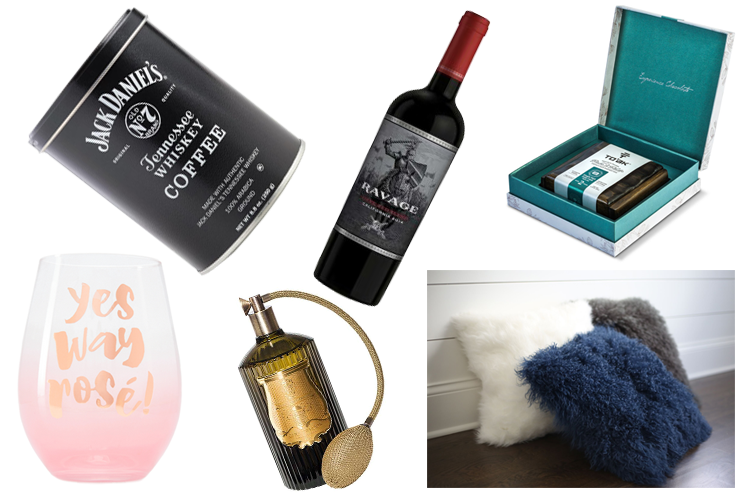 The Entertainer always throws the best events at home—the perfect cocktail party, the most decadent dinner parties, as well as countless other memorable moments throughout the year. Their house is always immaculate, their appetizers and cocktails are always utter perfection and décor—forget about it because it's as if a professional put on the party. We've hand-picked through some of the best gifts for those that love to entertain, from Ravage wines to To'ak Chocolates.
1. Jack Daniel's Tennessee Whiskey Coffee is a non-alcoholic, sweet beverage that combines 100% Arabica coffee that is roasted medium for a full-bodied flavor and our favorite whiskey known for its caramel and vanilla notes. It comes in gift sets of collectible tins and gift bags of regular or decaf online for under $20. A perfect gift for your favorite hostess.
2. Looking for a holiday wine to present the host or hostess of the evening? Pick up a couple of festive bottles of Ravage Wines by winemaker Bryce Willingham to have on hand for such occasions. Try the Cabernet Sauvignon (dark berries layered with luscious vanilla and mocha) or the Dark Red Blend (think dark cocoa, rich mocha, and vanilla bean notes) that will go perfectly with any holiday fare.
3. For that special person you would like to truly indulge this Christmas, give To'ak Chocolate. They are hand-selected, hand-crafted, organic and fair trade chocolates that arrive in a box made of Spanish elm, the same wood the cocoa beans are fermented in from Ecuadorian country. This is a rare treat.
4. Yes Way Rosé is an ideal gift to give to a host at your next cocktail party.  It's a great keepsake and one you will be remembered fondly by.
5. Cire Trudon Abd El Kader Room Spray and Moroccan Mint Tea candles can be found at Barney's during the holiday season. This is a gift anyone would love to get this time of year with an aroma of hot mint tea that will make any room feel festive and alive.
6. The winter season is the perfect time to change up any room by adding new accent pillows. Shop at one of the 11 Chicagoland and Indiana locations at Walter E. Smithe for pillows that are rich in color, texture, and style. Peruse their online catalog for what's on sale now for the holidays, starting at $36.