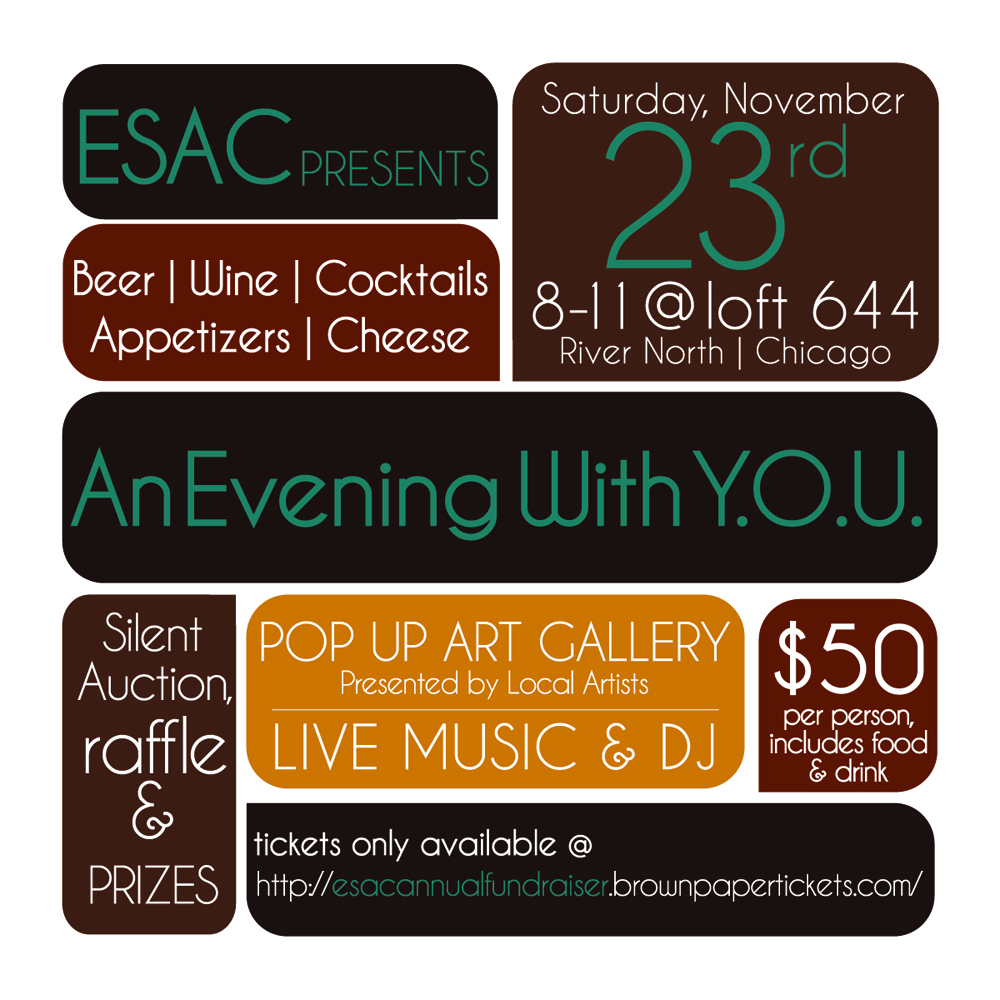 What:
ESAC invites you to spend an evening enjoying live music, great food,cocktails, art by up and coming Chicago artists, a photo booth, silent auction and raffle all benefiting YOU of Evanston.
Pop up Art Gallery Artists include; Marc Sullivan, Christine Sanderson, Tara Luther, Allison Pelosoci McKim, Candace Johnson, Laura Turk and more!
When and Where: On November 23rd from 8-11 p.m. at Loft 644, 644 N Orleans Chicago, 60654
Details: For $50 all food and drinks are included. All proceeds will go to support the  Y.O.U. mission of helping Evanston youth acquire the skills, support, self-confidence and leadership skills to excel.
Buy Tickets: Click here.
Sponsors include; Brunch, Loft 644, Under the Table Featuring Chef Marcus Townsend (Alinea & Schwa Alum), Tiger Beers,Estrella Dam, Estrella Barcelona, Murphys Stout, Few Spirits, Ellite Bartending School, Great American Cheese Collection, XA. Experiential Agency, Tanta Cocina Peruana, Picture Peace Photography, The Publican, The Pritzker Lakefront Bed, Factio Magazine and Breakfast and many more!!!
About the Cause: Since 1971, Y.O.U. has provided services and leadership to meet the emerging needs of young people and their families in our community. Each year, we serve over 850 youth and touch more than 2,500 family members with a holistic set of services that includes after-school enrichment, emotional support, and mentorship.  These services ensure youth success across all of their different environments-in school, at home, in the community, and in moments of crisis.  Learn more about our impact at www.youevanston.org.