Outdoor season has officially begun and there isn't a better way to enjoy our iconic skyline and buildings–but from some of the city's swankiest rooftops. Enjoy summertime in Chicago in an entirely new way through some of the most gorgeous urban paradises in the city. Here are 5 chic Chicago rooftops to grab an after work cocktail.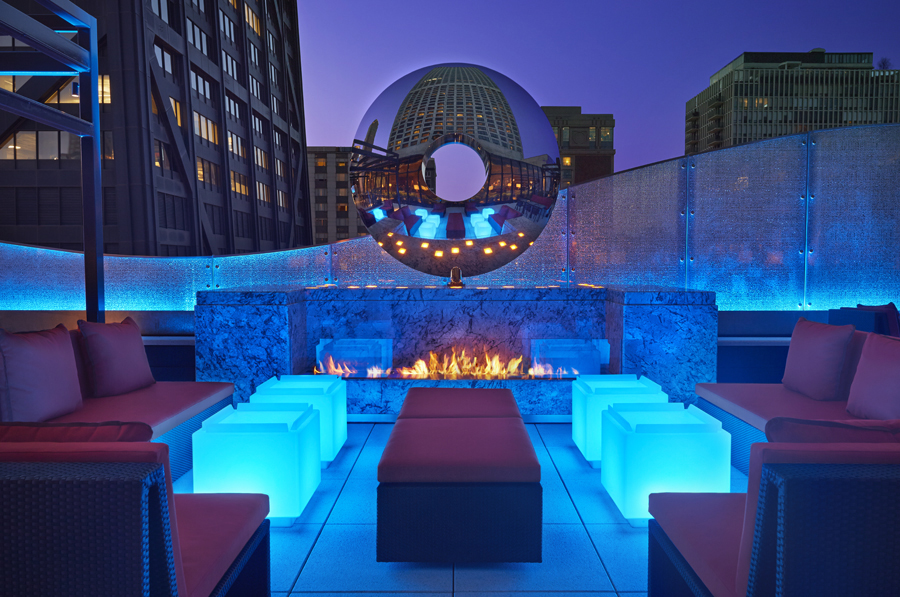 THE dec Rooftop Bar + Lounge at The Ritz Carlton Chicago is one of our favorite places to grab a drink in the city. This scenic gem is 12 stories above the Magnificent Mile and features an incredible array of mixology specialties with their seasonal cocktails. We loved the Pomegranate Picnic (hangar one wild blueberry, blueberry puree, rose cava) and Tito's "Merican" Mull (titos, fresh lime juice, fever-tree ginger beer). If you're looking to grab a bite, order up their Corn & Crab Lollipops and the Bratwurst Sliders or OTT Burger while taking in incredible views of the city, with an up-close view of the John Hancock building. This 57-seat rooftop accommodates up to 100 –and if you can, grab a seat by  "The Lenz", a polished stainless steel circular sculpture by artist David Sorenson. And, don't miss the desserts by Executive Pastry Chef Eric Estrella.
THE dec Rooftop Bar + Lounge
The Ritz Carlton Chicago, 12th floor
160 E. Pearson St., Chicago
www.decarestaurant.com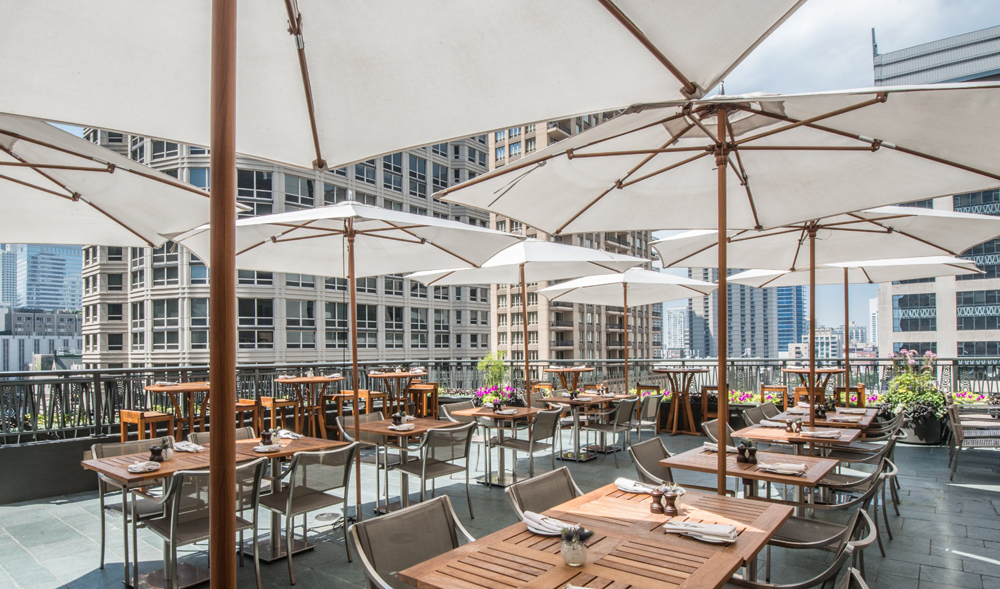 Well-known as a true urban sanctuary, NoMI Garden is the perfect place to grab a cocktail. This seventh floor urban oasis should be on your summertime-in-Chicago go-to staple to enjoy unique cocktails, a quiet lunch, or a romantic dinner for two with incredible views of the city. Not to mention, the new 2014 menu is stellar and will satisfy any mood or whim. Looking to enjoy incredible sushi or mussels (opt for the ocean platter with a chef's selection of oysters and shellfish). In the mood for a hearty steak? Try out their Waygu Strip Steak.  Or try a light bite with a seasonal refreshing salad like the NoMI Greens (werp farm greens, buttermilk cracker, market vegetable, french vinaigrette). Don't miss the drinks this season. Choose from 15 crafted cocktails –everything from Lake Effect (Bacardi superior white rum, bacardi select black rum falernum, orange, ginger beer) to Lions Mane (Johnny drum private stock bourbon, allspice dram lime, egg white, spiced apple bitters). Don't leave without trying the homemade milkshakes by Pastry Chef Meg Galus!

NoMI Garden
Park Hyatt Chicago, 7th floor
800 N. Michigan Ave., Chicago
www.hyatt.com/gallery/nomi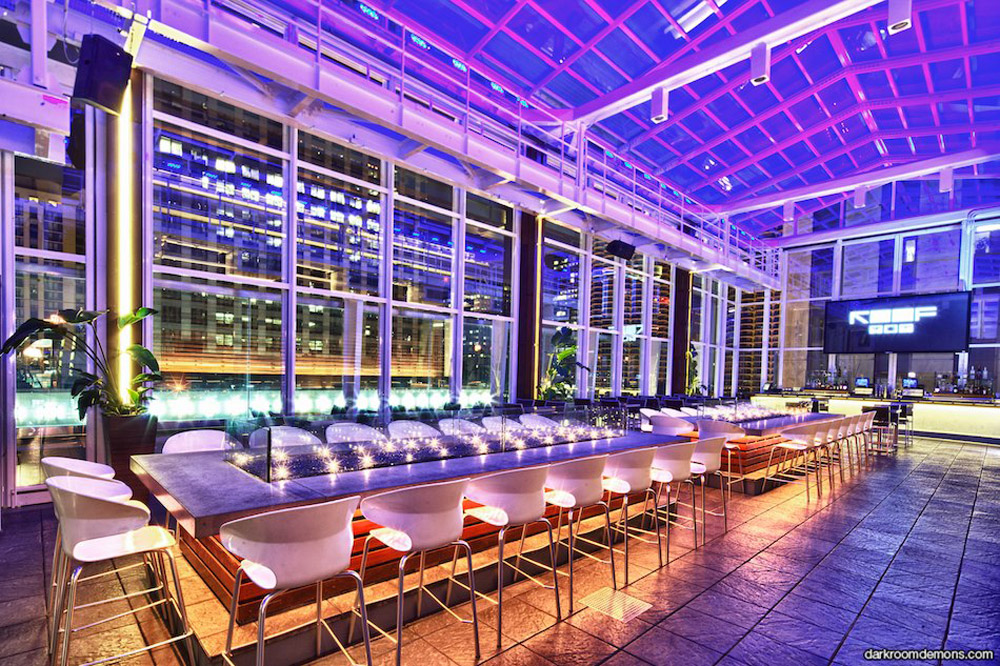 ROOF at theWit's sophisticated setting makes for the perfect place to grab a cocktail–year-round. Unparalleled city views 27-floors up takes center stage and so does their food and drink options. Their latest menu is attention grabbing and diverse. Our latest visit had us noshing on Apricot Poppers with herbed goat cheese, almond, snap peas sriracha honey, Crispy Fish Tacos, incredible flat bread pizzas –and sushi. We loved their specialty cocktails, especially Busted Nail (Glenmorangie 10 yr, yellow chartreuse cherry herring, lemon, rhubarb bitters) and Don't Call Me Honey (Maker's Mark 46, honey from beehive lemon juice, ginger beer, angostura float). ROOF at theWit is all about entertainment, so check the site often, whether you're looking to take in a film on Movie Mondays or one of their fashion shows featuring local talent.
ROOF at theWit
theWit Hotel
201 N State St., Chicago
www.roofonthewit.com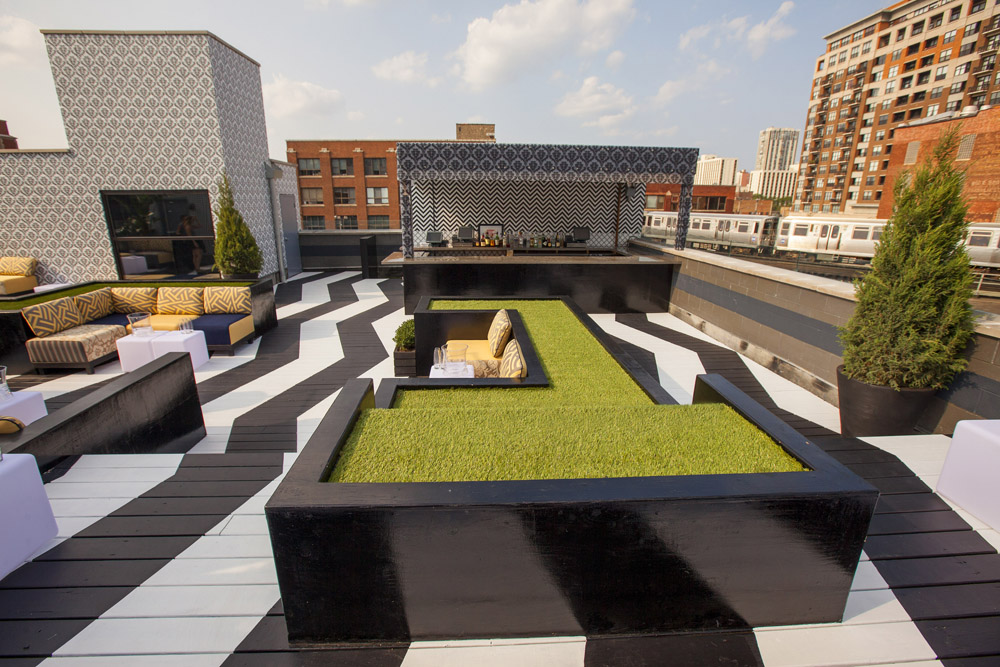 The Kensington Roof Garden & Lounge is Chicago's newest rooftop hotspot, making its debut in May. Enjoy an exclusive lounge atmosphere with bold graphic patterns atop Chicago nightspot, Parliament, and take in gorgeous panoramic views of the city skyline. Guests can enjoy Union Sushi while sipping on incredible cocktails with fresh ingredients like the Big Ben (Bacardi pineapple fusion, tanteo cocoa tequila, falernum, fresh lemon, angostura bitters), The Sovereign (zacapa rum, rhum clement, raisin cola syrup, averna amaro, lime & bitters), and The Gavel (ketel one vodka, luxardo bitter, honey syrup, fresh lemon & fresh raspberries). The Kensington boasts to have "Old English class with American swag" so don't miss out on this summer's newest rooftop hotspot.
The Kensington Roof Garden & Lounge
812 N. Orleans St.
Chicago
www.kensingtonroof.com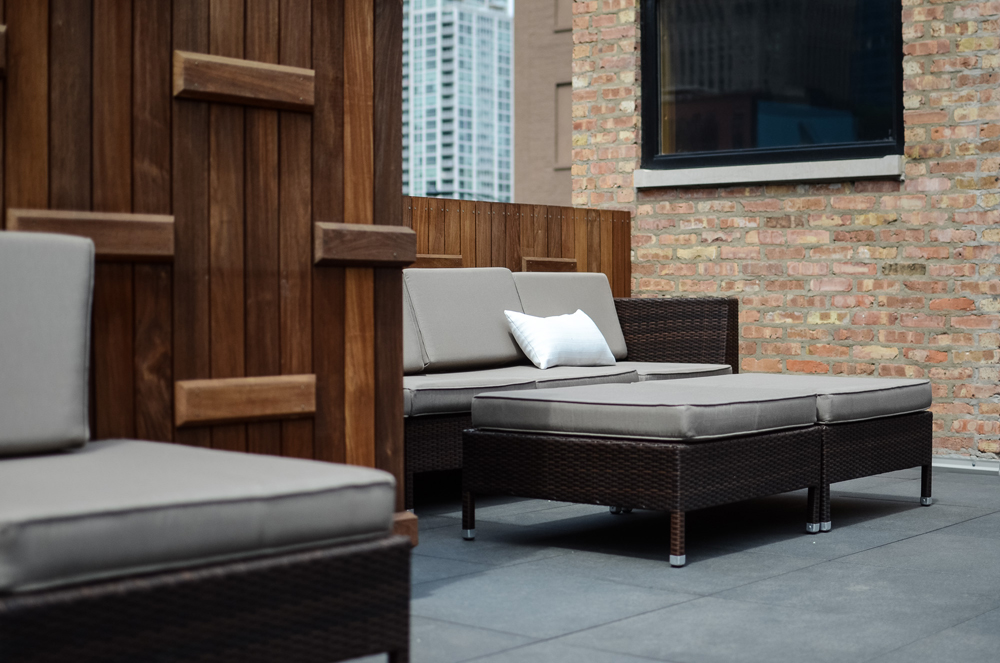 Add some Latin flavor to your rooftop experience and check out Tanta Chicago's stylish scene in the bustling River North neighborhood. Sip on pisco specialty drinks like our favorite, Pisco Punch – porton mosto verde pisco, maracuya, peach liquor and lemon juice that comes in the coolest blue mermaid glass. Sample Peruvian street food with their empanadas, anticuchos and sanguches (sandwiches) and you must try their cebiche.
Tanta Chicago
118 W Grand Ave, Chicago, IL 60654
www.tantachicago.com