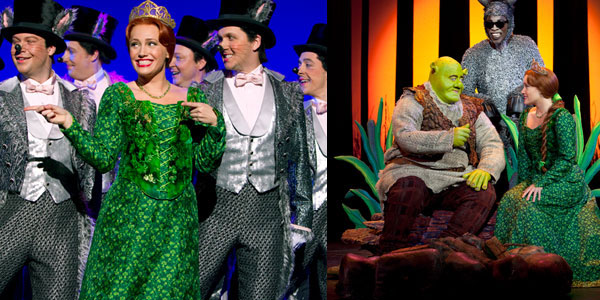 An Interview with Princess Fiona
Broadway actress, Haven Burton, joins the performance of Shrek the Musical playing the outspoken, energetic Princess Fiona. Though this L.A. native is not new to the scene (having been with Shrek for almost 4 years now) however, her starring role in this well-known piece has helped definitely helped to spread her name. We here at Factio had the pleasure of interviewing this interesting woman and found out a lot about who she is on and off the stage. Her bubbly personality was almost contagious as she gushed about the performance, her life, her travels and her favorite fashions.
FACTIO MAGAZINE:  How are you enjoying the city of Chicago? What have you enjoyed doing since you have been here?
HAVEN BURTON: I love it out here. Chicago is a really great city and I actually lived in New York for a little while which has weather similar to here in the summer with the humidity, and heat so that really hasn't bothered me! I have really just enjoyed getting to know the city, the lake is beautiful and the people are very interesting!
FM: What was it like having a starring role in Shrek the Musical, such a well-known piece?
 HB: I feel very honored and extremely excited to be working with the company. I've actually been with Shrek since the first reading of the material- I read for the part of the gingerbread man- so it's actually been a while now but every time we close the show, I have never felt like I was finished with this performance. There have been a lot of changes made with new cast members and new writing material and I think the changes have really improved the performance overall.
FM: What was it like to work with your cast-mates?
HB: My co-stars are some of the most talented individuals that I have ever had the privilege of working with. My boyfriend is also in the cast (playing Peter pan) so it has been wonderful traveling with him and our two cats. There are also a handful of people that I have been doing this performance with for a long time and a bunch of new cast members that are just so incredibly talented. Everyone has such a great attitude, which has just made this experience so much fun.
FM: How does the feisty personality of Princess Fiona compare to your real personality? And, in what ways did you prepare for this role?
HB: I think it's important to be able to relate to the character that you play on some level and- it's important to be able to feel what they were feeling during the performance. To a certain extent, I am a lot like Princess Fiona in that I share that same energetic personality. I love playing her character because she's a strong-believer in true love and a happy ending while still staying true to herself. Because she's half ogre and half princess, it's almost a representation of everyone having some sort of a flaw whether it's physical, emotional, or anything and being able to work through that flaw and just be proud of who you are. I like playing characters that send a positive message to the audience because even those who came in not realizing it leave with hope. Preparing for the role was fun! I had to watch a lot of Disney movies, (Jokingly giggles) and study all of the princesses, their demeanor, their presence, the way they walk, talk. I really enjoyed it.
FM: What's the next big thing you want to work on?
HB: Well, this probably isn't the direction you were thinking, but I'd like the next big step I take to be raising a family- Its hard in this business because you really never know when the next job will be, you hope that each job presents itself as a good opportunity which will get you another job but you really never know. We're going to L.A., which is where my agents are, so I will continue to look for jobs in New York and L.A., I'm not done yet, but I would like to consider taking a short break and having a baby. After that, I'd really like to get into voiceovers, so we'll see! We're taking it one step at a time.
FM: When did you decide you wanted to become an actress? If you weren't one, what would you be doing?
HB: Well, I think I have been a little bit of a drama queen my whole life. Both of my parents are artists and I grew up around people in the business in Los Angeles; voiceovers, actors, singers, ice skaters so, I don't want to say that its never been an option, its just always been a passion. It's always been there, the acting has always driven me from point A to point B. For a short time though, I thought I wanted to go into drama therapy and help kids, which is something that I am still very interested in but I love performing and acting, I think it's very cathartic.
FM: We know you have been super busy since you have been promoting and performing for Shrek the Musical, if you had a day to do whatever you wanted, what would you do?
HB: I would probably wake up, throw on a sundress, go to brunch with my boyfriend, have a mimosa, go to the zoo, maybe have a picnic, get a manicure- just something relaxing.
FM: Tell us about your morning routine- what do you do to get ready in the morning?
HB: When I wake up in the morning, I wash my face, exfoliate, put on my creme de la mer, makeup wise, there isn't much to tell. During the day I take it easy on my skin with tinted moisturizer, some cheek stain, chapstick and mascara. I try not to put to much on my skin because when I'm performing, I'm wearing so much makeup so I like to give my skin a break by not wearing too much when I'm off stage. However, my favorite product right now is the Anastasia eyebrow jell from Sephora.
FM: Tell us about your style- what is a distinguishing feature about your sense of fashion?
HB: As far as my fashion goes, I love vintage. You're supposed to pack sparingly for tour but I pack like 30 different dresses. It's hard because I'm not a jeans and t-shirt type of person, I really like dresses from all different eras. I like all eras' of style, but I'd have to say my favorite era is probably the 30s and 40s.
FM: What are your favorite shops worldwide and online?
HB: Right now I'm really into this line called Stop Staring and another called Trashy diva. Trashy Diva has some of my favorite dresses and their cuts are very flattering. I'm a curvy girl and with their stuff I can show off my curves but I'm also conservative, and don't like to show too much which is never a problem there. Both Stop Staring and Trashy Diva are great because their clothes always make you feel sexy and pretty and feminine.
FM: Where are your favorite places to travel?
HB: Hawaii is definitely at the top of my list. My family and I used to vacation there all the time and it is beautiful and so relaxing-who wouldn't like it there? Outside of the U.S., I really loved Thailand. I did a theater program there and it was amazing. We had the chance to study Thai art it was incredible. The whole trip lasted 7 weeks, I was studying for 4 weeks and then I spent another 3 weeks down in the beaches. It was fantastic! I had one of the best massages of my life while I was in Thailand (a Thai massage mixes chiropractic work and stretching your body, and it is only about $9/hour!).
FM: What would people be surprised to know about you?
HB: I'm a big gamer. I love any kind of game: video games, board games. My boyfriend and I have game nights with our friends all of the time with charades, monopoly- we love the wii (we have one and play all the time). And we are both very competitive so it's a lot of fun!
FM: What kind of advice can you give to young, aspiring Broadway actresses?
HB: Always say yes. With whatever performing opportunities you are given, always say yes because it builds character, and Broadway parts come sparingly. It's a hard field to break into and you never know when your next big performance will be so don't be too good to play a minor role or be in a musical that is not well-known because it doesn't do anything but help you- it helps you practice, it gets your name out there and, you meet a lot of fun people doing it!
Photos of Haven Burton as Princess Fiona in the first national tour of Shrek the Musical. Photos by Joan Marcus.
- Leigh Loosbrock
---
blog comments powered by
---