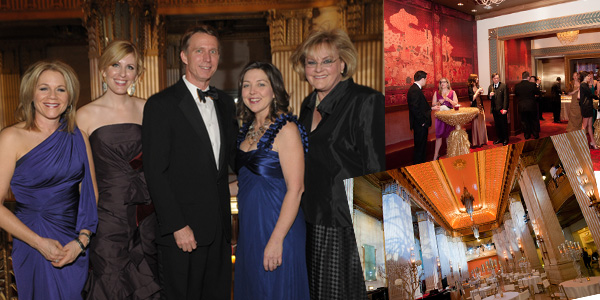 Lyric Opera's Russian-Themed Fête
We enjoyed a night under the Czars—the Lyric Opera's 28th annual gala on January 27th. Over 500 guests packed the Civic Opera House that night kicking off the Russian-themed bash with a VIP hour of tantalizing appetizers from the cities best restaurants while sipping on vodka-infused Moscow Mules. Guests indulged on delicacies from the likes of Carnivale, Coco Pazzo, Nine and IL Mulino before heading to the Ardis Krainik Theatre for the Cabaret. Some of our favorite musical talents this year were Amber Wagner's "Not a Day Goes By" from Merrily We Roll Along by Stephen Sondheim, Ashley Brown's "Somewhere Over the Rainbow" from the Wizard of Oz by Harold Arlen & E.Y. Harburg, David Cangelosi's "Piano Man" by Billy Joel and lastly, Morris Robinson's "Ol' Man River" from Show Boat by Jerome Kern & Oscar Hammerstein II.
After the stunning performances, guests sat down to beautiful tables decked out with ice sculptures of Fabergé eggs and feasted on a meal that began with a mustard & fennel tart, Belgian endive salad with champagne vinaigrette, an entree of herb roasted beef tenderloin filet served with roasted heirloom baby beets. For dessert, traditional pavova was served with coffee.
After dinner, we snuck away to Veuve Clicquot's champagne lounge before dancing the night away to the music of Ken Arlen's Indigo. Tickets began at $500 and more than $470,000 was raised for the Lyric Opera! If you're already planning for next year's Fantasy of the Opera (and believe me, we are), save the date for February 9, 2013. For more information about the Lyric Opera, please visit www.lyricopera.org
-Melissa Maynard
Photos: the Fantasy team, photo by Dan Rest -Raffle chairman Allison Alexander, Fantasy co-chairman Courtney Rosen, Guild Board president David Ormesher, Fantasy chairman Nancy Temple, Silent Auction chairman Julie Anne Benson, foyer photo by Eric Craig, Lyric Young Professionals in Pedersen Room, photo by Eric Craig
---
blog comments powered by
---
---
News from around the Web
posted 2012-09-29
posted 2012-07-23
posted 2012-07-20
posted 2012-05-25
posted 2012-05-17
posted 2012-04-13
posted 2012-04-13
Recent Articles