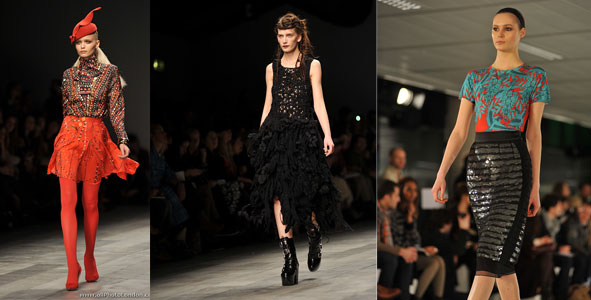 Day Two of London Fashion Week
London Fashion Week gets better by the day.
On day one, we saw gorgeous designs from Paul Costelloe, Maria Grachvogel, and Caroline Charles. Today, the main venue at Somerset House was beautiful and filled with many famous faces that came to watch the shows of Daks, Issa London, Jaeger London and more. The art gallery that is known for being in the film The Duchess is now filled with exhibitions and showrooms from designers such as Christopher Raeburn, KTZ, Monsoon, Kumvana Gomani and Maria Francesca Pepe all selling samples from their current collections.
On day two, the shows varied from a nature feel to a dominatrix feel, but all were satisfying. Jonathan Saunders was definitely inspired by nature this season, naming Paul Outerbridge's photographs, Euan Uglow, and art noveau prints of poppies and orchids as inspirations.
Betty Jackson's collection was filled with red, black and camel garments. The collection consisted of dresses, sweaters, coats, pants and skirts. Some garments contained 3D flowers on fabrics of silk, cotton, fur and leather. There were also a few pieces that were sheer, but still classy. The models looked natural and carefree as they wore their hair down with little to no makeup.
Belle Sauvage's models looked fierce and demanding with their pinned-up hair, and black, fur and stud covered wedges. There were even a few models who had their faces covered in masks that were made out of hair. The garments were black and some were completed printed. The dresses and pants were made from leather and cotton and were structured in different ways. Each garment had its own cutout, but still remained true to the collection.
Pierre Garroudi's garments also remained true to his haute couture collection as each piece had the same color and was in fact the same piece. His models all wore purple dresses or skirts that were either ripped and ruffled together or made from a material that made the designs stiff and poof. Each model also wore purple shoes and purple hairpieces. Purple seems to be the designer's favorite color as he bowed at the end of the show wearing purple shoes and a purple scarf. - Damonica Boone

*Left to right: Issa, John Rocha, Jonathan Saunders. Photos by Paul Szewcky, www.allPhotoLondon.com
---
blog comments powered by
---