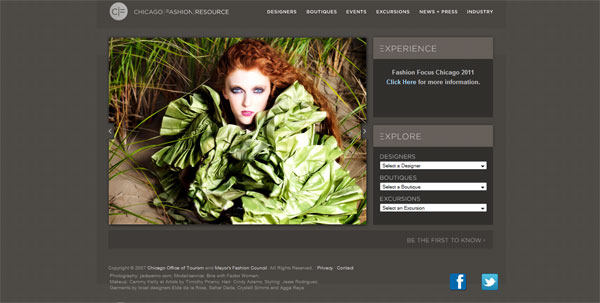 Chicago's Fashion Focus 2011
Celebrate Chicago's fashion industry and stop by at one of the many events taking place Monday, October 17th through Sunday, October 23rd for Fashion Focus.
Take advantage of this week-long festival of fashion to find out who's who in the city's fashion industry. The Windy City's top designers' work will be showcased at various locales, one of those settings being Millennium Park. Perfect for a typical college student's budget is The Designers of the Chicago Fashion Incubator runway show presented by Macy's and one of its four headlining shows taking place at the park. The first show begins at 7:30 p.m. on Tuesday, October 18. General admission tickets go for $35 per show. On Wednesday, catch some hometown lines like Imaginary People at the Inspire Design runway show presented by Mario Tricoci, where the winner of the 4th annual "Mario, Make Me a Model" contest will be revealed. Aside from some amazing runway shows, there will also be some fantastic shopping events and trunk shows happening all around the city like the Lara Miller trunk show at Florodora, Custo Barcelona at Panache and the Pop-up Shops at Block 37. Go to the Modern Vintage Chicago and Indie Designer Market shopping event to find some oldies, but goodies, by designers Balenciaga, Chanel and Halston, just to name a few. Make the most of this fashion fete! Check out www.explorechicago.org for more info! -Melinde Dzabiri
 
*Photo of Chicago Fashion Resource Website 
Photo: Courtesy of the Chicago Office of Tourism and Culture.
Photography: Jack Perno, Stylist: Jesse Rodriguez, Hair: Cindy Adams, Make-up: Cammy Kelly at Artists by Timothy Priano, Model: Bria with Factor Women.
---
blog comments powered by
---